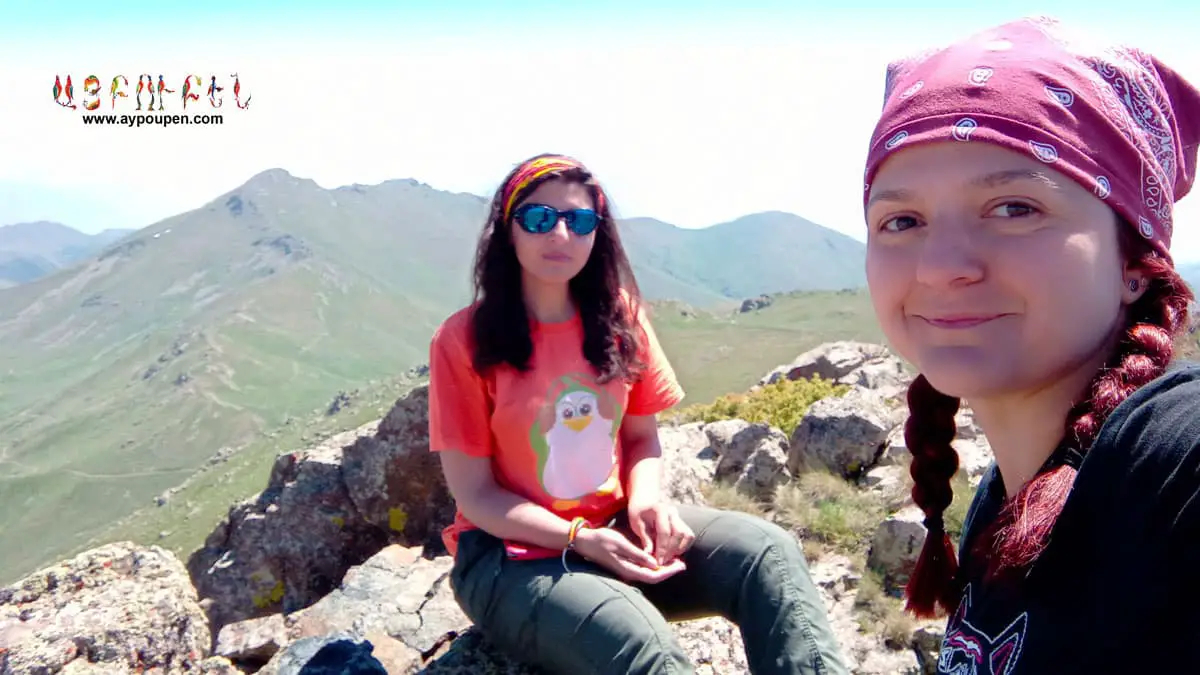 How did the journey start?
This adventure has almost a two-year story. It started in November 2018, when the snow had already found its place on high mountain tops, and the fog had decided it was the right time to cover everything with its mystery. It was then when two girls from Yerevan made a decision to climb Mount Baghatssar, a 3249 m tall mountain situated in the Meghri Mountain Range in Syunik province, Armenia.
I am Nari, one of those girls. The other one is Asya, who I was not friends with at that time. We had only met a couple of times in the mountains and knew we were both crazy for them. That was all. On a perfect November day, however, when I could not stay in the city anymore, I wrote on my FB wall:
-"Who would come to wander in the mountains with me?"
Asya was the first person to answer with great delight,
-"I am comiiiing….".
Moreover, she had a dream to climb Baghatssar Mountain herself, and we decided to make it come true at last. We planned everything (at least we thought so), took our tent, sleeping bags, food, and many other things important for travelers and hit the road.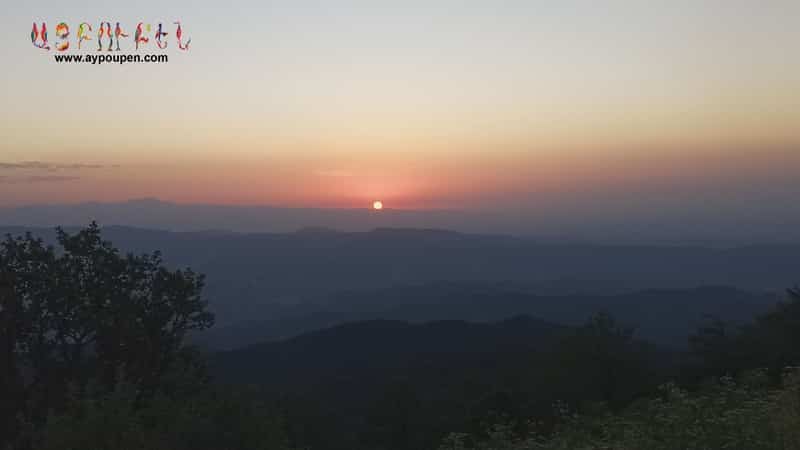 Second mistake: Bad Choices
Having no car of our own, the best way for us to travel around the country is hitchhiking. In Armenia, it is safe and joyful, as you always meet interesting people with exited eyes and different stories. We took a taxi early in the morning, headed outside Yerevan, and had not even managed to get out of the taxi on arrival when Asya stopped a… I could say a car, but it was not a simple car, it was a huge one, a lorry going to Iran.
We were so happy to have a means of transport so quickly that we did not bother thinking about the time we were going to spend on it. It turned out to take a whole lifetime.
One who has ever traveled by lorry knows – it is very heavy and moves just a little bit faster than a turtle. That was the second mistake we made during the journey, but we were not upset because of it as the driver was a funny person. He even made an omelet for us on the way, when we stopped to take a rest. By the way, he was originally from Iran and we could hardly understand each other. It was terribly funny to see his efforts to talk and sing in Armenian.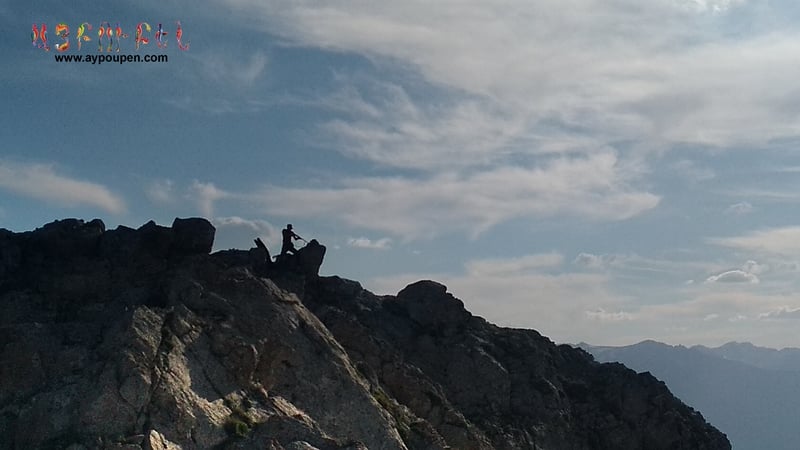 First mistake: Bad Timing
An attentive reader would ask what the first mistake was that we made while traveling, the second one being choosing a turtle as our transport. Well, the first one was that we had not taken into account that it was late autumn, and the sun was going down early enough, so by the time we reached the place (by the way, it took almost 10 hours), from where we had to walk 12 km by the mountain roads to our first stop, Kaler village, it was 6 pm and the darkness was already leaking from the top of the surrounding mountains to the base.
Besides, the weather was getting worse, and as the sun was gone, it got freezing, but even that did not stop us. We had a dream to reach. So we said goodbye to the driver and continued to walk.
Only 5 minutes later it was pitch dark. We had walked for about half an hour when a car appeared from the opposite side. After stopping the car, an old man took his head out of the window. Judging by his face, he was surprised to see us there.
He took us for tourists as it usually happens in Armenia – it is considered too wild for two girls to walk all around the country with heavy backpacks all alone.
Therefore, he asked in Russian who we were and what we were doing there. He was shocked when he heard about our intention. To be honest it was funny to see his face at the moment. In his words, Kaler village, where we were heading to, was deserted at that time of the year, and only bears would come down from the mountains in search of food.
We understood that this was our third mistake – we had not taken into account that mountain villages are full of people only in summer and early autumn.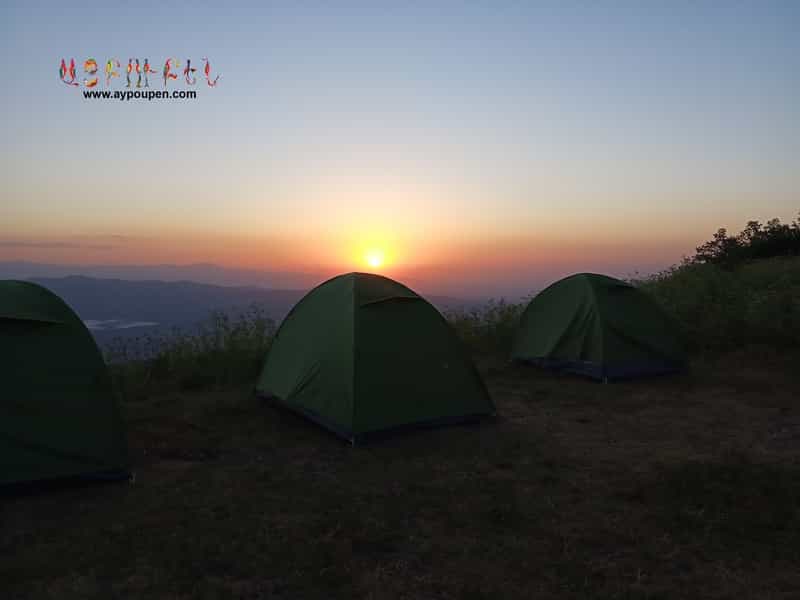 Anybody home? You Are Home
It was November, already quite a cold season for such places meaning that everyone had gone to their main villages. Then the man drove away, and we decided to keep on going after a short discussion. What else could we do?
Ten minutes later we heard a car approaching from behind and were very surprised to see the same man. He stopped the car, opened the door and just said, "I cannot leave you here. You don't have the slightest idea of how dangerous it is in these places now. What if something happens to you? Just get in the car, I will not let you go further". Strangely, we obeyed. Imagine, a total stranger is worried about you that much. It means two things – there really is a danger, and you are in Armenia.
He took us back to the road and offered to take to Meghri, a city in the very south of Armenia where he was from, but we refused not willing to bother anyone. He gave us his phone number in case we needed some help, and drove away. We found a little house near the road and put our tent up just there. It was a nice, warm but sleepless night, as someone was wandering around the tent all night.
In the morning we had a crazy idea to go to Baghatssar in any case, but the rain and the clouds convinced against it. The good thing is, we always have a second plan, and for that time it was visiting Meghri before going back to Yerevan which is another story to be told some other day. For now, read on to see what happened next with our dream of reaching the top of our mountain…

THE SECOND TRY
The future later showed that the dream born in 2018 did not only give birth to a great adventure, but to a good friendship between two nature lovers as well. Asya and I have traveled a lot since we even reached Western Armenia with five other friends and took many wonderful pictures, but the call of Baghatssar never hushed in our souls. We just kept dreaming, getting ready for it, and waiting for the right moment. And it came.
2020, June 12, we were on the road again. This time nothing could stop us. We had learned all the lessons from the previous time very well, therefore we left Yerevan earlier, made sure the weather was perfect, and, of course, avoided lorries. We chose the intercity transport which took us to the needed place in 7 hours.
It was both strange and wonderful to stand on the same road again, the road which we had left unpassed.
We had 12 km in front of us. It was a hot, sunny day, but there was a tricksy wind with its refreshing effect, thus making walking easier even with the 20 kg backpacks.
The path was covered with small stones and holes, edged with trees from both sides. On the right side, there was also a deep gorge, and the song of the naughty river was reaching our ears. We were walking and wondering about the creatures living in those wide woods.
We were on our 7th km when a car approached from behind and stopped beside us. The driver was a young man named Artyom as we learned later. His road was leading him to other mountains, but he wanted to help us intensely.
Armenian men cannot bear the image of girls 'suffering' with huge and heavy backpacks, thus he offered us to take them to the mountains on a horse the following day, but we accepted only 3 km of car driving. We wanted to pass the main trail relying on ourselves alone. When we said goodbye to Artyom, we still had 2 km to walk.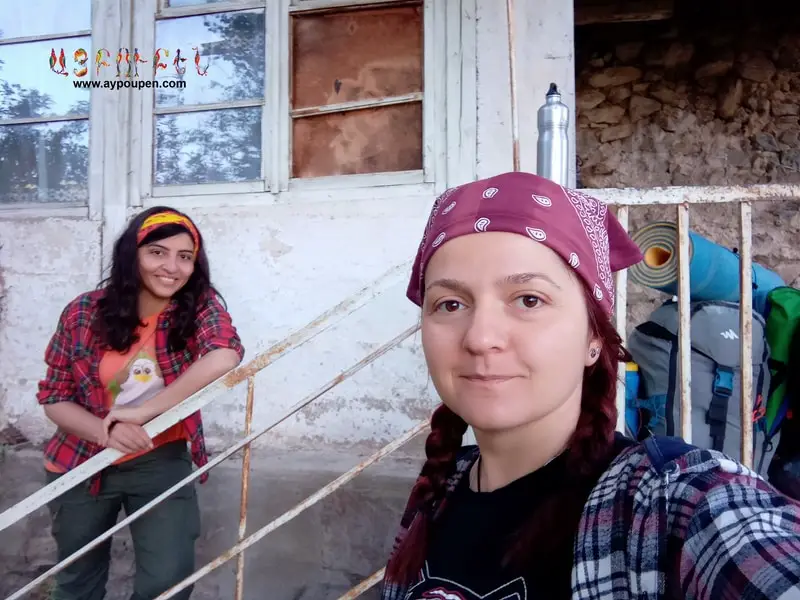 Armenian Hospitality
We could already see the first houses of our target village, therefore walking seemed easier. It is always easy to go when your destination is seen on the horizon. Another 300 meters and we would be there, but just then a car stopped in front of us. It was coming from Kaler. A middle-aged man and an old woman welcomed us in Russian:
– Здравствуйте (Hello).
We smiled and answered back in Armenian, and a conversation followed:
– Where are you going, girls?
– To the village. We will spend the night there. Early in the morning, we are going to the mountains.
– Where will you stay? Do you have a place to sleep?
– Sure, we have a tent and…
What the man said next did not surprise me, because I was in the country of open-hearted people, a country of hospitality, in Armenia.
– Ok, these are my house keys. I am going to Meghri and will not come back until a few days later, just take them, it will be safer and warmer to stay there.
Asya and I were about to refuse the offer since it was not in our plans to bother anyone when the man opened the door and ordered:
– Get in the car. No refuses accepted.
His name was Rafo, and the old woman was his mother, a woman with silver hair and blue eyes, with a hard and long life behind her shoulders.
In two minutes the car stopped in front of the house. A big lock was hanging on the old wooden door. Rafo opened it and helped us take the backpacks in. We did not argue; helping women is still a matter of honor for many Armenian men (I am sure not only Armenian).
– It is not a big or rich house, – he said, – but it is yours.
He showed everything and asked to leave the key in the outdoor sink before leaving the village. In one of the rooms, there was an old wooden couch. Rafo mentioned that anyone sleeping on it lives for 120 years, in happiness and health. Asya took it this time since she is younger, but next time it will be mine, and then we will have another 90 years to travel around the world.
Exploring Kaler Village
We said goodbye to Rafo and his mother, and they left. Asya and I immediately started to investigate the village and were surprised to find a church dating back to the 17th century. It had a big wooden door with a round iron handle. The walls inside were naked, except for the altar where we found a couple of icons and frescoes. There was also a stand for candle lighting, where we lit the candles that Rafo's mother had asked.
We saw a memorial stone dedicated to the men from Kaler who had sacrificed their lives during WWII. At least 50 names meaning that Kaler was a big and thriving village once.
We found a well with icy cold water and two huge Gampr dogs who watched after our house the whole night. Our neighbors, a young couple from Lehvaz village with their two little children aged 5 and 2, invited us for a cup of tea. We took sweets and nuts and spent a wonderful evening with them. We learned from them that in winter only one man lives there in order to 'keep the light of the village bright'. Abandonment kills the spirit of the village, they believe.
Meanwhile, the darkness was slowly covering the surroundings, the peace being interrupted only by the sounds of the animals returning to their barns from the pastures. It was nighttime.
Mount Baghatssar, 3249 m, Meghri Mountain Range in Syunik province, Armenia.
We woke up at 5 am, packed our things, filled our bottles with the fresh and cold well water, locked the door carefully, hid the key in the sink, and started to walk towards the rising sun. We had more than 20 km to pass and tree peaks to conquer.
The first one was Kap mountain (3105 m). It was totally green, covered with different flowers but rocky near the top. Although the villagers had warned us of bears and many snakes there, we did not see any fortunately and reached the first top at 11 am, safe and sound. Later people from Kapan told us jokingly that we were lucky having survived all alone in that road and could now go anywhere without having a fear of anything.
Baghatssar, the highest point of Meghri Mountain range (3249m) and our two-year-old dream was coming next.
Since it was scorching hot, we had almost run out of our water supplies. Changing steps became more difficult, nevertheless, we did not stop. The more we were walking, the more the top was moving away from us. However, we reached it and realized that only the view opening from there was worth our torture.
From there, many mountain ranges could be seen, including Katari Mountains with its highest top Khustup, our last stop. It seemed so far that I instinctively turned to Asya and said:
– We are not going back to Kaler.
– Sure we are not, – she said, – Khustup is waiting.
It is in moments like that when you understand – a traveling companion is more important than the places you visit.
We took pictures, rested our feet, and soon were on the path again.
– Goodbye, Baghatssar, and see you soon. You are a powerful mountain.
Another lesson – never underestimate the power of nature.
The path was long and hard. At first, we started to lose height and appeared in a small gorge, surrounded by hills. We were attracted by the sound of running water. It was a cold and clean mountain stream, which we quenched our thirst and chilled our feet with. After that, we were not walking but flying. Here is another lesson – never underestimate the power of nature.
At approximately 4 pm, after overcoming the other two little tops and many hills, we were at the base of mount Khustup. One last effort of another two hours and we were on the summit – a rocky, dangerous, powerful summit. For many Armenians, as for me, Khustup is the highest summit of Khustup-Katari mountain range (3201m), a mountain of struggle, unwavering will, and great love to Armenia.
Garegin Nzhdeh: "Do not take your eyes off Khustup. The more you look at this noble mountain, the sooner your salvation will come".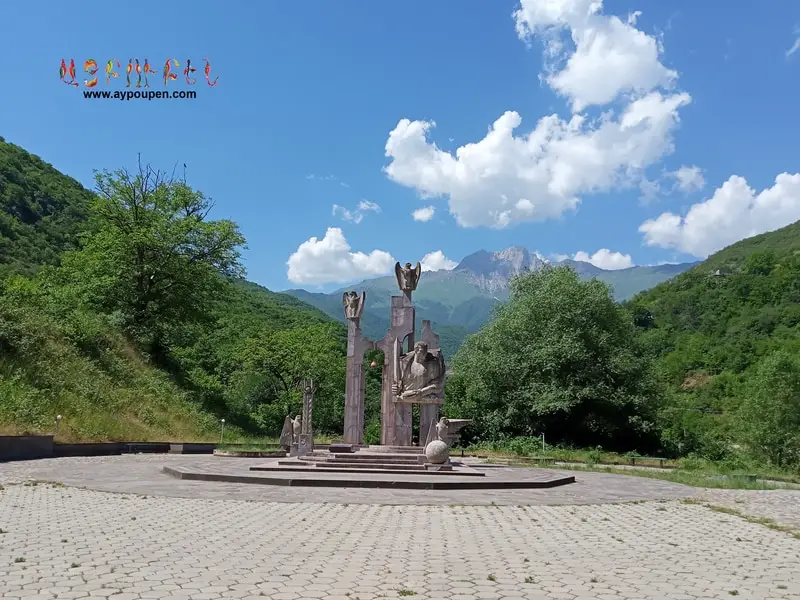 One of our great warriors, a military strategist Garegin Nzhdeh, spent three lonely nights there, and it was him to say, referring to the people of Armenia, "Do not take your eyes off Khustup. The more you look at this noble mountain, covered with black skies, the sooner your salvation will come". The remains of Nzhdeh are buried somewhere there, at the base of his beloved mountain.
We were at the summit at 6 pm and were surprised to see three other people there at that hour. Nevertheless, I was not surprised to see they were my friends, who had climbed the mountain to honor Nzhdeh's memory.
We all started to descend at 7:30 pm, passed 6 km in two hours, and were in the camp at 9:30 (the camp is situated in 2000 m altitude, 11 km away from Kapan) when everything was covered with darkness, and only the stars and campfires were sparkling. We found our friends from "ArmLand" hiking club there, who were going to the summit the following day. They gave us some tea and shared a campfire with us and offered to take to Yerevan with them. The night was victorious and peaceful.
The next day everyone woke up at 4 am, even Asya and I. We both wanted to wish our friends a safe trip and see the sunrise. If you ever saw a sunrise in the mountains then you know it is something special, it is like an awakening of a planet, a universal ritual, a sun with the mountains. It is something unforgettable that you will desire to see repeatedly during your lifetime.
That was our last free day, we wanted to walk until Kapan and wander in the city, while our friends would take the summit. That is why we set off when they started their journey. We walked 6 km by the path surrounded by a forest, enjoying the song of the birds and the wind. Another 5 km we passed in Villis and before appearing in Kapan we were hosted in Geghanush village, drank some tasty tea, saw a nest full of newborn swallows, talked to nice people.
We were in Kapan at midday, visited the memorial of Garegin Njdeh, wandered in the gardens and slept under a willow in the churchyard, danced under the water near the cafeteria and had lunch on the grass, with our backs leaned on the trees, listening to the song of Voghji river. We saw many wide-open eyes and kind smiles, we saw hope and joy, love and curiosity, and heard the question "What can we do for you?" for a thousand times, before our friends came after us.
Then we were on the road again, going back to Yerevan and already planning new journeys all around Armenia. There is still so much to see, so much to discover and love that sometimes one life seems not enough. Armenia is a land of endless discoveries, divine mountains, and wonderful people.