Garegin Nzhdeh, also known as (Karekin Njteh) is one of the heroic figures every Armenian should know about and feel proud of. As the song tells us, "Karekin Nejteh" was born on the bank of River Araz. He suffered in the darkest prisons, a suffering proper to saints."
"hurrays, may brave Njteh's sword shine and emit rays."
"The Tsar was scared and sent you to exile, far away from his world,
but you came to us, you were welcome, you brought us new ideas."
"In fields of blood, in the battlefield, may your sword shine,
with a cross on your chest, you called out Hurray to the front…"

Armenian Revolutionary Song in honour of Garegin Nzhdeh
Garegin Nzhdeh dedicated his life to the continuity of his people. During times when the future of our nation was not clear, we were stripped of power. The only choice was to regain confidence in our identity, learn from our past to dream, and create our own future.
Garegin Njdeh The Full Movie
Early Life, Bio
Garegin Nzhdeh, the Armenian statesman and military figure, real name Garegin Yeghishi Ter-Harutyunyan, was born on January 1, 1886, in the village of Gznut (now Kuznut) in the Nakhichevan Armenian province. He was the fourth child of the family.
He received his elementary education at the Russian school in Nakhichevan. He continued his studies at the Russian Gymnasium in Tbilisi, where he joined the Armenian Liberation Movement.
He then went to St. Petersburg, where he studied law for two years, left the university, and devoted himself entirely to the Armenian Revolution cause.
Joining Revolutionary Movements
Macedonian Liberation Movement leaders and Rostom supported Garegin Nzhdeh in attending Sofia Officers' School in Bulgaria in 1906. He graduated successfully and returned to the Caucasus in 1909.
He joined the Armenian Revolutionary Federation Dashnaktsutyun 1907-1908. He participated in the Persian Revolutionary Movement against the Tsarists and the Hamidian violence.
He was arrested by the Tsarist authorities in 1912 for transporting weapons and ammunition. Having spent more than three years in prison, he moved to Bulgaria.
Following the example of Rosdom, he joined the military school established by the ARF in Bulgaria, graduated successfully, and returned to Tbilisi.
The first Balkan war began in 1912. The ARF formed a volunteer military unit alongside the Bulgarian army to fight against the Ottomans (for Macedonia and Thrace liberation), led by Nzhdeh and Andranik Ozanyan.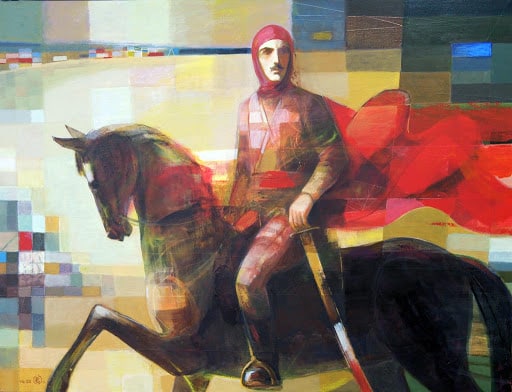 Years of Glory in war and Mission
After being "pardoned" by the tsarist government, Nzhdeh returned on the condition that she would participate in the war against Turkey in the Caucasus.
Garegin Nzhdeh is primarily known for his role in defending Zankezour. In 1920-21 with an order from the Armenian Republic Minister of Defence, Roupen, he proved himself to be a military commander on the battlefield and gained ARF Commander Title.
When Armenia became a part of the soviet republic, he moved to the Balkans. He helped organize the ARF and set a guideline for preserving the Armenian identity in America, greatly motivated by the thought of Armenian Tribalism.
His main goal was uniting the diaspora, teaching them about Armenian values and pride, which are essential in protecting our motherland.
Returning back, he had clashes with the local ARF Bureau. His tribalism teachings caused division between supporters and non-supporters of the ideal. He was let go from the ARF, having driven the divide.
His Capture by The Soviet Republic
During WWII, although he was out of the ARF, he revived his own Tribalist organization and led the Balkan ARF family. He found himself obliged to cooperate with Nazis to defend the Armenians in the Balkans against Soviet and Turkish aggression.
The Red Army ceased Bulgaria in September 1944. After defeating the Nazis, Nzhdeh chose to stay to take care of the Armenians in the Balkans until he was suspected of having secret contacts with Germany. He was arrested by the Soviet SMERSH Army General Intelligence Service later in 1944.
Nzhdeh was sentenced to 25 years in prison in 1944. He is transferred to Bucharest, from there by plane to Moscow, and imprisoned in Lubyanka with fellow ARF activists. In November 1946, Nzhdeh was sent from Moscow to Yerevan, where the trial ended in 1948.
1947, Nzhdeh proposed to the Soviet government a bold plan. To establish a Diaspora-based military-political organization, Armenian Irredenta in the Diaspora, aimed at liberating Western Armenia and reuniting it with Soviet Armenia.
Although Nzhdeh's proposal was taken seriously by Soviet leaders and studied in various instances for several years, it was eventually rejected.
Death of Garegin Nzhdeh and Acquittal
1948-1952 Nzhdeh was held in the notorious prison of Vladimir, then in the jail of Yerevan until the summer of 1953.
After some time, Nzhdeh was again transferred to Vladimir, where he died on December 21, 1955. Receiving a telegram from the prison administration about Nzhdeh's death, his brother, Levon Ter-Harutyunyan, leaves Yerevan immediately to Vladimir.
Levon carries out his brother's funeral, fences in the grave, and on wood writes in Russian: Garegin Yeghishi Ter-Harutyunyan (1886-1955). He is handed over his brother's clothes and wristwatch, but no manuscripts. The body is also not allowed to move to Armenia.
Decades after his death on March 30, 1992, Garegin Nzhdeh was acquitted by the RA Prosecutor's Office, which he never needed.
Garegin Nzhdeh's Last Words:
My Gratitude to the Ungrateful People
September 17, 1920
Faithful to the Davitbek covenant, I continue to stay in the mountains, under the clouds, alone, wounded… but prouder than I was.
Now I'm licking the wounds your enemy inflicted on me and I'm waiting for what I asked you, to come, the master, to come soon to take out my eyes with coarse tools, to blind me so that I don't see the coming downfalls on your head, your disgrace, your moral decline.
You wanted what your enemy wanted… You have betrayed your wounded, heart stricken commander by leaving him alone.
People, the one speaking to you is your commander, your wounded, heart stricken commander, whose sword, for the sake of your self defence, has not rested in its scabbard for so long.
And the Turk, which means (in Armenian) the plural of word "tour" sword. Sword and Swords, thousands of swords that have struck the hearts of Armenians.
Listen, one more and probably last time, listen to your commander. He is addressing you and speaking to you.
He is saying, In your black and troublesome days, when in the "Armenian eating" valleys of Geghva and Okhchi (Bargushat and Haktsar), the enemy was threatening you, to stain your country with the blood of your wife and children, you called me, and I answered your call.
Tell me, people, ever since those days, has your country remained defenseless? Is there a high mountain in your country, or a small rock on which I have not laid my weary head ?
Say, did you see me one day, one hour carefree, calm? Have you seen me on my soft couch, around the rich tables?
Do you hear the stones, listen to our Homelands, the stones are crying out, saying No? Tell me, is there anything left for me to spare, not to sacrifice for your freedom, your salvation, your glory? My blood was spilled in your fields, on your land.
The wound inflicted on me by the enemy has not been closed yet, and yours, ungrateful people, what you inflicted will always remain fresh and will sting with the pain of a thousand wounds.
Ungrateful People, today, when the Bolsheviks, your gravediggers, bribed with Azerbaijani drams, have knocked on your door with fake and false promises and are waiting for you to defile the salt and bread on your table by your hands, you treacherously deserting your posotions, and abandoning your commanders.
That's not enough, you are sending your spies and terrorists to create a chaotic jumble. They are looking for my head to sell to Azerbaijan for three million.
Ungrateful people. How many times did your wife and child wrap themselves around my horse's neck, kiss my hands, calling "pasha jan" when I returned from the battles.
How many times have I saved you from imminent danger, from massacre. What answer will you give to your God, your conscience, history. Remember people, How soon you forgot prince Lazar, whose troops I drove from under your walls, your enemy.
People remember, days will pass, the same enemy will return, disarms you, deprives you of your leaders, when the name "AJTAHA PASHA", you will no longer be heard, they will start exterminating you in a thousand ways and ways.
Then you will remember your commander, whose sword enlarged your country seven times and created absolute security for you, then you will look up to Khustup and the black clouds sitting on top, you will look, you will call, but instead of your commander, the faint echo of your mountains and valleys will answer you.
Maybe one day you will fall into the mountains persecuted by the enemy and during your wanderings you will suddenly find my frozen corpse under a bush, on a rock, kneel down and cry blood.
People, before leaving me, betraying me, you failed to fulfill my last wish. You didn't send your masters with their blunt instruments to gouge out my eyes, to blind me so that I don't see the downfall that is coming on your head, your moral decline.
It's fine, i forgive you, even though history will not forgive you and I ask you, when you see me killed, bury my body on the highest hill of Khustup, from where Kapan, and Genvaz, and Goghtan, and Geghvadzor will be visible to me.
Until then, don't take your eyes off Khustup. The more often, the more you look at that mountain covered with soot and black clouds, the sooner your salvation will come.
God and my love be with you, ungrateful people.
September 1920 17:00
Khustupyan Mountains, COMMANDER NJDEH
Quotes by Garegin Nzhdeh
Never, without Syunik, without this solid geographic backbone of Armenia, our entire Homeland cannot exist.
Some people notice the sun only in the dark.
One cannot help the fallen if he or she lacks the will to stand up.
Two things must fill a person's soul with admiration and respect, the starry sky above the head and the morals in the heart.
You are born in chains, live, and die in chains. You are a sinner because you are weak.
The Concept of Christian love has caused tragedy to our people for centuries.
Rights are a concept of force, not logic.
A nation whose sons are not equal before the law and death will not have a victorious homeland.
Like religions, Homelands demand that their servants' hands be warm and clean.
The last card of people whose future is at stake: is education.
The duty of every nation towards humanity is, first and foremost, to preserve one's own nation's viability and develop one's own culture.
To criticize means to suffer spiritually.
My nationalistic beliefs do not allow me to be hostile to any Armenian individual.
It is better for an Armenian to be mute than not to be able to speak his own language.
Garegin Nzhdeh Statue and Square, different locations
You can visit Garegin Nzhdeh's Statue in the central part of Yerevan, the Khachkars' Park on Hanrapetutyun Street, between Vernissage and the National Gallery.
Don't mistake it with Garegin Nzhdeh Square in Shengavit, covering an area of 17,500 sq. meters, and is the second largest Square in Yerevan.
The square was built in 1959, called Souren Spandaryan Square initially, and after 41 years, Souren Spandaryan's statue was erected there.
In 1991, Spandaryan square and the last Yerevan Metro Stop's coinciding location were renamed Garegin Nzhdeh Square and Stop, respectively.
However, removing the Spandaryan statue was opposed by the Armenian Communist Party in 2011, considering it cultural vandalism.
Garegin Nzhdeh Song lyrics and Translation
Գարեգին Նժդեհի Երգը
Արազի ափին ծնած ընկեր,
Էն Արազին մենք մատաղ,
Մութ բանտերում տանջուած ընկեր,
Սուրբ տանջանքիդ մենք մատաղ։
Հուռռա՜,հուռռա՜,հուռռա՜,
Քաջ Նժդեհի սուրը շողշողայ։

Ցար վախեցաւ քեզ աքսորեց
Իր աշխարհէն շատ հեռուն,
Մեզ մօտ եկար,բարի եկար,
Նոր իտէալներ մեզ բերիր։
Հուռռա՜,հուռռա՜,հուռռա՜,
Քաջ Նժդեհի սուրը շողշողայ։


Արեան դաշտում, կռուի դաշտում,
Սուրդ շողայ,քաջ Նժդեհ,
Ուռռա՜ յառա՜ջ,դու գոռացիր,
Կուրծքդ խաչով զարդարիր։
Հուռռա՜,հուռռա՜,հուռռա՜,
Քաջ Նժդեհի սուրը շողշողայ։
Karekin Njtehi Yerkuh
Arazi apin dzenadz unger,
En Arazin menk madagh,
Mout panderoum danchvdz unger,
Sourp danchankid menk madagh.
Ourra, Ourra, Ourra,
Kach Njtehin souruh shoghshogha.
Tsar vakhetsav mez aksorets,
Eer ashkharits shad heroun,
Mer mod yegar, parov yegar,
Nor eedialner mez perir.
Ourra, Ourra, Ourra,
Kach Njtehin souruh shoghshogha.

Ariyan tashdoum, grvi tashdoum,
Sourod shogha, kach Njteh,
Ourra harach, tou koratsir,
Gourtskud khachov zartaretsir.
Ourra, Ourra, Ourra,
Kach Njtehin souruh shoghshogha.
Song of Garegin Nzhdeh
Comrade, Born on Araz Bank,
For whom, we are sacrificed,
Comrade, tortured in the dark dungeons,
for your Sacred torture, we are sacrificed.
hurrays, may brave Njteh's sword shine and emit rays

"The scared Tsar exiled you,
far away from his world,
but you came to us, you were welcome, brought us new ideas."
hurrays, may brave Njteh's sword shine and emit rays

In fields of blood, on the battlefield,
may your sword shine,
you called out Hurray to the front…
you decorated your chest with the cross
hurrays, may brave Njteh's sword shine and emit rays
Free Armenian E-book about Nzhdeh
The work is a comprehensive study dedicated to Karekin Nzhdeh's works' language and style. Based on various contents, as a word of gratitude and appreciation.
For the first time, the reader is presented with the eye-catching aspects of the author's luxurious and exquisite language and style (using elements of Grabar and western Armenian, imagery, and rhetoric, and solid and available essay modes).
It is shown that they are equally present in scientific, public speaking, memoirs, official letters, letters, military calls, and commands.
Unlike some media and social media outlets, which seem to be trying to translate Nzhdeh into a modern language spelling, here is its language preserved or traditional spelling.
The book is intended for philologists in general, practitioners of neuroscience, and, of course, for all Armenians for whom Karekin Njteh's work is precious.