Athena Manoukian to represent Armenia in Eurovision 2020
On 15 February 2020, during the show "Depi Evratesil", Athena Manoukian was chosen to represent Armenia at Eurovision 2020 where she will be singing "Chains on You" a song that she wrote in collaboration with DJ Pako. Athena Manoukian, who was the finalist on the contest and won out of 12 contestants.

In May 2020 Europe will vote for their favorite song during the 65th Eurovision Song Contest, which will be held in Rotterdam, the Netherlands on the 12th, 14th of May for the semi-finals and the 16th of May for the grand finale.
Some spectators may be shocked as they watch her perform on stage for the first time, some do not understand a word she is saying, some others think she might be a "Rihanna Wannabe", but in the end, will all support her in May so that Armenia wins the Contest.
Who is Athena Manoukian? Age, Career
Atena Manoukian is 25 years old, born on May 22, 1994, in Greece.
– In 2007 she was the winner of a song contest called "This Is What's Missing", on Greek AlphaTV.
– In 2008, Athena Manoukian represented Greece at the Junior Eurovision song contest, singing "To feelee tis Afroditis", securing the 3rd place.
– In 2011, she released her first hit single "Party Like A Freak".
– In 2017, she wrote the hit song "Palia Mou Agapi" for famous Greek singer Elena Paparizou who won the Eurovision Song Contest back in 2005, with her song "My Number One".
– In 2018, Athena auditioned at the "X Factor UK" with a provocative performance of Beyonce's "Crazy in Love" singer took part in the talent show and reached the stage of "Six Chairs".
In 2007 she won Eurovision kids
Do follow her on
@athenamanoukian
Her Interview on Armenian TV
The first question the reporter asks her is when does she plan to learn Armenian, and she replies: immediately. Her first impression was that she loves Armenia and the Armenians, and the atmosphere. She doesn't have a clue about the festival that she will be participating in.
About Armenian culture, she obviously has no idea although she comes from a community rich with Armenian Culture.
In 2015 She decided to study Armenian
It is 2020 and She still Doesn't speak Armenian
At the age of 25, Athena has performed on many tours singing a rich repertoire consisting of internationally well-known songs and her songs such as her hit singles "Party Like A Freak", "I Surrender", "XO" and "You Should Know".She has won the Armenian Pulse Music Awards in 2015, in Yerevan, Armenia, with the category Best English Song.
In 2018 Athena Manoukian participated in The Voice UK
As it is seen in the video, the jaw-dropping gorgeous yet somehow provocative performance, surrounded by her own dancers, gets Athena three "Yes" es out of four, with half the audience somehow dissatisfied with her over self-confidence, little they know that she has been on stage for more than a decade.
In 2018 an Interview In Greek, on StarTV Interview
Artists who competed to represent Armenia at Eurovision 2020
53 artists submitted their songs to The Public Television company of Armenia (AMPTV), the number was reduced to 12 by a jury panel and the winner was chosen by votes from a jury and public televoting. The Participants were: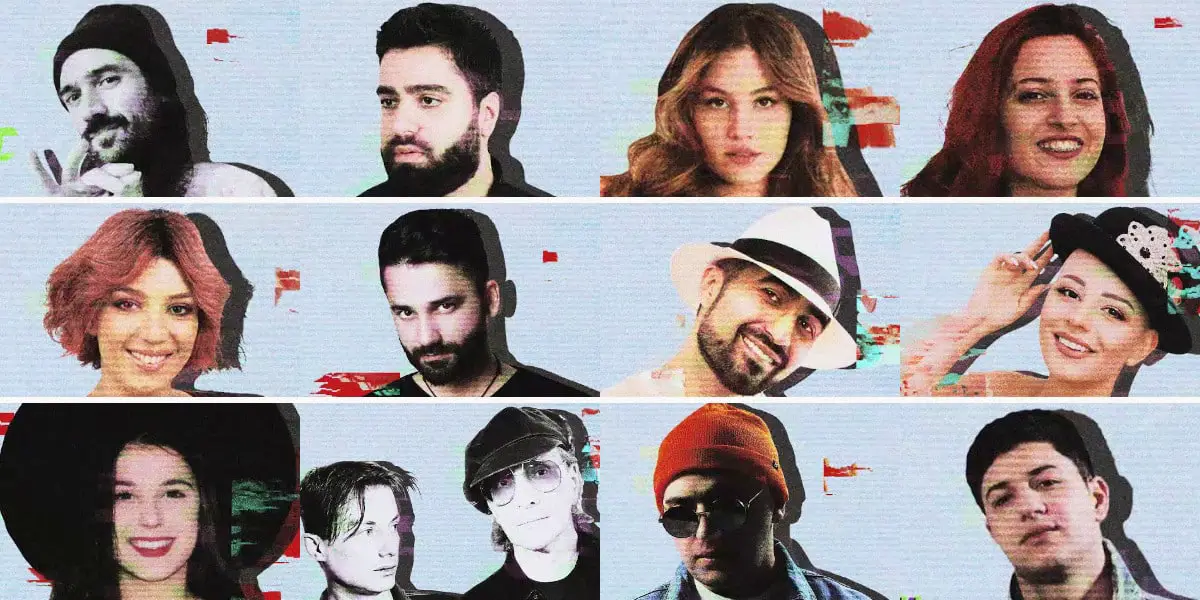 1. Agop – "Butterflies"
2. Karina EVN – "Why?"
3. Hayk Music – "What Is To Be In Love"
4. Erna Tamazyan – "Life Faces"
5. Eva Rida – "No Love"
6. Athena Manoukian – "Chains On You"
7. Gabriel Jeeg – "It's Your Turn"
8. Sergey & Nickolay Arutyunov – "Ha, Take a Step"
9. Miriam Baghdassarian – "Run Away"
10. Vladimir Arzumanyan – "What's Going On Mama"
11. Arthur Aleq – "Heaven"
12. Tokionine – "Save Me"
Do you know that Cyprus was represented by Hovig in Eurovision 2017