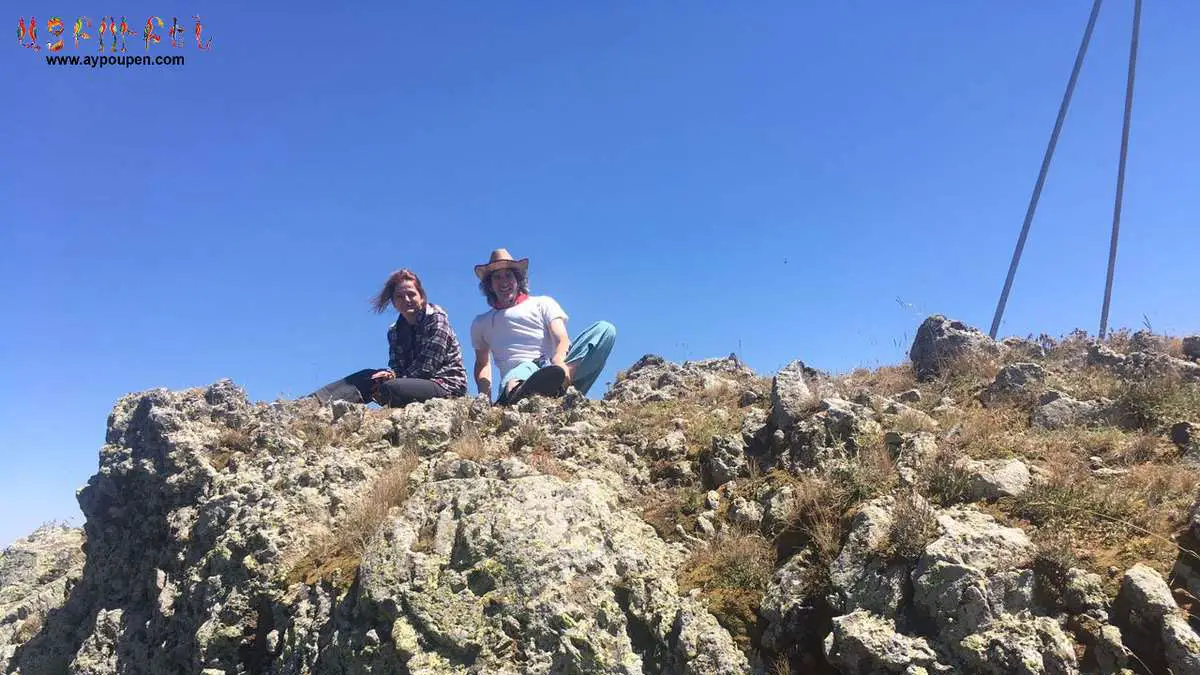 An American Tourist Visiting Armenia
Probably you have heard about Armenian hospitality thousands of times or even more. Well, I am rushing to say that everything you have heard is pure truth. To prove that, today I will tell you a real story about an American teacher named Chris, who happened to travel to Armenia due to his work responsibilities.
I will tell the story of an adventure Chris and I had while climbing mount Teghenis in Kotayk region of Armenia, where I was the guide, and he was my guest, not just a tourist.
It is always like that in Armenia: all the tourists are welcomed like guests, and sometimes they even become friends. Thus, let us start the journey through our story's funny and interesting paths.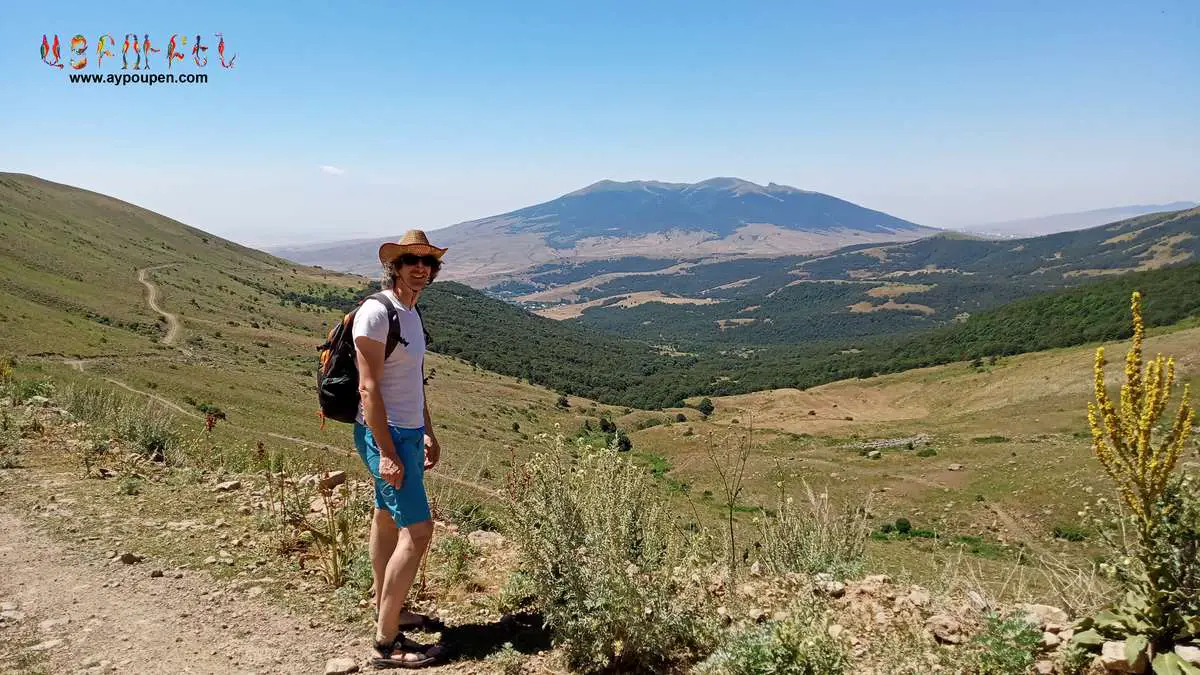 How Tourists are Treated Like Friends in Armenia
Chris is an American teacher who arrived in Armenia for a few months to teach English at the American University of Armenia. Chris was his name. He was a kind and cheerful person, with blue eyes and long blond hair.
Chris was not only a teacher but also an eternal student; he enjoyed exploring the world, meeting new people, opening new horizons, and Armenia was not an exception for him.
Along with teaching, he tried to know as much as possible about our country, nation, culture, and traditions. There is nothing better than traveling to investigate and get to know everything around you, and Chris knew about it. Therefore, he dedicated all his free time to wandering outdoors while living in Armenia.
It happened so that my sister was in one of Chris's courses. Thus when he expressed a desire to climb a mountain near Yerevan and asked for advice from his students, my sister recommended me.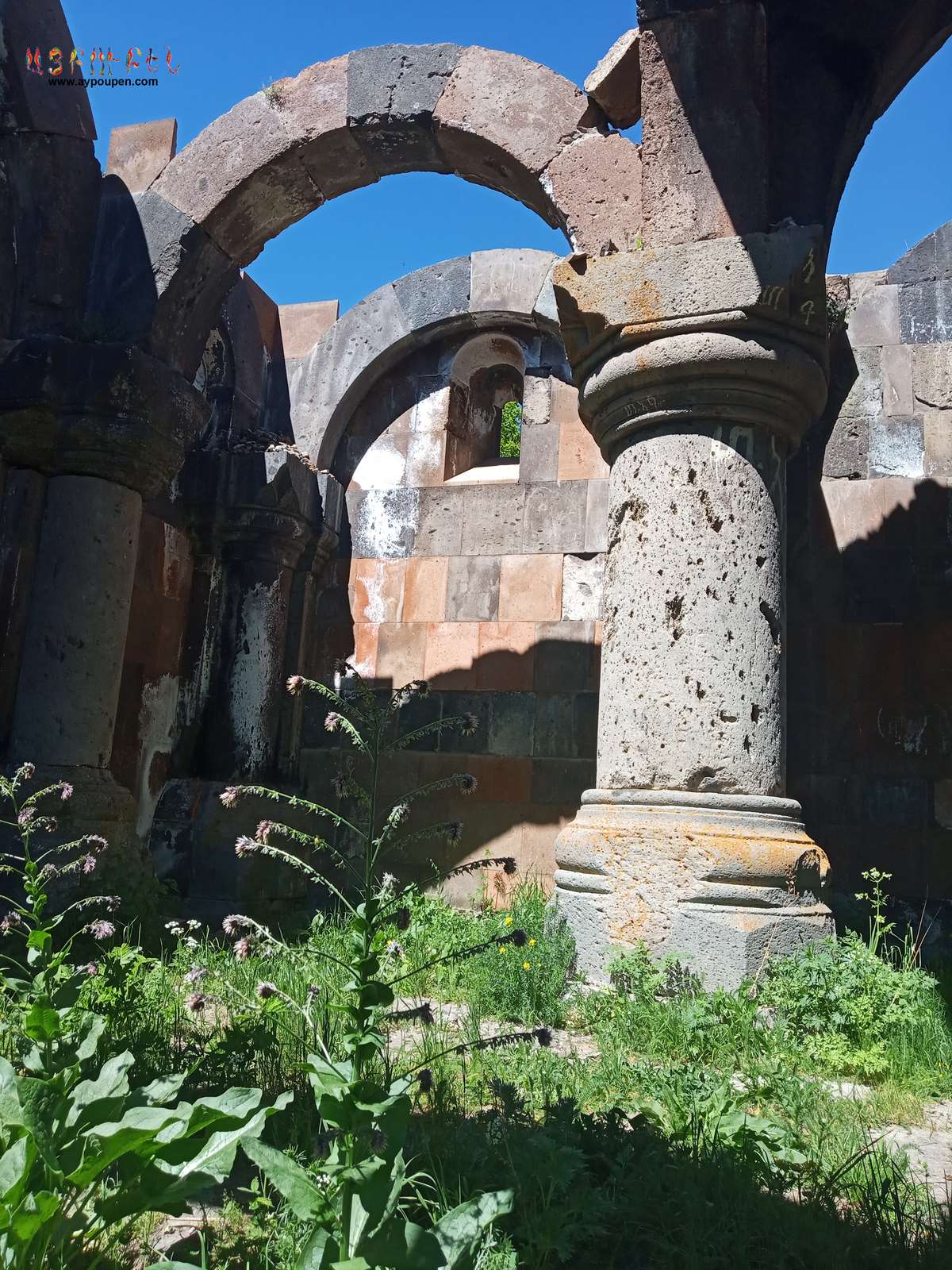 How was our day trip to Teghenis?
On the morning of the appointed day, I showed up ten minutes earlier in order not to make my guest wait for me. As a result, I had to wait for more than thirty minutes, but I was neither angry nor upset․ On the contrary, I was looking forward to showing another corner of my homeland to a stranger, hoping that he would take only good and warm memories with him.
Chris arrived with his apologies and a wide smile as our intercity minibus to Yeghvard (a town in Kotayq) was about to leave. Therefore, we did not lose time and took our seats. At the time, we did not know what kind of adventures the day had prepared for us; we were just talking and laughing, happy to have another day outside, hot and crowded Yerevan.
When we reached Yeghvard and came out of the minibus, the sun was already high on the horizon. I looked at Chris, and the first thing that came to my mind was; that he needed sun cream.
Armenian sun is very strong and playful; it likes to kiss people, especially those with very light skin. Chris was one of them; therefore I asked:
– Chris, I hope you have water, a hat, and sunscreen lotion with you as I asked.
Even though he did not answer, I understood from his guilty look that he had forgotten. People often lose themselves out of joy. It happens to me as well. We decided to take our chance in the only shop nearby. All it could offer us instead of sunscreen was a foundation cream for women, which contained sunscreen particles.

It was funny to imagine Chris covered with that cream, but he refused to buy it. Luckily he managed to find a straw hat with a "Marlboro" inscription on it.
We also bought water for him and were ready to continue the trip. When we were in the taxi, whisking to Buzhakan village, I already knew my American guest would not be the same on the road back, neither spiritually nor physically․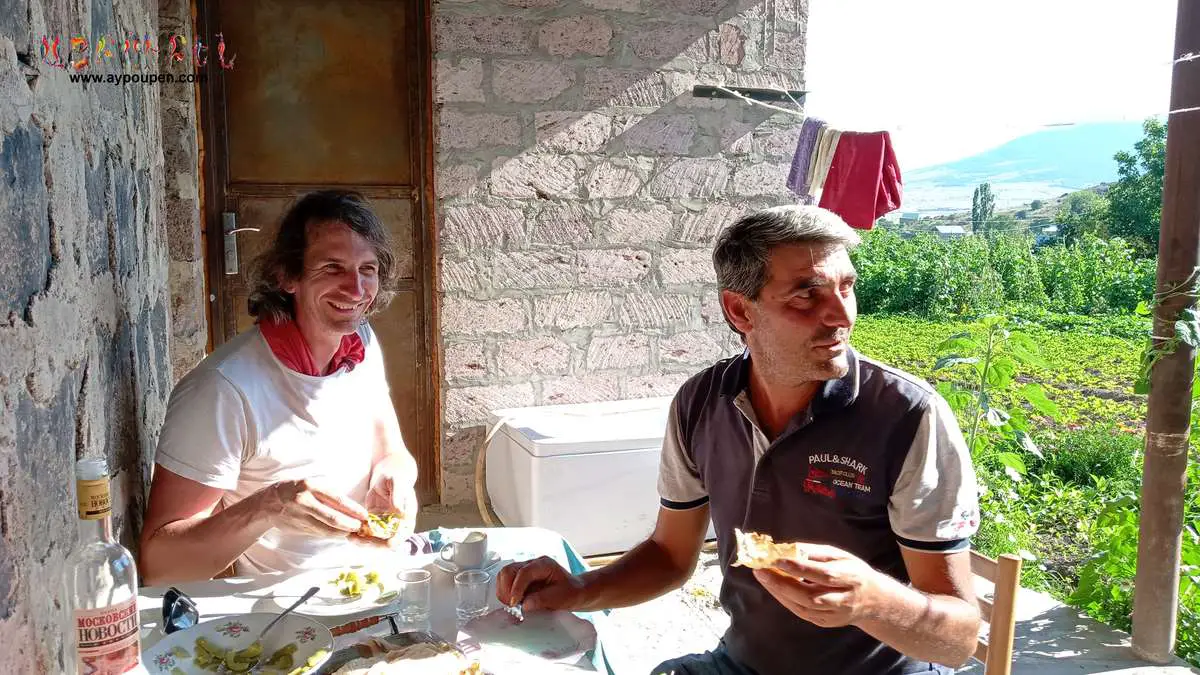 How Armenian Share Bread and Become A Friend
I do not want to go into the details of Teghenis mountain in this story because this is not a story about mountains or journeys, but mostly about the humanity and hospitality of an ancient nation that has seen lots of cruelty and deprivation throughout history but has remained regardful and open-hearted.
Therefore, I will only say that Teghenis is the highest summit of the Tsaghkunyats mountain range (2851 m above the sea). It has two wonders at its feet: an old forest full of bird sounds and the Teghenyats monastery built during the 6-7th centuries.
Chris and I stopped there for half an hour to admire the mastery with which the sculptures of the monastery are made, to feel the breath of history, and to share bread in that sacred place.
When I offered my American guest to enjoy my benefits, he was surprised and confused, but he did the same the next moment. From that moment, we became friends by the unwritten law, friends that may never meet again.
Our next stop was on the summit, where we enjoyed wonderful and amazing views, drank tea, and talked silently while three amber-black crows were hovering over our heads․
In Armenia, rejecting an invitation to share food is an Insult
In Armenia, rejection is considered an insult if a villager invites a traveler to share bread with him. They invite you with a sincere, simple heart and put in front of you whatever they have, without hiding anything. They will give you even the last piece of bread they have. The inhabitants of Buzhakan village are not an exception.
Chris and I met a group of villagers while coming down from Teghenis. Men of different ages, with sun-kissed skin and hands rough from village work. They were just setting the table just there, right on the grass, without formalities, under the saving shadow of old trees.
We greeted them and were about to pass on when a voice called us:
– Hello, and may the day be kind to you. Come join us, eat watermelon, and drink with us. You will always have time to walk again. You look tired. Come.
We did not want to bother them.
– Thank you,- we said,- but it will be better for us to keep on going. We still have to get to Yerevan. May you have a sweet(nice) meal.
– No, no, and thousand times no. You cannot go away just like that. Come, come to the table. (Insisting is part of Armenian Hospitality)
It felt really wrong to go just like that, it would assault them, and we surrendered. The "table" was filled with fruits and vegetables, homemade cheese, and lavash (Armenian thin bread). But two things dominated all those tasty foods: vodka and sweet, juicy watermelon.
There was so much love and calmness at the place, caring and silent joy, and also humor, rural, simple, sweet humor.
Someone started to cut the watermelon, another filled the glasses with vodka and passed them to the others, and another divided lavash into pieces by hand.
My American friend drank two glasses of vodka with pleasure, without even suspecting that drinking two glasses is "for trouble" and he should definitely drink the third one to avoid it. While they were drinking and talking without understanding each other, I thought that the drink was not homemade mulberry vodka. The third one was also drunk successfully.
While living in Armenia, Chris understood Armenian Hospitality, that it was worthless to refuse the regale of locals. Now he was not white but red, not only because of walking and sitting under the sun almost the whole day but also from drinking. He was red but happy, with shining eyes. In the end, one of the villagers said:
– Let us take a picture with our American. We cannot go to America, at least let our picture go.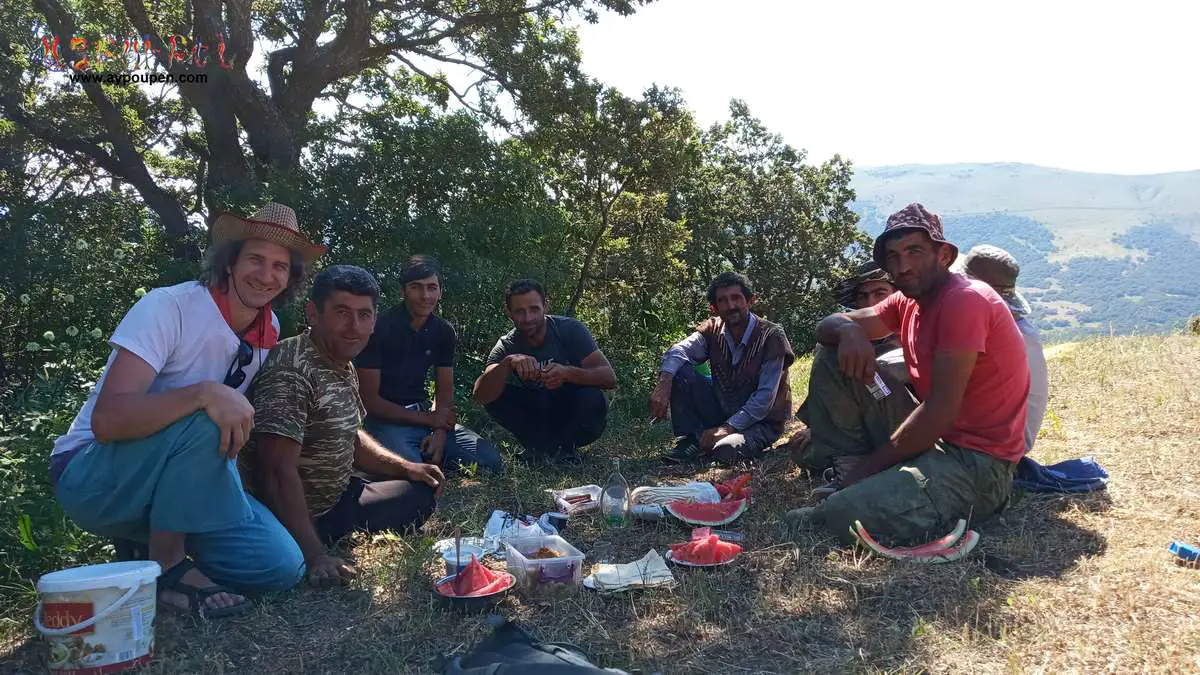 Conclusion
When we walked again, Chris asked:
– It is interesting, we were invited because I am a foreigner or they are so kind to locals as well?
– Everyone is welcomed without a difference (that's what Armenian hospitality is all about).
And it was true.
We were already in the village and had to find a taxi. I noticed a girl in the yard of one of the houses. We approached her, and a sweet story began with a simple question "how to find a taxi."
In thirty seconds, all the family members were in the backyard. Two minutes later we already had a taxi, which we had to wait for at the table, eating tasty homemade food cooked from the goods those people had grown with their own hands.
Chris had to drink more vodka with the host and not only drink but also say toasts and wishes. While drinking and eating, they did not forget to learn each other's languages. Sitting a little further away, the grandmother smiled softly, although she could hear nothing due to sickness.
The joy from having guests under their roof was so sincere, and we were so happy to meet those wonderful people that it was very hard to say goodbye, but we had to.
I will not tell all the conclusions of my American friend since only one will be enough. When we were in the taxi on our way back to Yerevan, he said, very affected by the attitude of those simple, honest people:
– In our country, if you get confused and cross someone's property, they will shoot you, or curse, at best. You have the exact opposite. They force you to come in and share their goods with you.
If you like this article and would like to be updated when we publish a new one,
please follow us on Aypoupen Instagram

,
and like our Aypoupen Facebook page


and subscribe to our Aypoupen Youtube channel

.