Where are you planning to spend your summer vacation?
We will try to persuade you to visit Armenia; the Land of the Ancient people where the mountains reach the skies, where Noah 1st set foot after the flood, the land of the 1st Christian Nation on Earth.
In an effort to try and ease your plans, we decided to share with you a list of the most famous Museums in Armenia. You may book your daily trips with Hyur Service who provides a Yerevan City Tour that includes a visit to Erebuni Museum, the Local Market, The Matenadaran, and to Tsitsernakaberd for an amount of 100 euros at least, but while we wait why don't we take a look at where we can go to when we decide to make the trip to Armenia.
Let's make it more interesting, here is a countdown to the ten best museums in Armenia;
Remember, Armenia is a huge museum by herself and our countdown is according to the TripAdvisor site, but all museums are equally important for us:
At 10th Place: Cafesjian Center for the Arts
Review: The museum is a combination of out-door sculpture garden and internal museum. The collection is interesting, eclectic, and thoughtfully presented. The museum building was stunning, a unique structure worth a visit. This would be a great museum to bring children as the pieces are very approachable and different.
At 9th Place: Ervand Kochar Museum
Review: Ervand Kochar ( 1899-1979) is an important sculptor and artist of the twentieth century, founder of Painting in Space style. Painting in Space is an art movement that syntheses painting, graphic, and sculpture.
I am very happy to do not miss this place on my itinerary. A small museum, opened near Yerevan's Cascade in 1984, with a great collection and friendly and informative staff. There are many great works of him exhibited in this museum and also in Yerevan's squares(statues like VARDAN MAMIKONYAN and DAVID SASSOON). This was my first contact with this artist's works and with painting in space style, which was amazing. Really I became excited with his masterpiece painting: the disaster of war.
At 8th place: Yerevan History Museum
Review: History of Armenia is ancient and interesting. So does the museum. You can see a lot of artifacts there but the most known of them is the oldest skin shoe that is 5500 years old. It's really must-see. The museum is big and you need some time to look around all the galleries and halls.
Remember: World Oldest Shoe Found in Armenia

Review:
At 7th Place: Megerian Carpet Museum
We had an elderly gentleman take us on tour. The passion for this amazing place was part of his being. I am just sorry I did not get his name as I would recommend him to everyone. I will be back to do lunch or dinner at this museum and obviously to buy a beautiful carpet. My friend and I were treated to some lovely coffee in the restaurant while waiting for our transport.
At 6th Place: National Art Gallery
Review: Rich Collection:i was amazed by the collection of the museum! I spent whole my day there and still couldn't see all the things! perfect place for art lovers! paintings of great artists, sculptures, ancient clothing, jewelry, weapon, etc! the museum is well maintained and not expensive! photography and video filming require separate tickets.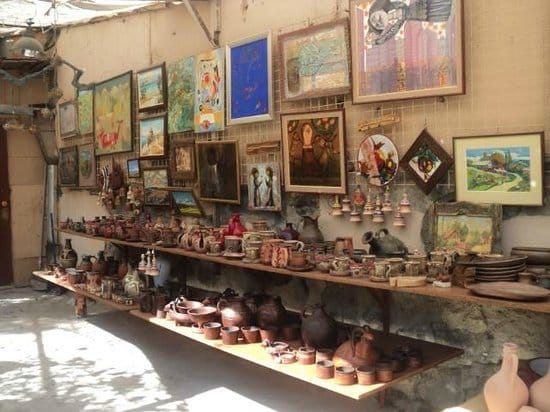 At 5th Place: Dalan Art Gallery
Review: Cozy Place: Such a cozy and adorable place to be alone or with someone else. The prices are not very expensive and they have a list of all kinds of tea and coffee.
At 4th Place: History Museum of Armenia
Review:
The best place to learn about Armenia throughout the ages. The museum is well designed, the artifacts are impressive and the flow from one era to the other is very smooth. The building housing the museum is beautiful and conveniently located on Republic Square. Our only complaint was that for an unknown reason, the descriptions covering the Genocide and the Soviet years were not generally available in English.
At 3rd Place: Parajanov Museum
Review: Wonderfully weird Museum: This collection of collages, sculptures, paintings, and movie paraphernalia from the most famous Armenian filmmaker is remarkable and different and wonderfully odd. It is cozy and eclectic. There are so many things to see.
At 2nd Place: Armenian Genocide Museum
Review:
Very Thought Provoking: One of the most amazing yet disturbing museums I have ever been to. I'm ashamed I knew very little of the Armenian genocide (not that the Israeli, American or British governments state it was a genocide, despite a certain WWII leader staying it was). This is a must-see museum. The area around it is nice, amazing buildings…

Review:
At 1st Place: Matenadaran – The Museum of Ancient Manuscripts
Great place for investigating Armenia: Every tourist being in Yerevan at least for 3 days, must find time to visit Matenadaran. It is a great opportunity for tourists to know more about Armenian history, culture, music, poets, etc.
What are our other options? Well to include them all, you may also visit the following museums
11. Museum of Russian Arts
12. Echmiadzin Historical & Ethnographic Museum
13. Memorial Museum of Orbeli Brothers
14. Aram Khachaturian Museum
15. Hovhannes Tumanyan House Museum
16. Modern Art Museum of Yerevan
17. The Geological Museum and Art Gallery of Dilijan
18. Sardarapat Memorial
19. Museum of Folk Arts
20. Mikoyan Brothers Museum
21. The Branch of Hovhannes Sharambeyan Centre of Popular Creation – Dilijan Museum of Folk Art
22. Fridtjof Nansen Museum
23. Mirzoyan Library
24. Gala Art Gallery
25. Alexander Tamanyan Museum
26. Charents Museum of Literature and Arts
27. Shiraz House Museum
28. Museum of National Architecture and Urban Life
29. Metsamor Historical-Archaeological Museum-Reserve
30. Komitas Museum-Institute