Hovhannes Tumanyan, a renowned Armenian writer, poet, and public figure, was born on February 19, 1869, in the village of Dsegh in the Lori province. He became one of the most prominent literary figures in Armenian history.
The Literary Genius knew how to talk to the tiny students at our schools, and taught life lessons to the adults in society. His stories were our favorite subjects at school plays, his poems were so touching he spoke to our hearts a hundred years after they were written.
Throughout his life, Tumanyan made significant contributions to Armenian literature and culture, leaving behind an enduring legacy that continues to inspire generations. This article will delve into Tumanyan's life, his contributions, and his legacy.
Video of Armenian National Guards Saluting Hovhannes Tumanyan
Early Life and Education
Tumanyan's journey began in 1877 when he enrolled at the Dsegh parish school, where he received his elementary education.
From 1879 to 1883, he attended the newly opened boys and girls mixed school in Jalaloglu, which is now known as Stepanavan. After completing his studies in Jalaloglu, Tumanyan moved to Tiflis (now Tbilisi), Georgia, where he would live for the rest of his life.
In Tiflis, Tumanyan studied at the Nersisian School from 1883 to 1887. Due to financial difficulties, he had to leave his studies halfway and started working at the Armenian Church Court of Tiflis and later in the office of the Armenian Publishing Union until 1893.
It was during this time that Tumanyan began to gain recognition for his literary works, which were published in various periodicals such as "Aghbyur," "Murch," "Hasker," and "Horizon."
Wife and Children
In 1888, at the age of nineteen, Tumanyan married seventeen-year-old Olga Machkalyan. They had 10 children:
Mushegh (1889-1938),
Ashken (1891-1968),
Nvard (1892-1957),
Artavazd (1894-1918),
Hamlik (1896-1938),
Anush (1898-1927),
Arpenik ( 1899-1981),
Areg (1900-1939),
Seda (1905-1988),
Tamar (1907-1989).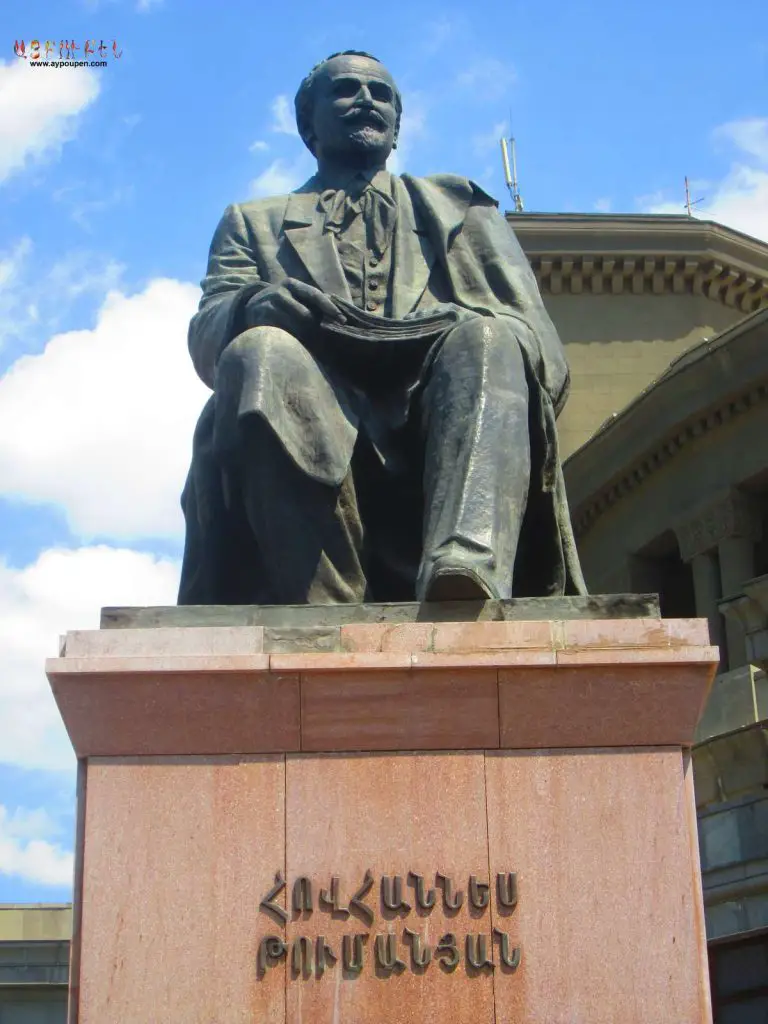 Contribution to Armenian Literature
At the age of 12, while studying at Jalaloglu school, Tumanyan penned his initial literary work, which included poems, quatrains, ballads, stories, fairy tales, reviews, critical essays, and journalistic articles. It was only after the publication of his "Poems" collection (1-2 volumes, 1890-1892) that he gained widespread recognition.
Tumanyan's literary works primarily focus on nature, folklore, and life in the Armenian countryside. His writings brought a new era to Armenian literature and culture, inspiring many young writers to follow in his footsteps.
Tumanyan's most notable works include "Anush," "Davit of Sasun," and "The Dog and the Cat," which are widely popular among Armenian readers. He also translated Aesop's Fables into Armenian and adapted Shakespeare's "Hamlet" into a play, which was performed in Armenian theaters.
Vernatun Literary Group
In 1899, Tumanyan founded the "Vernatun" literary group in Tiflis, which included renowned Armenian writers such as Avetik Isahakyan, Derenik Demirchyan, Levon Shant, Ghazaros Aghayan, Perch Proshyan, Nikol Aghbalyan, and others. The group operated intermittently until 1908, having a great contribution to shaping Armenian literature and culture.
List of Hovhannes Tumanyan Fables and Fairy tales
| | |
| --- | --- |
| Անխելք մարդը- Ankhelk Marte | The foolish man |
| Չախչախ թագավորը- Tchakhtchakh Takavor | The Rattlesnake King |
| Ծիտը- Dzide | The bird |
| Ուլիկը- Oulike | Ulik |
| Սուտասանը- Soudasane | The liar |
| Ճամփորդները- Jamportnere | Travelers |
| Կացին ախպեր- Gatsin Akhber | Ax brothers |
| Խոսող ձուկը- Khosogh Tsouge | The talking fish |
| Խելոքն ու հիմարը- Khelokn ou Himare | The wise and the foolish |
| Ոսկու կարասը- Vosgou Garase | The pot of gold |
| Տերն ու ծառան- Dern ou Dzaran | Master and servant |
| Կռնատ աղջիկը- Krnad Aghchige | The crimson girl |
| Պոչատ աղվես- Bochad Aghves | Tail-less fox |
| Անհաղթ աքլորը- Anhaght Aklore | The invincible rooster |
| Սուտլիկ որսկանը- Soudlig Vorsgane | The lying hunter |
| Բարեկենդանը- Paregentane | Carnival |
| Եդեմական ծաղիկը_ Yetemagan Dzaghige | The Eden flower |
| Անբան Հուռին- Anpan Hourin | Lazy Houry |
| Քեֆ անողին քեֆ չի պակսիլ- Kef Anoghin Kef Chi Bagsir | He who has fun will not have less fun |
| Քաջ Նազարը- Katch Nazare | Brave Nazar |
| Կիկոսի մահը- Gigosi Mahe | Kikos's death |
| Ձախորդ Փանոսի հեքիաթը- Tsakhort Panose | The Tale of the Left-Handed Panos |
Hovhannes Tumanyan's Legacy
Tumanyan revolutionized Armenian literature with his works, bringing simplicity and popular language to his writing that deeply reflected the psychology, thoughts, and aspirations of the Armenian people. Through his words and lyrics, Tumanyan discussed topics ranging from patriotism, social and political issues, philosophy, and love.
Poems
His poems, such as "The Song of the Plow"- «Գութանի երգը», and "In the Hut,"- «Խրճիթում», expressed the image of real life and a condensed protest against social injustice. "Ancient Blessing"-«Հին օրհնություն» was a powerful expression of the grief, aspirations, and dreams of the Armenian people, while "Armenian Mountains" depicted the centuries-old history, struggle, and painful path of the Armenian people.
During the Great Genocide, Tumanyan wrote "With My Homeland,"- «Հայրենիքիս հետ», a poem that condenses the history and philosophy of Armenian existence into unique verses. The poems "Sasuntsi David" (unfinished), "Tmkaberdi Arum," and ballads such as "Akhtamar" and "Parvana" were also created according to this principle.
Aside from his prose, Tumanyan also wrote children's poems, legends such as "The Dog and the Cat" and "Unfortunate Merchants," and other works in both verse and prose. His poem "Sasuntsi David" is a powerful depiction of the freedom-loving spirit of the Armenian people, written with great inspiration.
Legends and Traditions
Tumanyan believed that folklore, including legends, fables, and traditions, was the main source of literary development, inspiring works such as "The Dove Monastery," "The End of Evil," "The Lamb Brothers," and "A Drop of Honey."
In works such as "Harachank" (unfinished)-(Հառաչանք), "Loretsi Sako,"- (Լոռեցի Սաքոն), "Maron,"- (Մարոն), and "Anush," (Անուշ), Tumanyan depicted the Armenian patriarchal village with its customs, contradictions, and social life.
In "Anoush," Tumanyan criticized the old, petrified customs and narrow-minded honor of the village. Additionally, Tumanyan developed more than two dozen Armenian folk tales, including "The Master and the Servant," "The Pot of Gold," "Left-Handed Panos," "Anban Huri," and "Courageous Nazar.", etc…
Stories depicting everyday Peoples' Lives
Tumanyan's stories are widely regarded as some of the best examples of Armenian prose. Most of his stories are centered around the village, everyday life, and nature. One of his most tragic tales, "Gikor," tells the story of a village boy who falls victim to the customs of the city. The story highlights the materialism of the era and the downfall of man's lofty dreams.
In his articles, Tumanyan delved into a range of topics, including public life, literature, folklore, the development of the Armenian language and dialects, and studies on important figures such as Nahapet Kuchak, Naghash Hovnathan, Khachatur Abovyan, and Sayat-Nova.
He also translated works from notable authors such as Alexander Pushkin, George Byron, Mikhail Lermontov, and Henry Longfellow.
Contribution to Armenian Politics
Between 1905 and 1906, he served as a mediator in the Armenian-Tatar conflicts that were instigated by the tsarist government. However, this led to his arrest on two occasions.
In 1912, Tumanyan was elected as the president of the newly created Caucasian Society of Armenian Writers, and later in 1918, he became the president of the Union of Armenian Patriotic Unions.
Under his leadership, the Union of Armenian Patriotic Unions established an Investigative Commission headed by Tumanyan in 1918. In the same year, during the Armenian-Georgian war, he strongly condemned those responsible for fueling hostility between the two nations that shared the same religion.
The Commission's purpose was to calculate the damages suffered by the Armenian people during the First World War (1914-1918) and to present them to the Paris Peace Conference (1919-1920).
Toumanyan's Help to the Armenian Genocide survivors
Following the Sovietization of Armenia, he chaired the Relief Committee of Armenia from 1921 to 1922. In the fall of 1921, Tumanyan went to Constantinople (now Istanbul) to seek help for Armenian emigrants. but his trip took a toll on his health, and he fell ill.
After an operation in 1922, his health improved, but he was transferred to a hospital in Moscow. Tumanyan was transferred to a hospital in Moscow, where he passed away on March 23, 1923, at the age of 54.
Although his life was cut short, Tumanyan left behind a remarkable legacy as one of the most influential figures in Armenian literature and culture. His works, which include poems, plays, and fables, continue to inspire and educate people around the world about Armenian culture, history, and identity.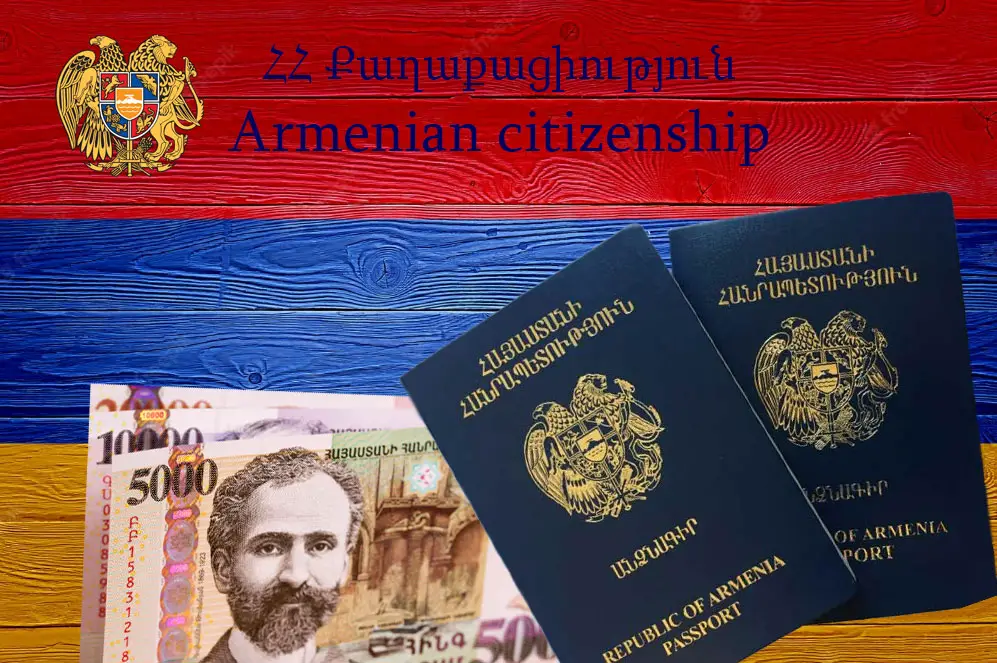 Toumanyan is Honoured In Armenian by the Government
Today, there are two museums dedicated to Tumanyan in Armenia: the house museum in his birthplace of Dsegh, and another in Yerevan. In 2011, the Armenian government purchased Tumanyan's house in Tbilisi, and the keys to the house are currently kept in the Writers' Union of Armenia. There are plans to turn Tumanyan's former residence into a museum in the future.
Hovhannes Tumanyan, one of the most prominent figures in Armenian literature, is considered a national hero and his works continue to be widely read and celebrated in Armenia and beyond. His contribution to Armenian culture and literature is so significant that he is honored in Armenian currency.
Tumanyan's portrait is featured on the Armenian 5000-dram banknote, which was introduced in 1998. It is a testament to Tumanyan's enduring legacy and his role in shaping Armenian culture and identity.
The front side of the banknote features Tumanyan's portrait, along with a nature scene from Lori, from one of Martiros Saryan's paintings
The inclusion of Tumanyan's portrait on the 5000-dram banknote is a tribute to his contributions to Armenian literature and culture, and it serves as a reminder of his enduring legacy. It also highlights the importance of literature and the arts in shaping national identity and promoting cultural heritage.
The banknote serves as a fitting tribute to Tumanyan and his enduring impact on Armenian culture and society.