The first time I watched Vahe Berberian's monologues on DVD was a little before 2005 in Beirut. It wasn't even an original DVD, probably one we got at a DVD rental shop for a couple of bucks.
I saw his performance for the first time when he came to Cyprus in October of 2012. I'm a loyal subscriber of his Youtube Channel.
Vahe Berberian, Bio, Age, Height, Education
Usually, in this part, we write the bio of the Artist, not that he needs to be introduced.
His spirit age is that of a teenager (born July 11, 1955), and his talent is that of a master.
He is born in the family of a lovely lady, who just got scratched by his cat a few weeks ago, and I'm sure has had all the patience in the world bringing him up, and where he gets his spirit from.
He is a Levon and Sophia Hagopian College Graduate, wonder if he has crossed paths with teachers of that period: painter Paul Guiragossian, or young Fr. Zareh Aznavorian, musician-composer, and spiritual influencer of many generations.
After High school, he studied Arts in Lebanon where he has also been involved in the theater.
In 1976 Vahe moves to Canada, then to the United States, where he continues his studies in arts and Journalism. He is married to Betty, who also works in the movie business in Hollywood.
His height, (well 6′2, 188 cm) goes very well with his long hair, and beard, easily giving him the looks of that wise Armenian King, who gave Armenian women freedom and provided his nation with educational centers, and artistic workshops.
What kind of art does Vahe Berberian do?
Vahe's work has always had the surprise factor, the funny and wild, calm and cheerful, daring, and proud of it!
That tall guy with long hair, in jeans and sneakers, who will be hugging the audience and enjoying all the love after standing a couple of hours on the stage.
He has been involved in many theatrical works, exhibitions, and movies (more than 30), as an actor, producer, and director.
As a playwright (The Pink Elephant, 3 Weeks in Yerevan, Russo & Anna), novelist (In The Name Of The Father And The Son, Namagner Zaataren.)
You may be familiar with his monologues (Yevailen, Nayev, Dagavin, Sagayn, Yete, and Ooremen).
You should see him in Peshawar Ensemble, Japanese Armenian Proposal, Arshag Takavore( Out Of The Cage) that you may find on his Youtube channel that we recommend that you subscribe to Vahe Berberian Youtube Channel

.
Books
Monologues
Movies
Theater
A Kiss Is Not Lip Service
Sagayn
The Pink Elephant
(Armenian)
Quicksand
In The Name Of The Father
And The Son
Nayev
3 Weeks in Yerevan
Baron Garbis
Diary Of A Dead Man
Dagaveen
Russo & Anna
Gyank
Namagner Zaataren
Yeté
Exit One
Pages from a Diary
Ooremn
A Nest At The Beach
The Pink Elephant
Yevailen
The Pink Elephant
Out of the Cage
Out of the Closet
Arvest Comedy Night I & II
The Night Visitor
Words
200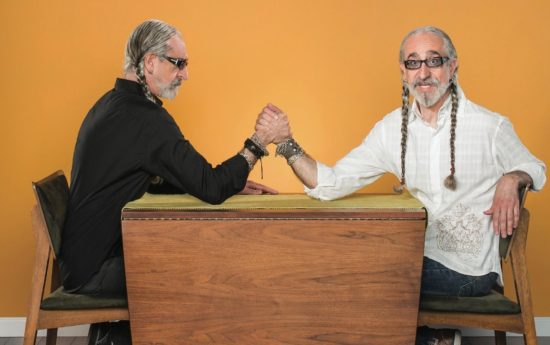 What do Critics say about Vahe Berberian?
To all the haters out there, how could you!! Well as with any form of art Vahe's work has also been criticized by many.
Vahe puts on a comedy show that is based on real people. Still, some continue to criticize his appearance, his language, his jokes, and comments on religion.
Vahe's show is not just meaningless jokes but satire, a call to look within ourselves and criticize ourselves, maybe discover that our behavior sometimes is not that Armenian, or Christian-like.
As if Vahe tries to convert the message that God is Love after all. The Creator is loving, forgiving, and accepting of all, whereas we, humans, tend and hurt each other. The Live Show gives the chance to the audience to discover the humanitarian in Vahe Berberian.
Vahe Berberian LIVE Show on YOUTUBE
Vahe's Live Show on Youtube, started streaming on April 12, 2020, and ended on November 13, 2020, with 30 amazing episodes full of fun information.
Vahe and his team, Levon Shant Demirjian, and Christina Shirinyan ran a show that educated and entertained simultaneously, as they discussed many important topics with various Armenian personalities from all over the world.
Vahe Berberian interviewed guests from different backgrounds, countries, and fields, appreciating, highlighting their work and the causes they stood for, and raising awareness. Some of the guests were:
Shahan Kandaharian,
Ara Dinkjian,
Serge Avedikian,
Antic,
Simon Abkarian,
Noubar Afeyan,
Seda Grigoryan,
Robin Koulaksezian,
Shaghig Hovsepian, etc…
What was even more precious was that his audience was able to comment live and interact with them no matter where they were, from behind their screens as if drinking that cup of coffee with Vahe Berberian and his guest while being in the same room with the production team.
That is because Vahe read fan letters, and comments, and shared their work, giving them a sense of special treatment.
The show was the natural flow of Vahe's monologue since his stories were about real people, just richer in content. The audience got to know new people, who usually worked in silence or in a formal manner.
Vahe set the mood for the guests, to connect to the audience with the same cheerful spirit that he uses to make even the naughtiest joke passable.
Just like a book that we like, and read carefully so that we don't miss any word, enjoying it thought after thought, we enjoyed watching every second of his interviews in order not to miss any information, shout out, any recommendation of a new book, and suggestion of new artwork.