Vahe Bayrakdarian and a new way of demonstration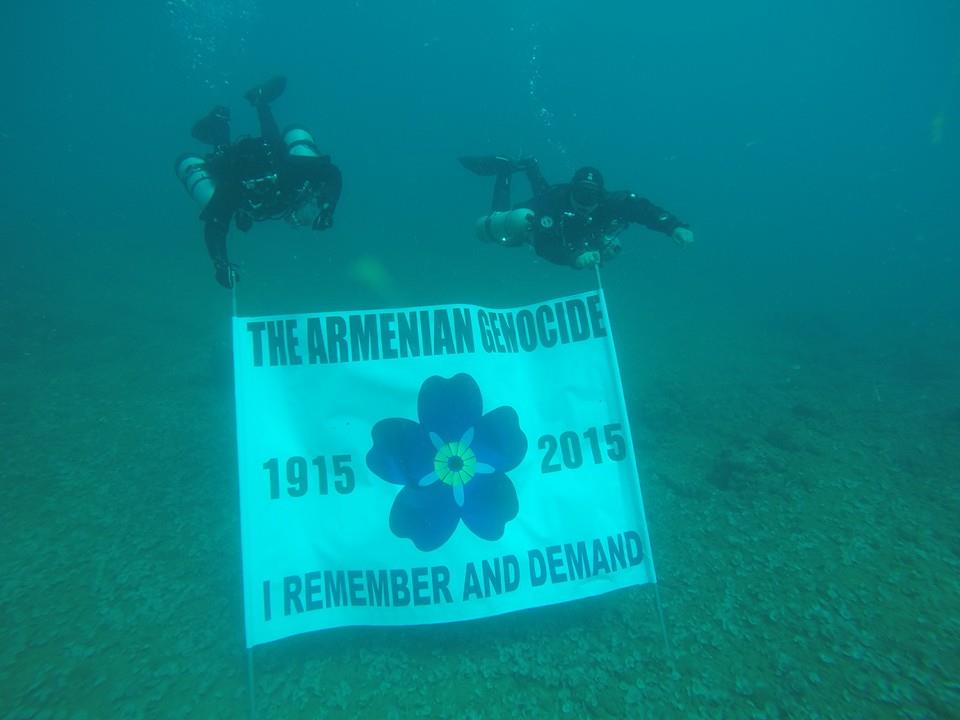 As we all know April 24th marked the centennial of the Armenian Genocide, causing Demonstration Tsunami by the Armenians all over the world. Some marched in hundreds of thousands in their residing countries, others crossed oceans on bikes spreading the message to the world, artists painted, sang, danced and gave concerts in Armenia and the diaspora.
One man chose a different path to express his demand for recognition and justice. Vahe Bayrakdarian dived and demonstrated deep in the waters of the Mediterranean Sea. Sunday, April 26th of 2015 was not a regular diving day for him, as when he reached the bottom of the sea near Beirut shores he raised yet again the message banner of the Armenian Genocide "I remember and demand" including the forget me not flower.
Vahe Bayrakdarian is a Lebanese Armenian whose ancestors fought and won, as proud flag-bearers on the front lines of battle, fighting for their lands in (Dortyol), thus gaining the family name Bayrakdarian. The family later moved to (Iskenderun) and eventually to (Zahleh) then settled in Beirut Lebanon.
Wholesale Women's Clothing Manufacturer by trade, the owner of fashion house "V Club" has been diving deep into the blue sea since 2008 and has been certified as a Technical instructor and side-mount instructor for over a year now. The walking example of  fine Armenian Men who cherish their past work hard to recreate their own Armenia wherever they may be.