In 2015, Laurie Alvandian and Nina Romá Agvanian received a Next Step Alumni Fund grant from Birthright Armenia to build 15 Little Free Libraries in Armenia. In July 2016, with the help of Four Peaks Landscape + Architecture, the first official Little Free Library in Armenia was installed on Arami Street (pictured above). Since then, Laurie and Nina have installed two more libraries in Yerevan and have attracted over 1,600 Facebook followers. They have been featured in Yerevan Magazine, Asbarez, Agos, US Armenia, and more, and have at least seven exciting library locations scheduled for installation in spring/summer 2017.
So far we've received an overwhelmingly positive response from the community and now we, Laurie and Nina, have set our sights even higher.
Our goal is to build and install at least 40 Little Free Libraries throughout Yerevan, the unrecognized Armenian Republic of Artsakh (formerly Nagorno-Karabakh Republic) and each of Armenia's 10 provinces. A few of the locations we already have scheduled for 2017 are:
Dilijan (Cafe #2) – Tavush province
Gyumri – Shirak province
Kalavan – Gegharkunik province
Kapan (ARK Armenia) – Syunik province
Berdavan – Tavush province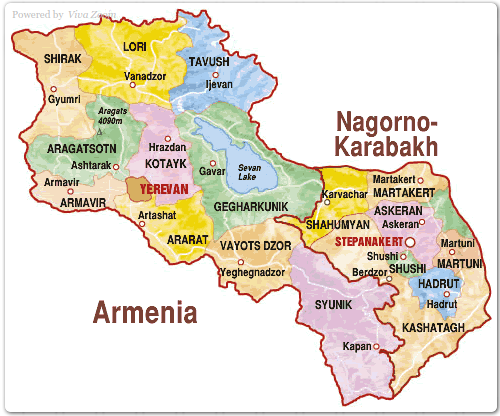 What exactly is a Little Free Library?
Little Free Libraries began in 2009 in Wisconsin, USA when Todd Bol built a small, wooden model of a schoolhouse and placed it outside his house, filled with books. He started building more little libraries for his neighbors, who loved the idea of a neighborhood book exchange. Eventually Todd teamed up with Rick Brooks. Inspired by philanthropist Andrew Carnegie's goal of building 2,508 free public libraries during the 20th century, Todd and Rick made their own goal of building at least 2,508 Little Free Libraries before the end of 2013. Not only did they surpass their goal, but the idea behind Little Free Libraries spread all over the world. Today, there are over 50,000 registered Little Free Libraries in over 70 countries. In 2012, Little Free Library became a registered 501(c)(3) nonprofit organization.
The concept of Little Free Libraries is very simple. They are free, public book exchanges, usually located outside in accessible public spaces. The motto of Little Free Library is "take a book, return a book." Anyone in the community is welcome to take a book from the library or bring a book to place in the library for someone else to read. Little Free Libraries come in all different shapes, sizes, and designs.
Check out the official Little Free Library website here: https://littlefreelibrary.org/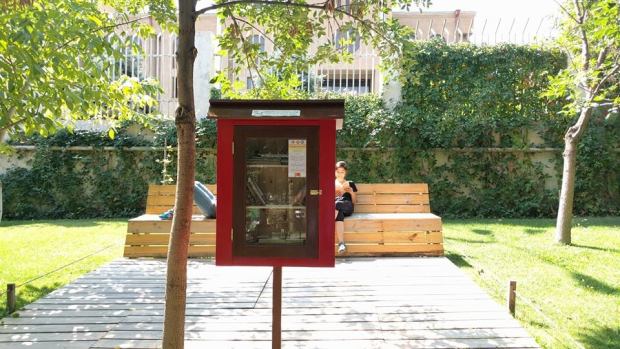 Who are we and why are we doing this project in Armenia?
We, Laurie and Nina, arrived in Armenia in the same week back in February 2014 and became instant friends. We had never met, and never been to Armenia before, but both came to participate in Birthright Armenia, an organization that brings young diasporan Armenians to Armenia to work as volunteers. After several months of living in Armenia, on a fateful weekend trip to Georgia, we agreed that we felt a deep connection to Armenia and that we wanted to move here permanently and to create something meaningful together.
The decision to bring Little Free Libraries to Armenia came in 2015, after discussing our mutual love of books and sharing stories. For Laurie, who has worked as a librarian in the U.S., books are meaningful because they bring people together, introduce them to new and exciting worlds, and encourage personal growth. Nina, who is a social worker and artist from the U.S. and Spain, feels connected to books as a way for people to share their passions and their ideas, and as a tool for healing and social justice.
We had both come across Little Free Libraries in our home communities, and agreed that the project could be a very accessible, high-impact initiative that would yield a lot of positive results in our new home. In the context of the rapid change that we noticed taking place in Armenia, we also noticed a lack of access to books and information for ourselves, our peers and our communities, despite a growing reading culture. Thinking about ways to be a part of the change in a country we had come to care deeply about, we conceptualized Little Free Libraries as a way to contribute to community development through information and book sharing. Additionally, amidst hopelessness and stories of corruption that we heard from local friends and family, we wanted to find a way to reignite hope and empower people.
On the official map of registered Little Free Libraries around the world, Armenia didn't appear. It was then that we decided to put Armenia on the Little Free Libraries map.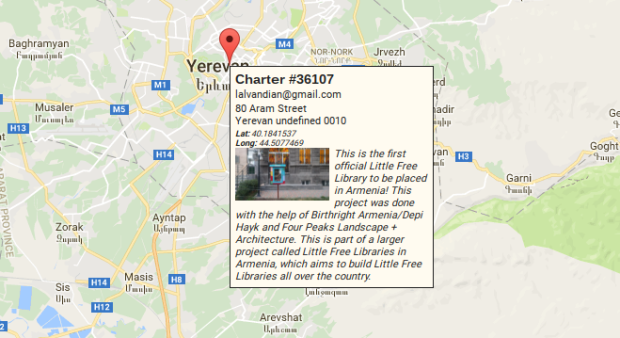 Our Vision for the Future
The main goals of the project are: to provide free and easy public access to information, promote reading culture, preserve and celebrate the Armenian language, attract book-loving tourists, and encourage community development, all while engaging local and diasporan artists to contribute beauty to Armenia's public spaces.
Now, we want to take the project to the next level. We're crowdfunding to cover the costs of building and installing 25+ NEW Little Free Libraries throughout Armenia and Artsakh (to create a total of at least 40 libraries). But to achieve that goal we need your help!
Here's where your money will go:
Painting and installation of the 12 remaining libraries
Building, painting, and installation of at least 25 NEW libraries
Renting of a storage/work space to house the libraries until installation
Purchase of additional books for the libraries
Creation of an official website for Little Free Libraries in Armenia with a map of all library locations
Transportation of libraries to regions around the country
Printing of Little Free Libraries in Armenia pamphlets and other marketing tools
Shipping books from donors overseas
Payment for translation services
Purchase of official Little Free Library plaques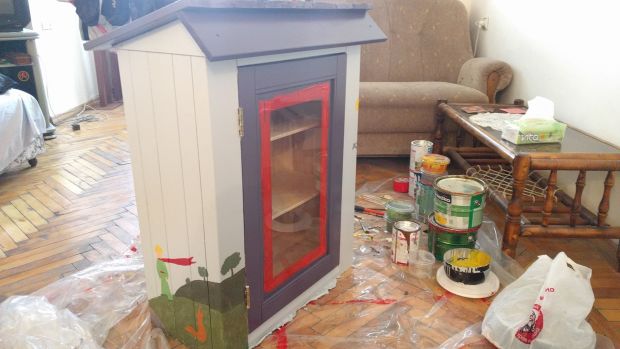 Our $15,000 goal aims to ensure that Little Free Libraries will live a long and healthy life in Armenia! Any funds raised beyond the initial goal will be put towards the newly established Open Book Initiative, an NGO we started in 2017 that is dedicated to the promotion of literacy and access to information in Armenia through implementation of initiatives and educational programming related to access to books, libraries and library resources, reading, languages, and the literary arts.
Little Free Libraries belong to their communities, and we implore those who believe in the power of books to band together as a community to give our libraries love, keep them healthy, and ensure that they continue to provide free public access to books and information for many years to come.
With lots of love,
Laurie & Nina
For more information on the Little Free Library organization, visit their website.
For more information on Little Free Libraries in Armenia, visit our Facebook page.
For more information on the PERKS we offer, see the links below:
Paintings by Nina Romá Agvanian