Moving to a new city can be an exciting and daunting experience. 
Whether you are moving to Calgary for work, family or just the adventure of living in a new place, it's important to understand what life is like in the city before making the move.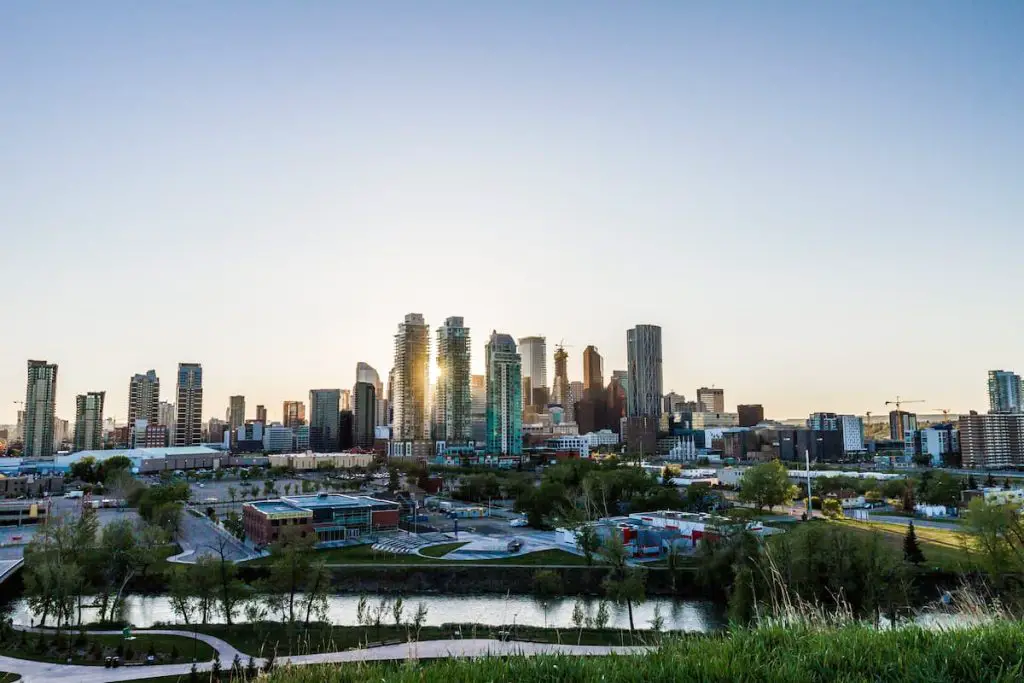 Photo by Kyler Nixon on Unsplash
From understanding public transportation options and finding housing, to discovering fun activities available in Calgary, there is much that needs to be taken into consideration when relocating. 
To help make your transition as smooth as possible, we have put together this guide with all of the information you need about moving to Calgary!
Understanding Public Transportation Options
Calgary has a comprehensive public transportation system that makes it easy to get around the city without a car. Calgary Transit operates buses, light rail trains (C-Train), and an on-demand community transit service. 
All of these services are accessible using prepaid fare cards or tickets, as well as mobile apps like Google Pay and Apple Pay.
Bus service is available throughout the city and beyond, with routes that include express and limited-stop options. 
The C-Train operates in two lines, the Red Line and Blue Line, which run from downtown to the south and north of the city respectively. 
On-demand community transit services are offered for those living in more rural or suburban areas, where regular transit services don't reach.
Calgary is also home to several bike share programs, including the popular Bikeshare Calgary and BikeSmart. 
Additionally, there are plenty of bike lanes throughout the city for those who prefer to ride their own bicycles.
Best Neighborhoods
Calgary is home to many vibrant and diverse neighborhoods, each with its own unique character. 
For those looking for a more environment, Kensington or Inglewood may be the perfect fit. Both of these areas offer close proximity to downtown attractions, as well as plenty of restaurants and shopping opportunities. 
Meanwhile, the trendy Beltline district is a great spot for young professionals looking to live close to the action.
For those who want to be near nature, communities like Marda Loop and Garrison Woods are the perfect place to call home. 
With plenty of parks and green spaces, these areas are ideal for outdoor activities, while still being close enough to downtown amenities. 
Other popular neighborhoods include the family-friendly communities of Brentwood and Huntington Hills, as well as the up-and-coming area of Saddleridge. 
No matter what your lifestyle is like, Calgary has something for everyone! 
Finding Housing In Calgary
Finding suitable housing in Calgary can be a challenge. 
The city's competitive rental market means that most potential tenants need to act quickly when they find a place they like. 
It's important to know what you're looking for and be prepared to make offers quickly once you have found a place that meets your needs. 
Before making any decisions, it's also a good idea to research the area you are considering. Take into account factors such as proximity to public transportation, schools and other local amenities. 
Once you have narrowed down your options and found a place that is right for you, it's time to make an offer! 
Activities And Events In The City
Calgary is home to a wide range of activities and events throughout the year. 
Whether you are looking for outdoor recreation in the city's many parks or exploring unique cultural attractions, there is plenty to do around town.
For those interested in art and culture, there are several galleries and museums to explore, such as the Glenbow Museum and the Alberta Art Gallery.
If you're looking for a night out on the town, Calgary has an exciting live music scene with venues like the King Eddy and Broken City. 
And for sports fans, there's no shortage of professional teams to cheer on, including the Calgary Flames and Stampeders.
Moving Tips
Moving to a new city can be both exciting and overwhelming. 
Preparing in advance is key to making sure your transition goes as smoothly as possible. 
Here are some tips for moving to Calgary:
• Research the area and identify neighborhoods that match your lifestyle needs. 
• Make sure you know what documentation you will need when applying for a rental property.  
• Get to know the city's transit system and bike share programs in advance. 
• Start looking for housing at least a few months before you plan to move. 
• Take advantage of online resources such as local blogs, activity groups and websites to get acquainted with Calgary. 
• Make connections with people who already live in the city. 
Outdoor Activities & Recreation 
Calgary has a variety of outdoor activities and recreational opportunities for all kinds of people. 
Whether you are looking to explore nature or take part in exciting adventures, the city offers plenty to do. 
Cyclists can enjoy scenic routes through Fish Creek Provincial Park and along Bow River Pathway. 
The nearby Rocky Mountains offer endless trails perfect for hiking, biking and horseback riding. 
For those who love water sports, there are plenty of lakes as well as the Bow River for kayaking and canoeing. 
To cool off in the summer, head to one of the city's many beaches or splash around at a public pool.
In addition to outdoor recreation, Calgary also has numerous parks and golf courses to explore. 
For families, there are a variety of amusement parks and attractions like the Calgary Zoo, Calaway Park and Canada's Sports Hall of Fame. 
No matter what your interests are, Calgary is sure to provide plenty of ways to get outside and enjoy yourself! 
A Dynamic City with Diverse Cultural Experiences
Calgary, nestled in the Canadian province of Alberta, is a city rich in diverse cultural experiences, stunning natural beauty, and a vibrant arts scene, making it a compelling destination for Armenian visitors. As home to the famous Calgary Stampede, the city offers unique opportunities to explore Western Canadian heritage.
Additionally, its proximity to the Rocky Mountains provides endless outdoor activities such as hiking, skiing, and wildlife viewing. Calgary also prides itself on its multicultural fabric, hosting various cultural events and festivals that Armenians may find interesting throughout the year. The city's welcoming atmosphere, robust economy, and high quality of life make it an attractive place for both short-term visits and potential long-term stays.
Key Takeaway
Calgary is a vibrant city with something for everyone! From housing to activities and events, there are endless opportunities to explore the city.
For those looking to move here, it's important to research the area in advance and be prepared when applying for rental properties. 
Once you have settled into your new home, take advantage of all that Calgary has to offer – from outdoor recreation like hiking and biking trails, parks and beaches; museums; live music venues; professional sports teams; amusement parks – whatever your interests may be, you can find plenty of ways to get out and enjoy yourself in this amazing Canadian city!