A group of young artists coming from the four corners of the world represented Armenia in 2015 at the Vienna Eurovision Song Contest. Meet Vahe Tilbian, Armenian of Ethiopia.
Vahe was the blessing of the family of Garo Tilbyan and Ani Aslanyan. He was born on the 17th of February, 1980 in Ethiopia, in Addis Ababa. He is an Ethiopian singer, musician, and dancer with Armenian roots, and lead singer for the Ethiopian Zemen Band.
Vahe Tilbian is one of the six members of the group Genealogy, who represented Armenia in Vienna. Vahe was born in Ethiopia and is part of the Armenian community in the country.
Vahe took music seriously since 2008. In 2010, he recorded his first single, "Life or Something Like it". In 2012 he released his first solo album, Mixology.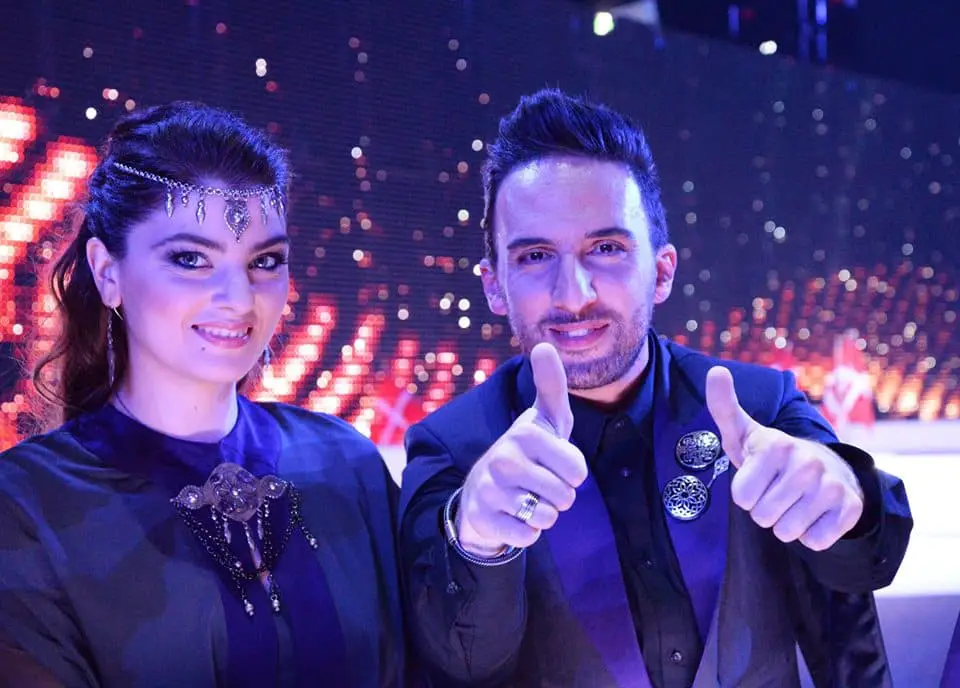 Can you introduce us to Genealogy? How was it born and what is the meaning behind it?
Genealogy is this year's representative of Armenia at the Eurovision song contest. We are comprised of six artists from all over the world, so from five different continents.
We have Stephanie Topalian from Japan,
Mary-Jean O'Doherty Basmadjian from Australia,
Tamar Kaprelian from America,
Essaï Altounian from France,
Inga Arshakyan from Armenia and myself.
I'm Vahe Tilbian from Ethiopia, representing the African continent.
The Armenian Public Television contacted us for this particular project, Genealogy. They said this year they wanted to include the diaspora in Eurovision.
So, each of us got a mail that asked us if we were interested. I said I definitely was. From then on, I had to submit a couple of videos, they liked them, so they asked me to be part of this fantastic journey. It's absolutely amazing.
How does it feel to be together? What unites you? You come from different continents but have common roots because all of you are Armenians.
It's such an amazing feeling. The showing of unity and the power of unity are absolutely amazing. It's so great to meet artists from all over the world who are extremely talented.
We are uniting the Armenian diaspora and not just that. Also, we are uniting Armenia, our motherland. At the same time, we are representing the world. The slogan for this year's Eurovision in Vienna is "Building bridges", and it's exactly what Genealogy is doing.
We are building bridges all over the world, from Japan to America to Europe, Africa, and Armenia, so it's absolutely amazing and I can't believe I am part of this project. I feel really honored.
How does it feel to come back to Armenia? How do you find life in the capital and the young people here?
I had been to Armenia a couple of times before this particular project, so I knew Yerevan and I had traveled around the country as well. It was absolutely amazing and so emotional.
Even now, wherever you go, it's so extremely emotional for me, being part of the diaspora and at the same time to be back here and meet these amazing people.
The youth, especially in Yerevan, is so vibrating. There is so much energy. It's touching, actually.
What about your roots? I know both of your parents have Armenian origins, and your grandfather was a survivor of the Armenian genocide.
My family comes from Western Armenia. As to my dad's side, they moved to Syria for a period and then from there to Ethiopia. As to my mum's side, my grandfather was born in Alexandria, and then from Egypt, they moved down to Ethiopia.
They were trying to find a new place to live, home, and work. Coming from a long way, they ended up in Addis Ababa, Ethiopia.
Can you tell us about the Armenian community in Ethiopia?
It's a very old community. If you go back in history, in the 16th century there was already a registered Armenian community living in Ethiopia. The community flourished and it's such a unique thing. When I speak to people and say I'm an Armenian from Ethiopia, they say: wow, there are Armenians even in Ethiopia! The diaspora has spread everywhere in the globe.
Ethiopians are very open people, they accepted us with goodwill. We have been living there for centuries. If you go back in time, Armenians have always traveled through Ethiopia, even earlier.
How is the life of Armenians in Ethiopia?
The community is very small, we are less than one hundred people, but we have a club, we have a church, and a school and they are all functional. We meet up, the club has a restaurant and we meet there. We keep in touch with the international community living in Ethiopia, like the Italians, that are less nowadays but still quite alive. We spend time together as friends.
Is the Armenian community in Ethiopia in contact with Armenia and the rest of the Armenian diaspora?
We are not that isolated, the church ties everything together. We have Armenians visiting from all over the world. They come for work, for business, but also for visiting Ethiopia, and they find out there is a community. They come to church and they meet us. Life in Ethiopia, for me and my family, is quite comfortable, we feel at home.
How do you feel being here in Armenia during the centenary of the genocide?
Being a united nation is so important; we came here from the diaspora. I feel very honored to be here. It's such a unique experience to be in Yerevan, especially at this time.
I saw you recently visited Tsitsernakaberd, the genocide memorial. How did you feel being there?
It was a very emotional experience. It was important to honor those who perished. But also the fact that we are still here, it's a positive thing, We should be happy that we survived.
What's your hope for the future of Armenia and also for the Armenians in the world?
Making peace is my hope, and I think this will be a reality. We have to strive for a better future, work for the better and pray for the better. Unity, peace, and tolerance are very important. We have to walk towards that and I think this will happen.
Genealogy – Face The Shadow (Armenia) Second Rehearsal