On the morning of July 27, 1983, Five Armenian heroes from Lebanon, members of the Armenian Revolutionary Army, headed to the Turkish Embassy in Lisbon, Portugal.
Sako, Simon, Vathce, Aram, and Setrak. They had plans to take over the Embassy, have the ambassador hostage, and put some pressure on the Turkish Government for Genocide recognition. They lost their lives when their plans took a wrong turn.
"We have decided to blow up this building and remain under the collapse. This is not suicide, an expression of insanity, but our sacrifice to the altar of freedom."

Lisbon 5, Sako, Simon, Vatche, Aram, Setrak
They only wanted to tell the world that the spirit of Vartan Mamigonian, Soghomon Tehlirian, and others still lives in the hearts of Armenians.
The 5 members of the Armenian Revolutionary Army of Lisbon
They were descendants of the Armenian Genocide survivors, who had found refuge in the Governorate of Lebanon. These survivors had witnessed the birth of the Republic of Lebanon and became citizens. They had helped build Lebanon and became part of the 18 Religious Sects.
Soon after, a civil war broke out in Lebanon. Armenian men and women defended their neighborhoods and streets. They wouldn't accept going through another deportation or migration. They wouldn't let war collapse what they had built after arriving on Lebanese soil.
Unfortunately, this war was one where a brother fought against a brother, Lebanese against Lebanese. It caused great heartache to Armenians because they wanted to live peacefully and prosper.
As Lebanese Armenians, they were witnessing The Lebanese burn their own Land. Armenians didn't interfere in the war; instead, they played a vital peacekeeping role among their fellow Lebanese. Armenian heroes in Lebanon defended their neighborhoods.
Meanwhile, Armenia was still under USSR rule, and the Armenian spirit was almost prohibited. People had long forgotten about Genocide, or at least couldn't speak of it, because it could've contradicted the USSR Policies. The Lisbon 5 had to wake up people, Operation Nemesis Style.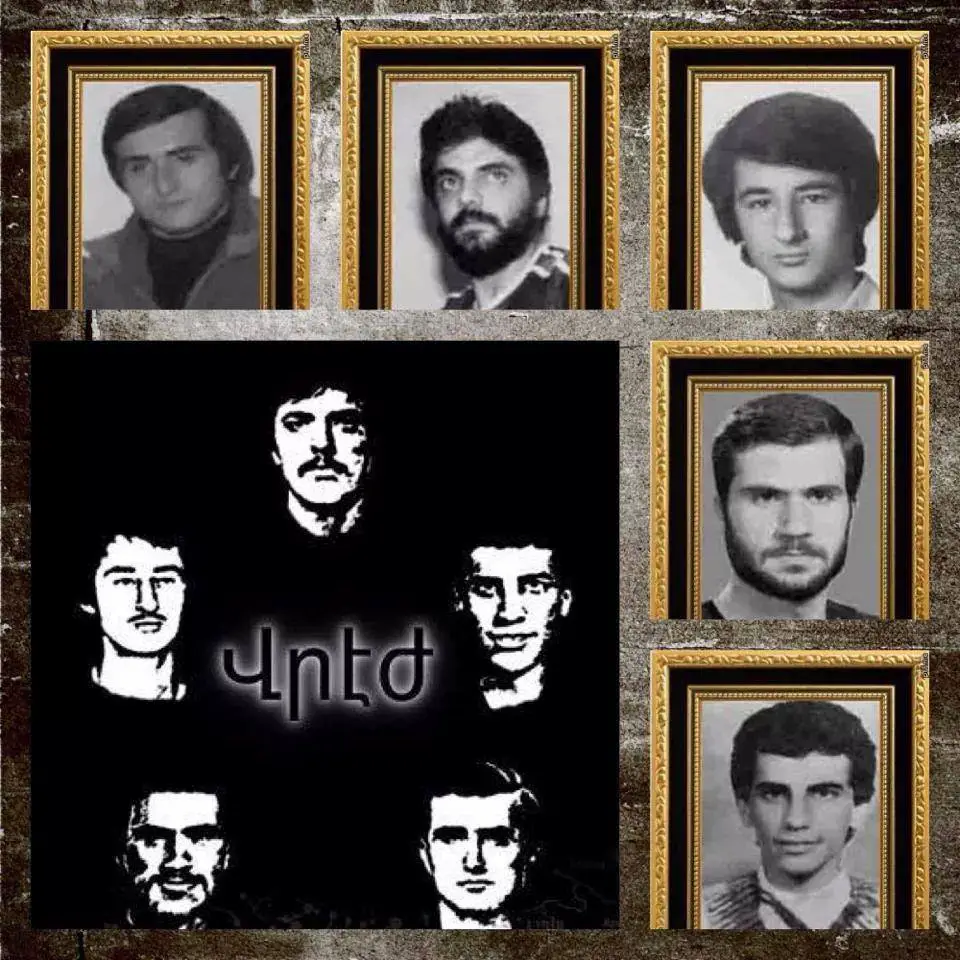 'I am proud to be born an Armenian because I will die an Armenian. I am glad about this Act. The life we live now is nothing but real life. We live under the Rule of others; we have become poppets of others…"

Simon Yahniyan
"I ask my friends who have grown up with me in the same environment. Those of you have attended the same places together and done the same things together. Be convinced of this one thing, and not say family, life, and future. Without our motherland and soil, there is no future, no life, and there could be no Family…"

Ara Kurjalian
"We are a Nation, an old one, and it's our right like other nations to live on our own soil. We want to see our nation living peacefully, living in tranquility, in our own Land, worried only about our own nation and upbringing the future generation…"

Vatche Daghlian
"I would like to tell the youth never to startle, no matter how stronger Turks are with their weapons and diplomacy… we are not the first to walk this way. So many have walked it before us, and I hope that much better people will come and do much better work than us…"

Setrag Ajemian
"As the song says: Yes!! We are Crazy, but figurative "Crazy"… Join us; I believe we will be the masters of our country…

Sarkis Aprahamian
Primary Demand of ARF Lisbon 5: Armenian Genocide Recognition
"We have decided to blow up this building and remain under the collapse. This is not suicide, an expression of insanity, but our sacrifice to the altar of freedom." 
The group said the attack had been carried out because "Turkey and its allies refused to acknowledge the Genocide of Armenians." A type-written message signed by the Armenian Revolutionary Army was delivered to The Associated Press.

Ara Kurjulian, Sarkis Aprahamian, Setrak Ajemian, Simon Yahniyan, and Vatche Daghlian sacrificed their lives for freedom to the God of Justice. They didn't want to be remembered as suicide bombers.
They wanted to deliver a message to the world. The Lisbon 5 ended their lives under the ruins of the Turkish Embassy in Lisbon, Portugal, before turning their guns against the local police.
Lisbon 5 Attack, Terrorism, Sacrifice or Heroism?
5 Armenian Heroes left behind their lives, families, and future. They had this deep pain in their hearts, never forgot the Genocide, and wanted future generations to have their own freedom.
They took it on their shoulder to shout to the world and to remind them of our demands and rights. And they inspired generations to fight for Artsakh and do better.
The Turkish Government considered it a Terrorist attack, while Armenians considered it a Sacrifice. The ARF and AYF consider them martyrs and heroes.
We must acknowledge their sacrifice and continue existing and passing the torch from generation to generation. The AYF members remember them every year, but every young Armenian should recognize their sacrifice.
On July 27 of each year, let's remember our Armenian Heroes, The Lisbon 5, and say a little prayer for them.
Lisbon 5 Song Lyrics and Translation by Karnig Sarkissian
Լիզպոն Հինգի Յիշատակին
Ահա այսպէս արշաւեցիք,
Լիզպոն զոհուած լաւ ընկերներ
Որ աքթովը կը կոչուիք,
Դրոյի ժառանգ վեհ խենթեր։
Այս կռուի փայլուն ասպետներ,
Ռոստոմեան լոյսի մարտիկներ,
Յանուն ազգի ազատութեան,
Պայթեցուցիք սուրբ հինգ սրտեր։

Ի՞նչ սփոփանք անզօրներուն,
Մխիթարանք հայ խղճերուն,
Կան զոհերուն նոր անդունդէն,
Պայծառացող տիպարը ձեր։
Դէմքերը ձեր կ՝ազնուանան,
Կը տանչեն սրտեր անպայման,
Բայց միշտ ծանր է մեր սրտերուն,
Յուշն է Եռագոյն ձեր կամքերուն։
Ով մահուան յաղթող Դումաններ,
Երկաթ սրտով նոր Չաւուշներ,
Կ՝երդուենք անբիծ պատուովը ձեր,
Ընդարձակել պայքարը մեր։
Lisboni 5 Dghots Yerkuh
Aha aysbes arshavetsik,
Lisbon zohvadz lav ungerner
Vor actovuh tser ge gochvik
Troyi jarank veh khenter
Ays grvi payloun asbedner,
Rosdomian houysi mardigner,
Hanoun azki azadoutian,
Baytetsootsik sourp hink srder.
Inch espopank anzorneroun,
Mkhitarank hye khughdjeroun,
Kan zoherou nor antounten,
Baydzaratsnogh dibaruh tser.
Temkeruh tser gaznuvanan,
Ge danchen srder anbayman,
Payts mishd dzanuruh mer srderoun
Houshn eh kerakouyn tser gamkeroun.
Ov Mahvan haghtogh Toumanner,
Yergat srdov nor Chavoushner,
G'ertvenk anpeaghdz badvovuh tser,
Untertsagel baykaruh mer.
In Memory of Lisbon 5
This is how you invaded,
Good comrades sacrificed in Lisbon
for you Act, you are called
descendants of Tro, Majestic fools.
Bright Nights of this war,
Hope warriors of Rosdom.
In the name of the freedom of our nation,
You blew up 5 holy hearts.
What solace to the weak,
solace to Armenian conscience?
from the Abyss of sacrifice,
there is your radiant example.
Your faces become kinder,
they surely torture hearts,
but the burden of our hearts
It's the memory of your will.
"Touman"s, who defeated death
"Chavoush" es of Iron hearts,
we vow with your clean honor
to expand our fight,


Media Coverage of the Turkish Embassy Attack
7 DEAD IN LISBON IN ARMENIAN RAID
The New York Times,  on July 28, 1983