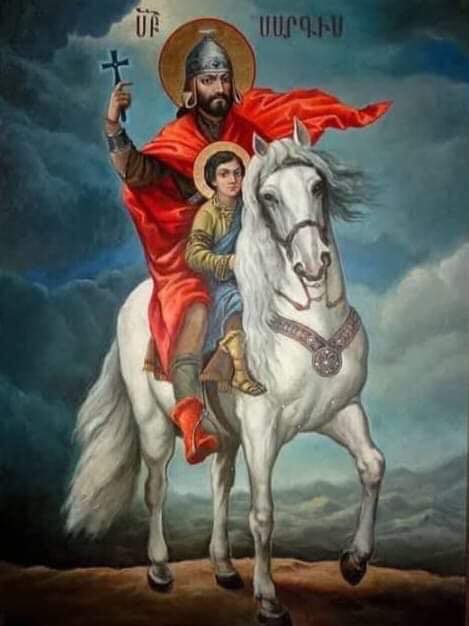 St. Sarkis is one of the most beloved saints. Together with his son Mardiros and 14 brave warriors, he was martyred for the sake of the Christian faith.
For his courage, Caesar Constantine the Great (285-337) ordained Sarkis as a prince and named him Prince and Commander in Cappadocia, bordering Armenia. He was not only an excellent commander but also a great preacher.
Taking advantage of the emperor's support, he destroyed the pagan temples, and built churches, and spread Christianity in the cities under his control.
When the persecution of the Church of Christ started during the reign of Julian the Apostate (360-363), Sarkis, divinely ordered to leave the empire, arrives with his son Mardiros and takes refuge in Christian Armenia, where King Tiran, grandson of Great Tiridates, Khosrov's son, reigned.
Upon learning that Julian was moving with a large force to Persia, the Armenian king, seeking to keep his country free from attack, urged Sarkis to serve Shabouh, who welcomes St. Sarkis and appoints him commander of the troops.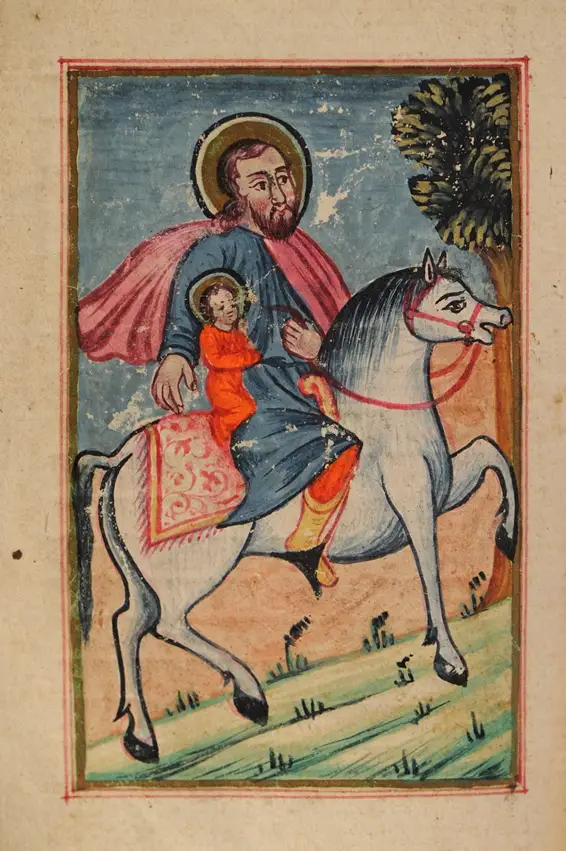 Youth Advocate Commemoration Day
Many militants, witnessing the splendid faith of the commander and the devotion to God through his conduct, the miracles the Lord performed in answer to his prayers, turned away from paganism and became Christians.
But Shabouh demands that he be worshiped and sacrificed to fire. The commander immediately refuses, saying: "There is one God to be worshiped, the Most Holy Trinity, who created heaven and earth. And fire or idols are not natural gods, the earthly man can destroy them. "
After these words, S. Sarkis destroys the fire pit, driving the angry crowd to attack Sarkis and his son. The first to receive the crown of martyrdom is his son, Mardiros. St. Sarkis is incarcerated and remains strong in his faith, eventually, he is beheaded.
After the Martyrdom, light shines upon Sarkis's body. For their Christian faith, fourteen soldiers loyal to Sarkis are also martyred. Believers bury the bodies of the martyrs in the city of Hamian.
St. Sargis is one of the most beloved saints of the Armenian people, and it is no accident that St. Mesrop Mashtots brings his relics to Karb (Ashtarak region), building a church with the blessed Saint's name on the spot.
Saint Sarkis Relics
Saint Sarkis According to 5th-century Armenian Historian Pavstos Puzant
Pavsdos Puzant wrote a poem about a meeting between Saint Sarkis and David of Sassoon, a poem in Chapter IV, Chapter 7. (see image)
He also tells how after his martyrdom, Saint Sarkis accompanies others who were martyred by an order of Byzantine Emperor Vales, they punish the anti-Christian Leader and kill him through a "miracle".
"The Byzantine Emperor Vales was a follower of the Aryan sect and persecuted Christians. He is therefore punished and killed in 378 by miracles from God. He is killed by the Sacred Martyrs of Christianity, accompanied by St. Sarkis."

(Pavstos Puzant, Chapter IV, Chapter 7).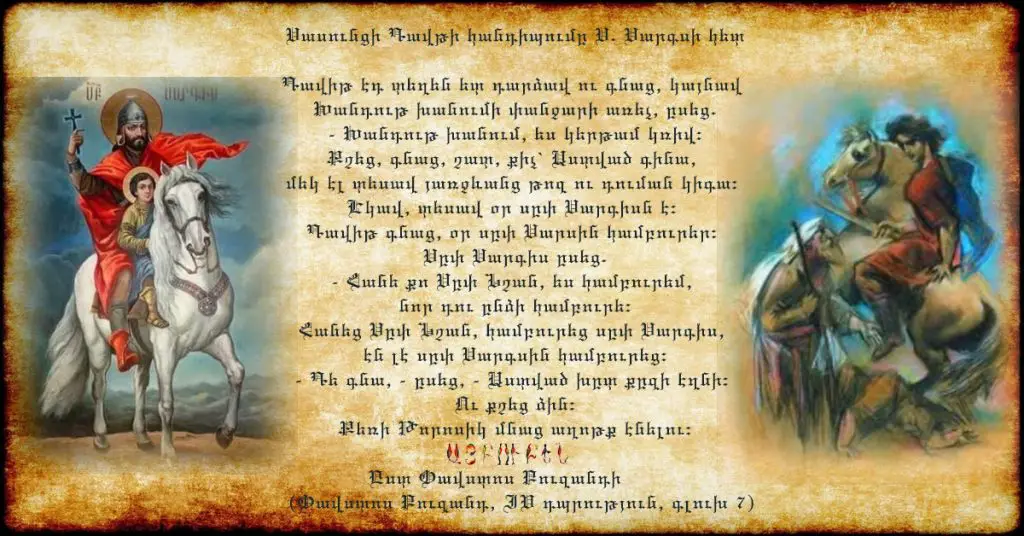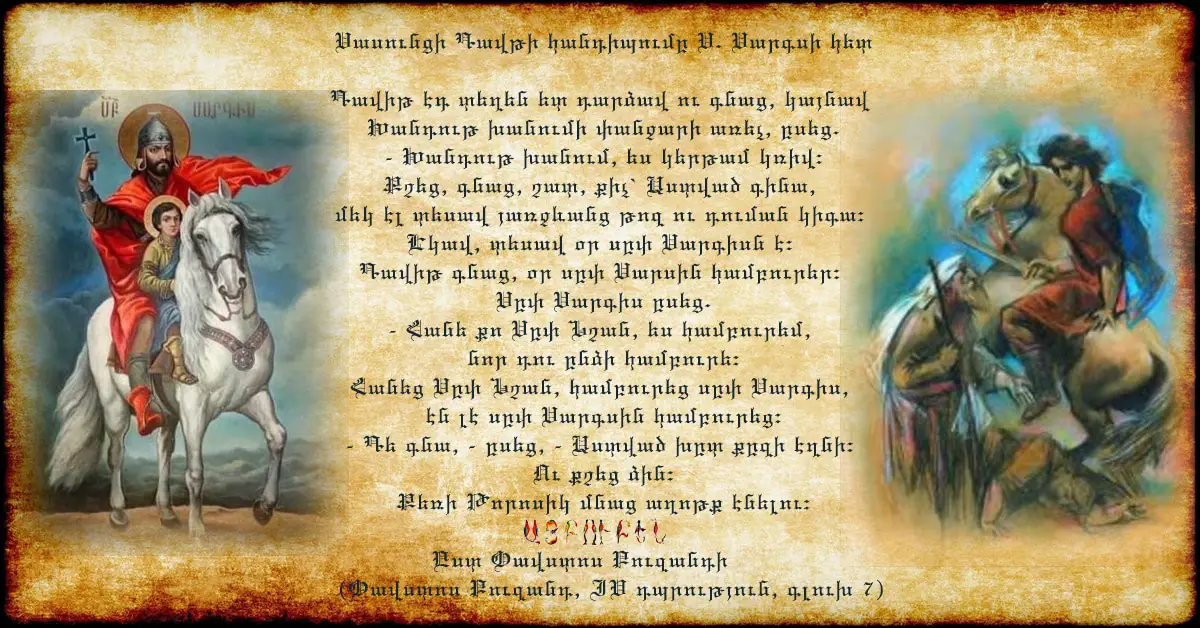 Saint Sarkis and modern Armenians: when is Saint Sarkis Day?
St. The celebration of Sargis the Commander's Day is a moveable feast so it is celebrated in Armenia between January 18th and February 23rd, on Saturdays, 63 days before Easter. It is not only celebrated by church rituals and prayers but also by folk customs and sacred traditions.
St. Sarkis' commander is the imminent interceder of the youth. With his mediation miracles happen. On that day, the youth appeal to the saint to bring their prayers to God.
St. On the night before Sarkis Day, young people eat a salty donut so that their fiancé or bride is revealed to them in a dream. One of the memorable habits of that day is to put flour or gruel on the roof or balcony of the house and wait for the trail of the horse Sarkis to appear.
According to tradition, Sarkis is accompanied by angels, and when the print of his white horseshoe (symbolizing purity) is seen on the flour or broth that an individual has placed in his premises, the dream of that believer will come true that year.
Young people give each other postcards and sweets for this holiday. On the day of the Feast of St. Sarkis, churches named after Sarkis the Commander, celebrate Divine Liturgy, after which the youth is blessed.
To find out what Sarkis means, visit Armenian boy names.
Location and how to reach Saint Sargis Church In Armenia
In Armenia
Saint Sargis Vicarial Church, 21 Israyelyan St
Saint Sargis Church, 46 Galshoyan St
Saint Sargis Church, Ashtarak, Armenia
In the Diaspora
Sourp Sarkis Church, Nor Sis, Bourj Hamoud, Lebanon
Saint Sarkis Armenian Apostolic Church, 19300 Ford Road, Dearborn, MI 48128, United States
St. SARKIS ARMENIAN APOSTOLIC CHURCH, 38-65 234th Street, Douglaston, NY 11363
St. Sarkis Armenian Church, 4421 Charles Street, Carrollton, TX 75010, Dallas
St. Sarkis Armenian Apostolic Church, 7000 Park Rd, Charlotte, North Carolina 28210, United States
St. Sarkis Armenian Apostolic Church, 13925 El Camino Real, San Diego, CA 92130
St. Sarkis Armenian Apostolic Church of Santa Clarita, 24626 Kansas Street, Newhall, CA 91321
St. Sarkis Church, 58 S. Sierra Madre Boulevard, Pasadena, CA 91107
Saint Sarkis Church 600 N. San Fernando Blvd. Burbank, CA 91502
Saint Sarkis Church 332 N PACIFIC AVE, GLENDALE, CA, 91203
Saint Sarkis Armenian Church,8862 SE 59th AveOcalaFL34472
Saint Sarkis Church,  13925 El Camino Real, Carmel Valley, 92130.
St. Sarkis Armenian Church, Lonon, Iverna Gardens, Kensington, London W8 6TP
St. Sarkis Cathedral, No. 114, Baqer khan street, Sattar Khan street, Tehran, Iran
Saint Sarkis Church, Tabriz, East Azerbaijan. Iran
Sarkis Armenian Church in the Sur district of Diyarbakir, Turkey
Saint Sarkis Day Halva Sweet Recipe
Saint Sarkis Day comes with a special sweet, that is usually prepared by our mothers and sometimes sold in local Armenian Markets. To prepare the small bites you will need:
Ingredients:
2 to 3 cups of sesame seeds to coat the Halvas
1⁄3 cup water
3⁄4 to 1 cup sugar
1 tbsp lemon juice
2 tsp rose water
One 7-ounce jar naatef (soapwort extract) or 5 cups (250 g) vegan (gelatin-free) marshmallows
1 cup walnuts or pistachios
Directions:
Make sure your Sesame Seeds are cold 
Combine the water and sugar in a pot and let it boil.
Next, reduce the heat to low-medium and add lemon juice.
Then add the rose water.
When golden, in around 3 minutes, add the marshmallows.
Stir until completely smooth and then turn off the heat. 
Add parchment paper to a tray and sprinkle a lot of sesame seeds
Pour the hot mixture on the cold sesame seeds, and sprinkle the walnuts
When it cools, in a minute and a half, carefully roll without burning your hands
Add sesame whenever it becomes sticky
Cut them into 7 cm rolls
May all your days be sweet !!