Ornaments In Carpet Weaving
Traditionally, since ancient times carpets have been used in Armenia to cover floors and decorate interior walls, sofas, chairs, beds, and tables. Up to the present, the carpets often serve as entrance veils and decorations for church altars and vestry. Starting to develop in Armenia as a part of everyday life, carpet weaving was a must in every Armenian family, with carpet making and rug making being almost women's occupations.
Armenian carpets are unique "texts" composed of ornaments where sacred symbols reflect the beliefs and religious notions of the ancient ancestors of the Armenians that reached us over the depth of centuries.
Armenian carpets are famous worldwide for their beauty, unique patterns, and natural colors. There are two types of Armenian rugs: "gorgs/korks" and carpets which are created with unique traditional technology.
How do you make Armenian carpets?
The illustrations and miniatures found in medieval books provide an opportunity to get an idea of ​​the medieval Armenian carpets. Among their forms and styles, the following can be distinguished:
1. Dragon carpet usually has dragons, Tree of Life, phoenix, triangular, jagged diagonal, and eternity symbol decorations.
2. Eagle carpet – accompanied by symbolic images of eagles.
3. Serpentine – have images of a serpent with sun disk symbols in the middle.
Armenian Carpets featured on CNN International TV channel
Armenian Carpet Symbols (Patterns)
What makes Armenian carpets unique and different from other well-known carpets worldwide is their special patterns and the way the knots are done.
Crosswise Patterns
Armenians have been engaged in carpet weaving since ancient times. The main difference between Armenian carpets and others is that images of animals and people are used as ornaments.
One of the peculiarities of Armenian carpets is the crucifix.
The main pattern of this ornament is one or more crosses, which are depicted in the frame or without them. If the crosses are several, they are arranged in rows.
Double knot
The art of carpet weaving in each nation has its peculiarities. Armenian masters traditionally used double knots, which are still used today. This unique and well-known Armenian technology allows carpets to have a long "life."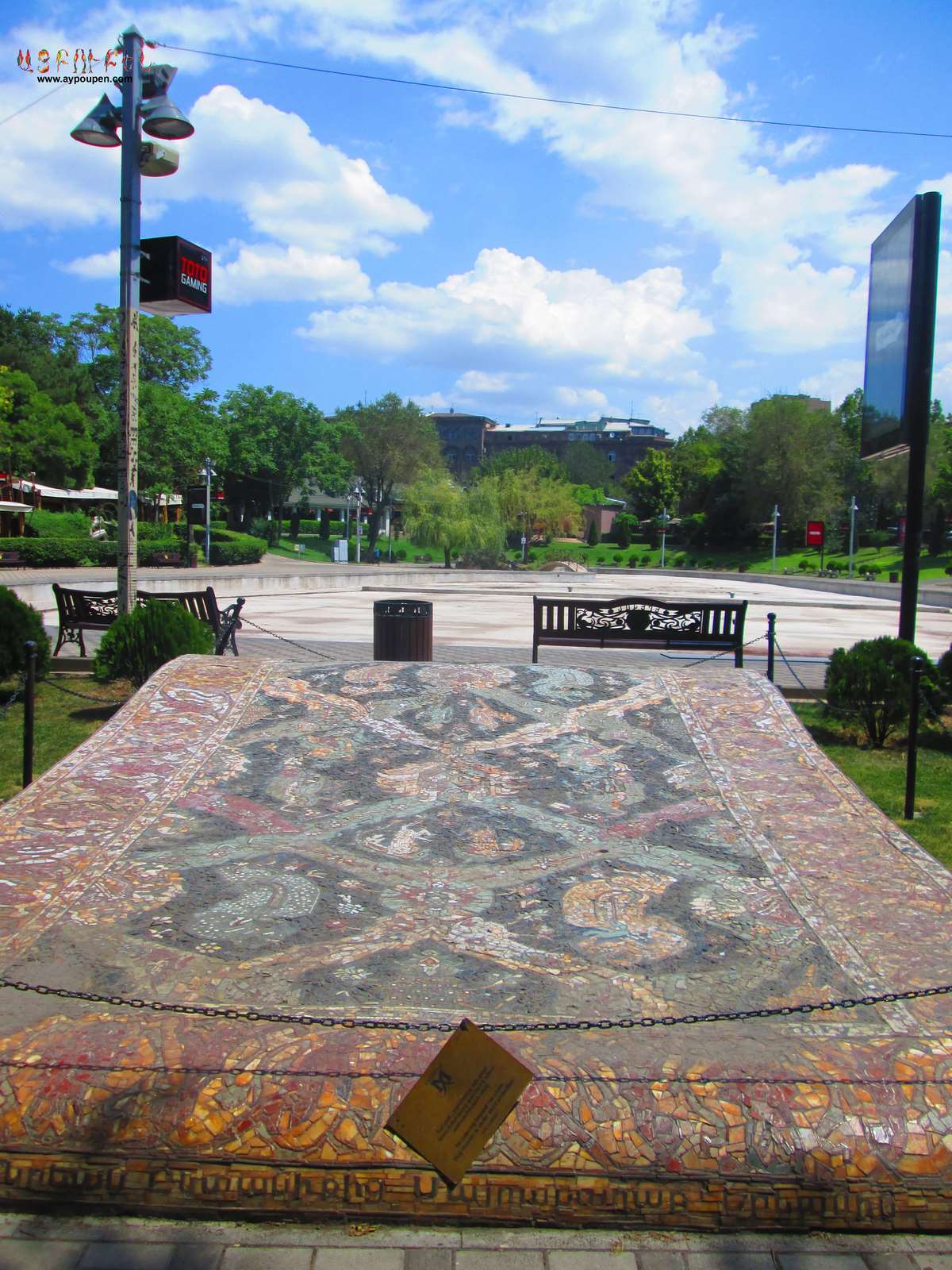 What are Armenian rugs made of?
Armenian carpets are characterized by being high-value carpets. Dragon carpets, flower carpets, and other carpets with geometric ornaments were especially popular.
Armenian carpets are distinguished by the quality of dyes, threads, and weaving, the combination of bright colors, the red field of the carpet, and the richness and variety of ornaments.
After James Tufenkian entered the scene in carpet weaving in Armenia, he introduced some new visual and production systems and traditional technologies.
In particular, it was important to use local sheep's wool from the Sevan basin for raw materials, obtain the thread, dye it with natural dyes, and apply traditional methods.
By the way, this was the reason behind the mastery of carpet weavers of Gegharkunik and the Sevan basin, in general. It was also a novelty to prefer soft and dull colors instead of bright and traditional colors.
History of Armenian Handmade Rugs
The Armenian carpet developed in two ways: artisanal and folk. Expensive carpets were produced in the artisan regions with the participation of skilled craftsmen and artists.
Since the end of the 19th century, carpets have been produced by more productive machines. Still, hand-made carpets are superior to machine-made carpets in terms of artistic value and durability.
Ancient Armenian Handmade rugs  
Carpet weaving evolved and was mastered in Armenia in the Middle Ages.
Arab sources speak about Armenian Carpets and the Armenian red cochineal dye known in Armenian as vordan karmir ("worm's red"). They mention that Karin city was famous for making carpets, and they link the Arabic word Xali, Hali to Qaliqala, the capital of Dvin (Dabil in Arabic).
Aḥmad ibn Yaḥyā ibn Jabir Al-Baladhuri, a 9th-century Persian historian
Muḥammad Abū'l-Qāsim Ibn Ḥawqal, a 10th-century writer, geographer, and chronicler
Yaqut al-Hamawi (1179–1229), an Arab biographer and geographer of Greek origin
Abu Zeyd Ibn Khaldun, Arab sociologist, philosopher, and historian
In the 1270s, Marco Polo, who passed through Cilicia, mentioned that Armenians make the most beautiful carpets in the world.
The rich in Europe had to have an Armenian carpet to show off their luxurious lifestyle, it was also decorating places of worship. For this reason, we see many Armenian Carpets in classic early Renaissance paintings of:
Domenico Ghirlandaio
Hans Holbein
Lorenzo Lotto
Hans Memling.
Armenian Rugs in the Soviet Era
In 1963, the HAIGORG carpet weaving association was established in Armenia. In 1978, 990000 square meters were produced in the unification enterprises in addition to handmade carpets – 48200 Square meters. 
The products were sold in the USSR, and 90% of the handmade carpets were shipped abroad to England, Belgium, Holland, etc. 
The carpets have been presented at Moscow, Paris, New York, Montreal, Brussels, and other international exhibitions, always receiving high awards and gold medals. 
A list of machine-woven carpets have enjoyed great fame and demand:
Erebuni
Karabakh
Deghnakyunj
Yerevan
Hayastan
Lori
Anahit
With their color harmony, composition, and ornaments, these carpets resemble the best Armenian handmade carpets.
Armenian rugs in post-Soviet times
In the post-Soviet period, the carpet-making culture also experienced a decline due to the breakdown of previous economic ties and the economy's decline.
Most of the enterprises of the once powerful "Haygorg", producing sixty to seventy thousand square meters of high-quality hand-woven carpets per year, ceased to operate.
The others were operating at an insignificant level of their previous capacities.
From 1993-1994, several Diasporan Armenian entrepreneurs tried to restore the production of carpets through the carpet weavers of Haygorg branches in the cities of Abovyan, Hrazdan, and Charentsavan.
In addition, to meet the demands of the foreign market, completely new types of carpets were introduced into production, particularly in 1998. 
The Franco-Dutch Gab Hemag enterprise, founded in Charentsavan, produced carpets with landscape scenes that resembled landscape paintings.
Those enterprises, although owned by well-known carpet manufacturing firms abroad (for example, Haus and Dawidian) were, in any case, small enterprises and produced limited quantities of carpets.
Modern Day Rug and Carpets in Armenia
In the post-Soviet period, the first major carpet-making enterprise in Armenia was started by James Tufenkyan.
Using a part of the former production surfaces of the "Haygorg" firm and the carpet-making specialists, he significantly expanded the network of existing production enterprises from the second half of the 1990s and provided orders to several Gegharkunik companies' small workshops.
Introduction of Silk Armenian Carpets
An important contribution to the development of post-Soviet Armenia's carpet weaving culture and becoming competitive abroad was the establishment of the "Bernar" carpet weaving enterprise in 1998 in Dalar village of Artashat region, which was implemented by Nazareth Berberyan. 
Promising wide prospects, this enterprise aimed to specialize in silk carpets, and the first samples showed that it could become a serious competitor of such products sold in foreign markets. 
Unfortunately, that and several other projects related to carpet weaving and the display of Armenian carpets remained incomplete due to the tragic death of Nazareth Berberyan in 2009.
Where are Megeryan Carpets produced?
In the last decade, the world-famous company "Megeryan Carpet" has been trying to solve the problem of carpet-making culture in Armenia.
"Megeryan" company, having acquired the buildings and production capacities of "Haygorg" union in 2002, became the leading enterprise of carpet production in Armenia from the very first years of its presence through sufficient investments. 
In a short period, carpets with large floral motifs and nozzles, typical of the carpet-making centers of eastern, particularly northwestern Iran, of the Heriz type and the carpet-making centers of Hamadan, the Urmia Lake basin, and the eastern provinces of Vaspurakan, historical Armenia, were put into production. 
"Megeryan Carpet" also produces carpets typical of Western European carpet culture, especially carpets and tapestries belonging to the French "Savonier" and "Aubusson" groups. 
Silk carpets are also used here, which in their quality and density correspond to the traditions of this type of carpet. Along with them, naturally, there are also traditional Armenian carpets, which technologically correspond to the 19th-20th century standards.
"Megeryan carpet. one of the company's main goals is the further development of the Armenian carpet culture and, especially, the restoration of traditional technologies related to it.
Local wool is used here, particularly the wool of the "Balbas" sheep bred in the Gegharkunik region, and the threads are dyed only with natural dyes. 
The enterprise has an exhibition hall representing the Armenian carpet-making culture, where equipment and tools for processing raw materials necessary for carpet-making and samples of natural dyes are displayed.
In general, an important feature of the carpet-making culture of post-Soviet Armenia is the restoration of traditional Armenian carpet-making technologies, in particular, the use of exclusively natural dyes to make carpets with wool backing. 
Types of Armenian Carpets
In this regard, the types of carpets traditionally highly valued in the world carpet market and represent traditional Armenian carpet weaving:
Lori-Pambak
Vahan
Pailogh Astgh
Paraka
Jraberd-Vishapagorg
Khndzoresk
Masyatsot
Pazirik carpets (ancient Armenian, pre-Christian)
Phoenix and the dragon fight (reproductions of classic dragon carpets.)
In addition to the above-mentioned large companies, there are small enterprises operating carpets in Armenia, including Artsakh, which mainly carry out certain orders, or specialize in carpet production areas with certain technologies.
"Megerian Carpet"
Leonid Andriasyan, director of the old carpet factory "Megerian Carpet", said that the Armenian craftsmen made three special carpets.
"We have created many carpets that Megeryans will donate to famous people who contributed to the Recognition of the Armenian Genocide and support the Armenian people.
We dedicated the first carpet of this series to chansonnier Charles Aznavour, the second to the actor George Clooney and the third to the Pope."
According to him, one of the advantages of this old factory is that the craftsmen decided to return to the Armenian traditions of carpet weaving, replacing artificial dyes with natural ones, and the Persian knot with an Armenian double knot.
Andriasyan clarified that the colors of the Armenian carpet thread are obtained exclusively from natural materials, from flowers and roots. As a result, an ecologically clean and even healthy carpet is made.
"We get the yellow color from the evergreen flower, red from the roots of Rubia, from the shell of the green walnut we get shades of brown, black is made of the peel of pomegranate, etc.
The only thing that does not exist in Armenia is "indigo" stone that is why we bring it from India to get a corresponding shade, "said Leonid.
He added that carpet weaving is an old Armenian art, and not everyone can make a carpet. And if the master does not like his work or comes to work in a bad mood, it is better that he does not approach the workbench.
There is a breath of history under the walls of the factory. Here you can see Armenian and Artsakhian carpets, which have a history of 100-400 years. One of the modern and interesting forms of carpet weaving in Armenia is the creation of 3D carpets. The carpets in the form of khachkars (cross-stones) are especially impressive.
When visiting Armenia don't forget to visit this factory and admire some masterpieces of Armenian carpet weaving. You can reach this place both with the help of tour companies and yourself as well.
If you like this article and would like to be updated when we publish a new one, please follow us on Aypoupen Instagram

, and like our Aypoupen Facebook page

.