Kylie Jenner is a famous American entrepreneur, model, and TV Personality. She debuted in 2007 in the famous E! Reality TV Show Keeping up with The Kardashians. Today She owns a cosmetics company, "Kylie Lip Kits." 
People ask this question frequently because she is the half-sister of Kim Kardashian.
Kylie Jenner is not Armenian. She is of English, Irish, Dutch, German, and Scottish descent. Kim and Kylie share one parent, their mother is Kris Houghton, but their fathers are different. Kylie is the daughter of Kris (Houghton) Jenner from her ex-husband. Her Ethnicity is not Armenian.
The retired Olympic Games medalist Bruce Jenner (now Caitlyn). Together they had Kylie and Kendal Jenner. 
Kylie has a brother, Burt, a sister Cassandra "Casey" Marino, and brothers Brandon and Brody from two of her father's prior marriages. 
How many Children does Kris Jenner have?
Kylie's mom Kris Jenner has six children in total. Kris was previously married to the late Armenian Lawyer Robert Kardashian Sr. They had four kids together: Kourtney, Kim, Khloé, and Robert Kardashians. Later Kris married Caitlyn Jenner and had two children together, and they are Kendall and Kylie Jenners.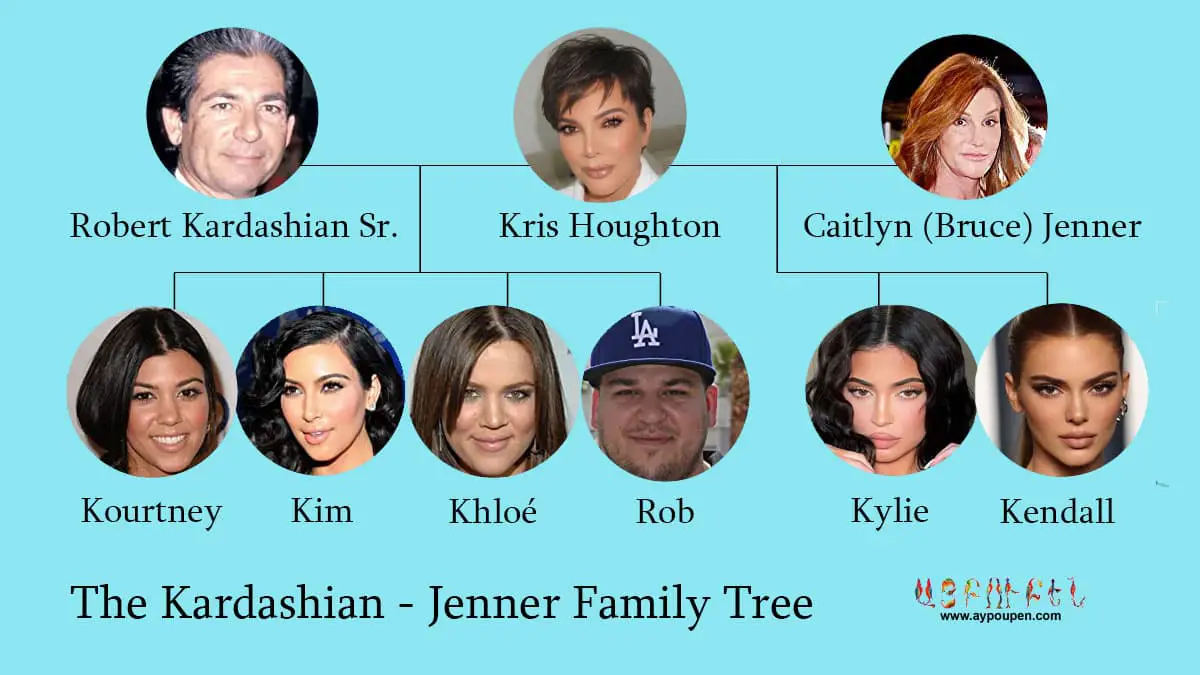 What is Kylie Jenner's Ethnicity?
Both parents of Robert George Kardashian were Americans of Armenian Origin. His four grandparents were Armenians who migrated to America. 
Kourtney and Kim were baptized in Armenia and named Gayane and Heghine. Later Khloé became the Godmother of 2 of Kim's Children in the Armenian Church in Jerusalem.
Kris Houton is an American of English, Irish, Dutch, German, and Scottish descent, whereas Caitlyn (Bruce) Jenner is an American of English Descent. 
Why is Kylie Jenner dark-skinned if her parents are white?
It's all Made upland fake body parts! When she first debuted on the show, she was pale and white. Most of their styles and shapes changed as the years passed, including Kylie's. Probably a good way to advertise her cosmetics brand. 
Like her sister Kim, Kylie looks darker than any average white woman. 
Her half-siblings are Armenians, but even Armenians are not middle-eastern. They were just relocated to the middle east after the mass deportations that took place during the Armenian Genocide in 1915.
The Armenian Highlands, where the republic of Armenia is located, is north of Iran and south of the Caucasus. Armenian People are White. 
Kylie Jenner's Relationship Status
Kylie has been in a relationship with American Rapper and musician Travis Scott. They broke up after Kylie gave birth to their daughter but were quarantined together for their daughter during COVID. Afterward, they ended up reconciling and had a baby boy.
In January 2023 Kylie announced the name of her baby boy two weeks before his birthday. He is called Aire, Aire Webster.