Hiking In Armenia? What do I need to know?
I have been traveling throughout Armenia since 2014, mostly in the Eastern part of it, but once I managed to be in the Western part as well. However, this is another story to be told some other time as today I will tell you what is better to wear for a hike and what is better to keep for city life.

Nothing you will read in this article is information from the internet, but the knowledge I gained from my experience. Mountains and roads are the two best teachers of mine, and I am ready to share with you the lessons they give.
Hiking Boots: What to choose and how to wear?
Once you decide to go hiking, you need to start collecting your outfit. Of course, you can just put on simple sneakers and jeans you wear in the city, but later, when your trousers restrict your movements and your sneakers hurt your feet, you will regret your choice.

I finally understood that when one day I simply came down from the mountain without shoes because their soles were torn and fell off. It was six years ago. Now I know that hiking shoes must be very firm, with thick, hard, and non-slip soles. They must preferably be high to hug your ankles and prevent them from twisting.

Also, it is better to take one size bigger shoes; it allows putting on thicker socks and thus protects feet from impact. The shoelaces may be a little weak during the ascent, but they should be tightened well at the time of the descent.
In that case, the toes will not reach the front of the shoes and will not get hurt.
Hiking boots must be waterproof to protect your feet from getting wet or walking through the snow on a rainy day. Yes, sometimes you will have to pass a snowy area even in summer, for example, if you decide to climb Aragats.
Winter Hiking Boots
If you sometimes put on spring or autumn boots in the city in winter, then in the mountains you cannot allow yourself such an extravagance, especially in the mountains higher than 4000 meters. If you do, you may simply frostbite your feet badly.

Special winter boots are heavy and tough. Therefore, wearing them in places not covered with snow is very uncomfortable. That is why many experienced hikers often take their ordinary hiking boots with them.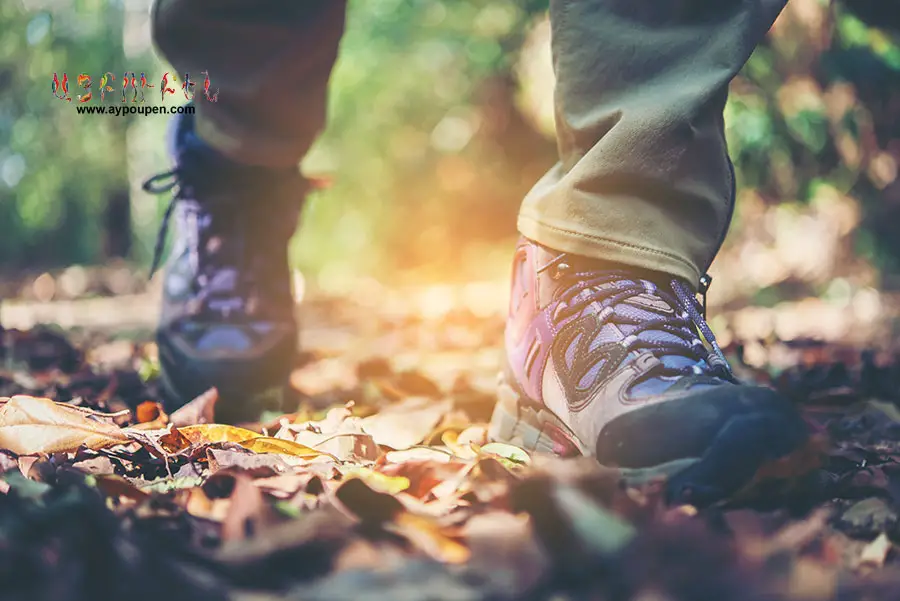 Socks
Yes, socks are almost as important as boots. It does not mean you need to run to the special hiking shop right now and buy expensive socks. No. All you have to do is ensure you have a few pairs of thick and soft socks with neat seams.
During the winter hike, you will need to wear two or three different socks; for example, I take on thin cotton socks first, then another pair of thick ones, and in the end, if it is a really cold winter, I wear knitted woolen socks.
I bet your mother or even grandmother would be happy to knit warm socks for you!
Nevertheless, you can find thermal socks in special shops as well.
Pants and Outerwear
Now, when we finish the lower part of the outfit, let us move up slowly.
Pants
What kind of pants is it better to wear during a hike to feel both comfortable and safe? Summer pants must not be too wide to hinder the walking process and too narrow to constrain your movements.
It would be better to wear pants made from thin cloth․
They do not make you feel hot and get dried fast enough when staying in the rain. Some people prefer to wear shorts while hiking, so do I, but if you have too light skin, I would not advise you to do that.

Nevertheless, if you really want to walk in shorts, then definitely use sun cream and wear shorts under the sun for a limited period to let your skin get used to it. These preventative measures will help you avoid sunburns, which may cause serious problems.

Another difference between pants and shorts: pants also protect your legs from scratching on dried branches, thorns, and snake bites to some extent.
Moreover, pants have more and different kinds of pockets where you can put your phone, little rocks collected along the road, and even some snacks.

Winter pants may be wider because sometimes you will also need to wear thermal underwear. Also nowadays, you can find pants with fleece inside, which is a type of thin but quite warm fabric. For more serious hiking or mountaineering, you will need special padded pants.

Another thing you will appreciate during your snowy hiking is hiking gaiters. They protect your pants and legs from getting wet and are very useful if your pants are not waterproof.
Outerwear
Here is the place when I can say without remorse: you can wear a simple T-shirt, but in this case, you will need to have another one in your backpack, because you sweat during the walk and later you will need to change your outerwear. Otherwise, you are risking gaining back pain or getting cold.

Another type of outwear you can use is a thermal shirt. It does not get wet and also does not make you feel hot. Thermal shirts have long sleeves; therefore, they also protect you from the sun.

I personally prefer to wear a simple T-shirt and on top of it a thin shirt with long sleeves. It covers my arms and neck, which none of the T-shirts do. Another way to protect your neck is to tie a bandana or take on a buff.

For cold weather hiking, you will also need a warm outfit. You can take on a T-shirt, a thermal shirt, and then a shirt from fleece. On top of all that comes a jacket, the thickness of which depends on the weather you have at the moment.

There are two more types of outerwear you should think about: a windbreaker and a raincoat.
The weather in the mountains is not stable. It may be a perfect sunny day, without the slightest hint of rain or wind when you start walking, but it may change in minutes. Therefore it is useful to have your windbreaker and raincoat with you.
Hiking Accessories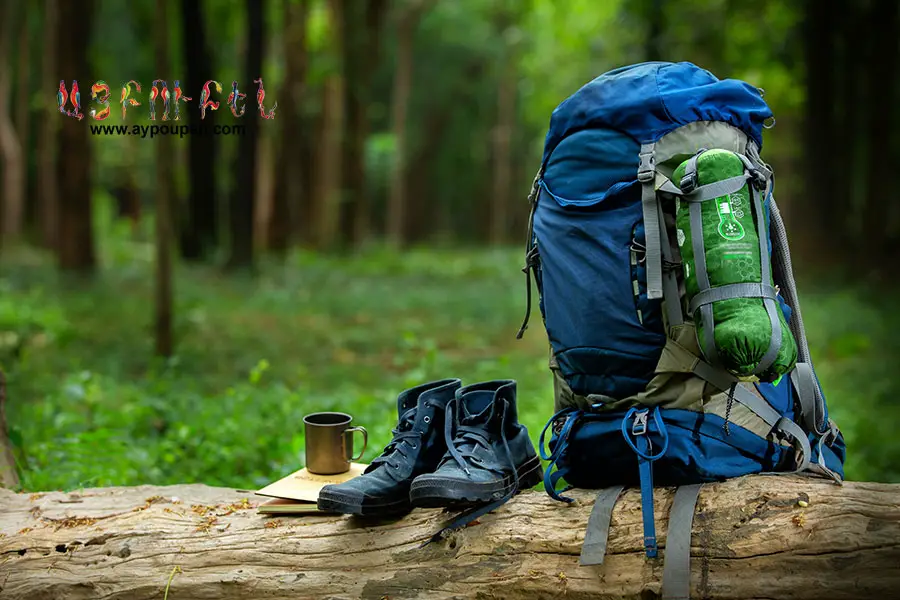 You already know about the hiking gaiters and the benefits they bring; now, it is time to move on and list other accessories useful in the mountains.
Hats
They are important in any weather and always must be at hand. Do not walk in the sun without a headcover, and never hike in winter without a warm hat.
Buffs and bandanas
They also can do a good service both in cold and hot weather. You can use them as a headcover, a necktie, a hair tie (headband), a bandage, and in many other ways.
In the case of really cold or windy weather, if you carry them on your head under a warm hat, they will protect your ears and forehead better. There are also warm buffs from fleece that you can use as a scarf or hat.
Gloves
Gloves are also very important. You will need to have thin gloves from fleece, and thick ones, to protect your hands in winter.
Sunglasses
This is something that must be with you always, especially in winter. The sun reflected from the snow burns your eyes and skin really badly. When I burnt my eyes in that way for the first time I could not go out in the sunlight for a week. In future articles, I will also talk about the actions you must take in the case of getting such injuries.
Hiking sticks
They will protect your legs, particularly your knees, from injuries as the sticks pass 30 percent of the weight to your hands. They also help to overcome the slopes more easily. Hiking sticks can be used while giving someone first aid in the mountains, but this is also another theme for another article.
Snowshoes
If there is much snow and you still want to go to the mountain, then snowshoes can help you and prevent being stuck in the snow at every step. Sometimes they look like a tennis rackets.
Conclusion
Every person is an individual and has appropriate requirements. This article is based on my experience in the mountains of Armenia, and I think it will help you to start your hiking journey too. You may have read about my trip to Sevazhayr! Maybe someday we will walk together, who knows?
If you are in Armenia and looking for a shop to buy quality hiking outfits or equipment, then you should defiantly visit these sites:
Shopme.am


Camp.am


These Facebook pages also may be useful:
ALPEN Hiking Shop


Hiking Shop Armenia


You can also order everything in any Decathlon

shop and have them shipped to Armenia via Globbing

, Onex

, or any other shipping company.
Should you have any questions about the outfit of a hiker, feel free to ask me, also, I would appreciate it if you share your experience. And remember – safety is a priority, and it always comes first.