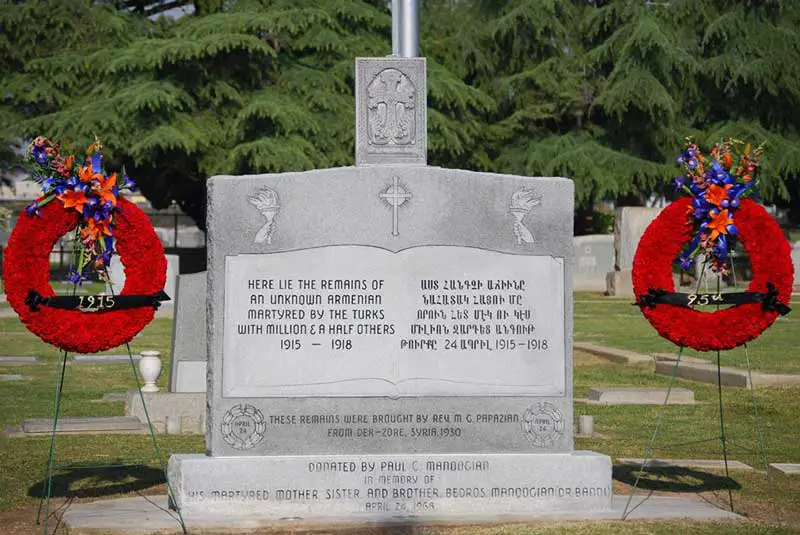 Fresno Ararat Cemetery
"Here lie the remains of an unknown Armenian martyred by the Turks with million and a half others ( 1915-1918).  Remains that were brought to Fresno Ararat Cemetery, by Rev. M.C. Papazian from Der Zore, Syria in 1930. Donated by Paul C. Manoogian in memory of his martyred mother, sister, and brother, (Bedros Manoogian)  April 24, 1968.
The Armenian cemetery in Fresno, California: The Ararat Massis Armenian Cemetery, established in 1885. Also known as Ararat Cemetery, it features a memorial dedicated to the victims of the Armenian Genocide, which includes bones from unknown victims brought over from Der Zor, Syria.
It also contains many Khatchkars, monuments and benches dedicated to heroes who helped the Armenian survivors such as Mary Jacobson m Mama Jacobson and the children of the Birds Nest Orphanage in Jbeil Lebanon, "and a tribute toward those heroes who survived and what they went through to rebuild the Armenian nation in Fresno "says Vanoush as she promises to shed more light on important people who have passed in the community.
The cemetery is the burial place of many famous Armenian American heroes: recipient of the Navy Cross during World War II, Victor Maghakian (1915–1977), dramatist and author William Saroyan (1908–1941), and Soghomon Tehlirian (1896–1960), The Armenian Genocide survivor who brought justice and assassinated the former Ottoman Interior Minister Talaat Pasha.
Also buried in Fresno Ararat Cemetery was Zoravar Antranik, Andranik Ozanian (1865–1927), military commander and statesman, afterward, he was re-buried in Pere Lachaise, Paris in 1928 and finally in Yerablur, Armenia in 2000.
"Something my father used to tell us when he was a child, that when Soghomon Tehlirian used to come to Armenian picnics all the older Armenian ladies would rush around him and smother him and kiss his trigger finger. "