"Music is much like language; you cannot become a native speaker unless you catch it early. If you are over twenty, those gates have closed for you. This is what most linguists believe. And the same goes for music. I was a late starter but, against all the odds, I was fortunate enough to capture it right before the gates closed in on me."
Unusual Start in Classical Music
Edward Manukyan is perhaps one of the rarest Armenian-American geniuses who developed a professional musical path not having had early music training.
In his formative years, he was fascinated by natural sciences, and later he would win a state scholarship to study languages and psychology at a university, and only later, at the age of 23, he enrolled to study music at a community college in California.
There, the young musician was inspired by his first music teacher, composer Roan Taylor, known to be the most prolific living composer in the world, with 265 symphonies and several thousand other compositions to his name.
Manukyan struggles to pinpoint the time he made that important decision to become a musician. However, he does remember a guitar in his uncle's house back in Armenia which he wished he could play as an early teenager.
His two uncles, themselves musicians, had a small music room at home with old stereo speakers playing anything from Russian pop hits to the Beatles, but he became more and more interested in listening to jazz instead. Soon he started to teach himself to play guitar and piano. In 1999, he wrote his first song, called "My Problem."
From Jazz into Classical Music
Edward Manukyan's obsession with jazz took him to college with a dream to become a jazz pianist, but things were about to change for him yet again when he started to explore the music of Aram Khachaturian.
According to Angela Hokanson of the LA Times, Manukyan was once reading a book on the acclaimed jazz pianist Bill Evans, and something caught his eye. It was mentioned that Evans was inspired by the music of the famous Armenian composer Aram Khachaturian, and at this point, the curious jazz pianist stopped reading the book and drove out to Tower Records Store in Hollywood to buy all the CD recordings of Khachatrian's music.
That experience was profound and transformative and seems to have shaped his destiny. Having instantly learned to appreciate the beauty of symphonic music and the beauty of lush orchestration, there was no going back for him. It drew him to not only Khachatryan's music and classical music in general, but also to Armenian folk music which to this day is the most important element in his musical sensibility.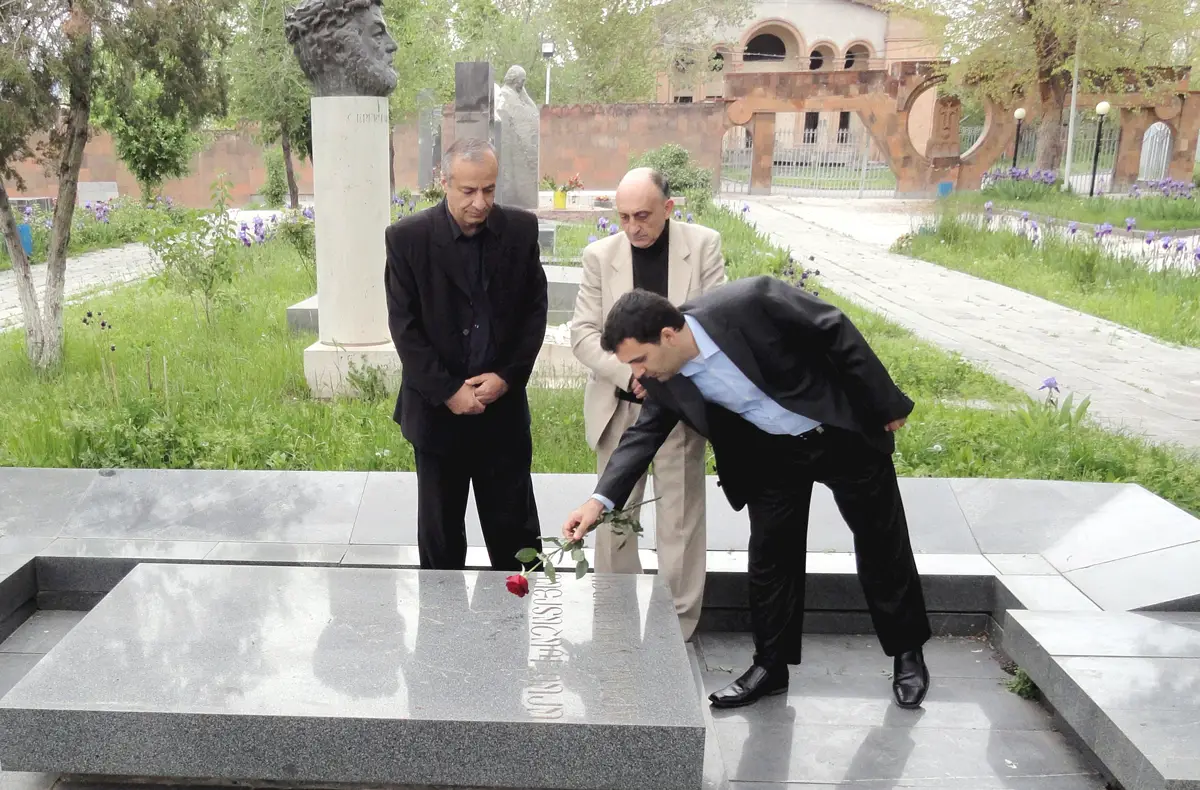 Musical Style and Folklore-rich Technique
Edward Manukyan developed his compositional style by studying the works of the master composers of the 20th Century, such as Bartok, Stravinsky, and others.
Armenian folklore is a key element in his compositions, but he does not lift his works out of folk music to simply dress them up in orchestral colors.
It should be noted that Manukyan does not use melodies from folk themes at all. He gets down to the very minimal building blocks in folk music and works with that as his idiom. When you listen to his works, you will often get the impression that he has quoted some folk tune, but it's only the idiom of folk music that is there. "Like using small brick stones to build castles," he explains.
"It would forever be a mystery to me how people from all over the world who have nothing to do with Armenian culture could listen to the most characteristically Armenian tunes and enjoy them as much as we Armenians do.
Without some strong dedication and persistent efforts, you'd be hard-pressed to fall for Japanese or Indonesian or Indian folk music, for instance. I guess our music speaks both to the East and the West, originating from the junction between Europe and Asia."
No Such a Thing as Muse
Edward Manukyan believes there should be no such thing as waiting for inspiration in professional music creation. "A lot of composers act as if it's some kind of cosmic interference that helps deliver music to them when the time is right, but it's a superstitious view of music-making and I detest it," he notes. The way Manukyan composes is like any other, even minimally creative work is done; "You sit down and you start working."
He remembers an interview with Maxim Shostakovich, the son of Dmitri Shostakovich, who said he had been the son of a major composer his whole life but he never saw his father jumping out of bed in the middle of the night to write something down. When called for lunch or dinner, he would put down the pencil next to an unfinished phrase and calmly walk to the dining room. But the music he made was of earth-shattering emotions.
Trio for Clarinet, Violin, and Piano
In 2007 Manukyan earned his master's degree in Music Composition from California State University, Los Angeles.
In the same year, he created his Trio for Clarinet, Violin, and Piano and had it premiered in Texas. Starting as a piece that grew out of a composition class homework, it soon became the composer's signature work. The popularity of his trio grew soon after the premiere, and it became part of the contemporary repertoire, awakening enthusiasm among musicians, audiences, and critics all across the globe.
Today, along with works by Bartok, Khachaturian, and Milhaud, it is one of the most frequently performed trios and is among the top five most listened to works for this instrumentation. Lately, he was informed of several doctoral dissertations written on his Trio, and one written by Maria Rosaria Castria, an Italian music scholar, who compares and contrasts it, at length, with Kachaturian's work.
"An extremely beautiful work," writes Joyce Guillaumier of the Times of Malta, "It begins with a hauntingly beautiful melody, incredibly awe-inspiring which gave the three musicians every opportunity to show their mettle."
The world-renowned conductor Loris Tjeknavorian, who hailed Edward Manukyan as "the Sayat Nova of our time," wrote about the trio: "I listened to the 'Trio' with great pleasure, and enjoyed its striking resemblance to the sound of Armenian 'ashughs'. It is a modern piece but the spirit has unmistakable roots in Armenian national music. I am very happy to know it has been an international success."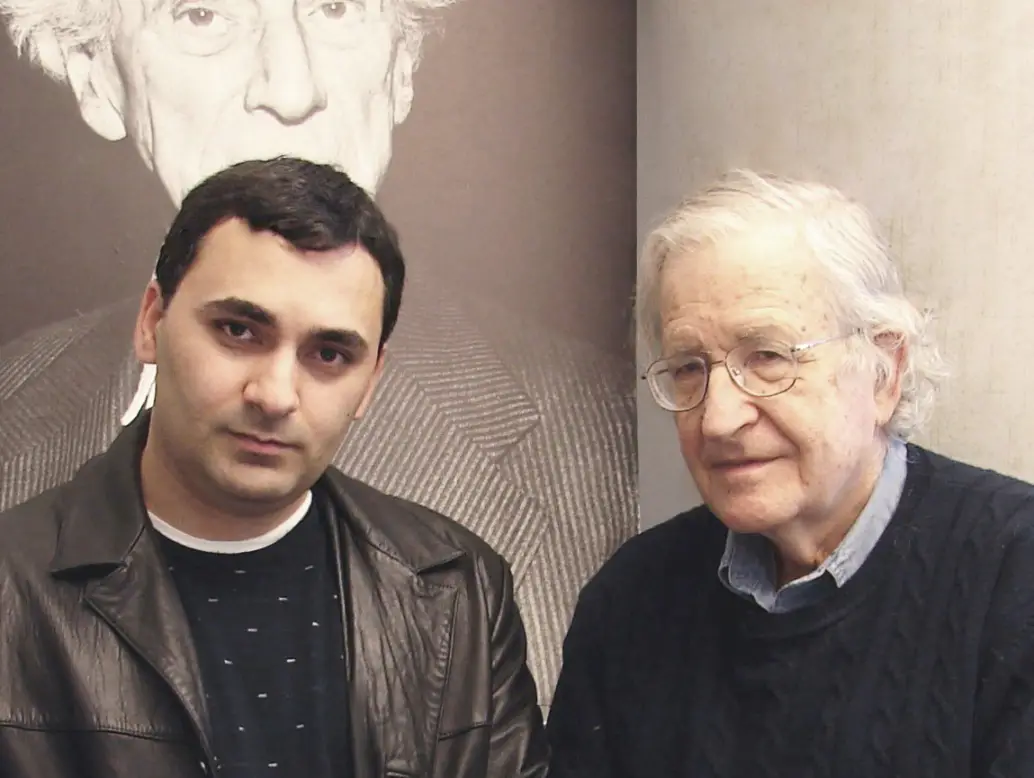 When Science and Music Collide
When Edward Manukyan was doing his master's degree at California State University, he often walked through the science department buildings remembering his strong passion for science as a child and desire to become a scientist just to explore the world and see what one can create out of things given to us by nature.
He appreciates that "the scientific method gives us an opportunity to extend our reach and find out things about the universe which would forever remain a mystery to simple mammals."
He talks about another life-changing moment for him when he watched an interview with James Watson, the Nobel prize-winning biologist who discovered the structure of DNA, and one of the participants of the interview, a Harvard professor, mentioned that a thousand years from now people will look back at human history and see two major landmarks: Charles Darwin's "On the Origin of Species" from 1859 and James Watson's discovery of DNA, in 1953.
Realizing the significance of Watson's work, Manukyan felt inspired to write a piece dedicated to James Watson's discovery and it soon got performed in concert. To the composer's surprise, Watson heard about it and sent him a present, a book, and they exchanged letters to arrange a meeting.
Manukyan became more inspired by science as time went on and created more compositions honoring the work of scientists such as biologist Francis Crick, physicists Steven Weinberg, Richard Feynman, linguist Noam Chomsky, and astronomer Victor Ambartsumian. His project called "Musical Tribute to Scientists and People of Reason", includes lectures on science and philosophy, along with performances of his music.
Edward Manukyan especially values the scientists who are known for their activism and struggle for peace, human rights, and civil liberties. He has written a large-scale work on the words of Noam Chomsky, Bertrand Russell, and Andrei Sakharov and has involved professors from Harvard and MIT in events promoting wider recognition of scientific genius.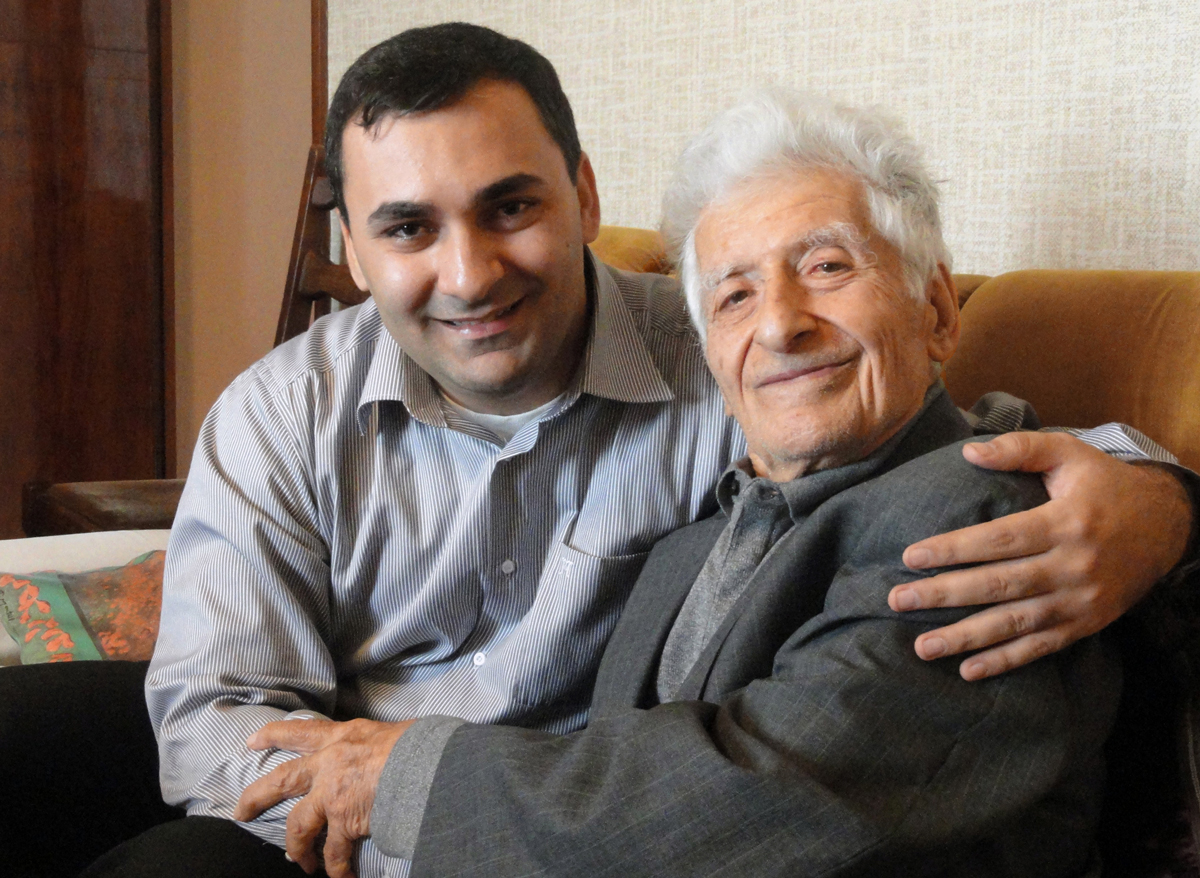 First Tour in Armenia
Meeting Edward Mirzoyan, Alexander Arutiunian, Robert Amirkhanyan, Tigran Mansuryan
"Armenia is something that I am made of, right to the core. I was born Armenian, and my American identity is an acquired identity. It's given me most of my life experience and has shaped my perception and worldview. Both are essentially Western identities and I have no problem carrying both in equal weight. One is ancient, rooted in pre-Socratic civilization, the other is the highlight of another branch of the same civilization."
In 2010 Edward Manukyan came to Armenia for the first time in his adulthood. He attended a series of concerts of his music and also had the chance to meet nearly all the major Armenian living composers, including Edward Mirzoyan, Alexander Arutiunian, Robert Amirkhanyan, Tigran Mansuryan. He got to know them and returned to America with great impressions.
He was especially impressed by Arutiunian whom he found a genuine, decent, and honorable man. Arutiunian showed a lot of interest in Manukyan's music and he was happy that his own Trio for Violin Clarinet and Piano is often performed with that of Manukyan.
They spent a lot of time talking at Arutiunian's home in Yerevan and the 90-year-old composer told compelling stories about Dmitri Shostakovich and some of the greatest 20th-century composers he had known. He also had Manukyan's scores and thought highly of the skillful instrumentation he saw in them.
Manukyan remembers Mirzoyan, another legendary figure of Armenian music, to be a very humorous, larger-than-life personality with whom he shared wonderful moments. He says he felt an instant connection with Mirzoyan and cherishes his memories of him.
Manukyan's overall impression of Armenia was so strong that he later came back to stay and work in his home country for several more years.
Current Projects
Opera – The First and Only Armenian Composition
These days, Edward Manukyan is working on an opera called "Mrmur Arsen." It is a very unusual opera. Not only it will be his first and only Armenian-language composition, its libretto, which he wrote himself, includes a lot of bad words in it, all uncensored. He suspects his reputation in Armenia is going to take a serious hit but he's ready for it.
He wants no compromise when it comes to creative freedom. It's about an hour and a half of intense family quarrels. He wants to write a real folk opera using exactly the kind of words people use in villages.
He visited his Armenian high school friend, Ashot Harutyunyan of Jrarat village, some years ago, and found his speaking so colorful that he asked him if he could stay in his home for a couple of days to write down the way they talk and absorb their intonation. With a pen and paper in his hand, Manukyan followed them around writing what they say and soon he will have a whole opera to show for it.
Several Dozen Songs to be Published and Recorded
Over the course of his career, especially during his early years, Manukyan has written many songs inspired by jazz standards and other popular tunes. He shelved nearly one hundred songs for decades only to return to them recently and finally publish a collection, which will soon come out as well. In these songs too, Edward Manukyan has the credits to both words and music. Audio recordings approved by him will follow the publication of the sheet music early next year.
Edward Manukyan as a University Professor in Armenia and Abroad
Manukyan enjoys teaching subjects not related to music as he spends most of his days in music. It's a welcome distraction to get away from it all, from time to time. While in Armenia, he managed to lecture on subjects as diverse as Music Appreciation and Communication Skills, Critical Thinking and Westen Philosophy at Brusov State University, the Russian-Armenian University, and elsewhere, becoming the students' most favorite and inspirational teacher, including mine.
I still remember our insightful discussions on many philosophers and their ideas, our explorations of psychology, and his captivating stories, life lessons, and kind advice, all spiced up with his humorous and incredibly interesting character. As a professor, he made classes more exciting for students and the memories will linger for many years to come.
He confesses he always hated instruction as a student, having teachers tell him what to do and how to do it. All he wanted was to have a friendly teacher willing to answer his questions, of which he had many. Edward Manukyan believes that a good teacher would not just show the way but inspire students and step aside to watch them unleash their own creativity, unrestricted by anything.
I think he has lived up to his own philosophy remarkably well. He says he loves university life so much that he wakes up on Mondays with a smile on his face. No matter how serious the subject in the classroom, it feels like party time for him as well as the students. So he feels this is his greatest achievement: having worked his whole life and always feeling he's never worked a day in his life. No small accomplishment indeed.
In 2017 Manukyan moved to China where he lectured in several other universities in the city of Guangzhou. He recently started a whole music department in an international school and other large projects in China, all short-lived due to the pandemic.
Fascinated by Chinese culture, the composer plans to return to China for several more years. He might go back to the USA in the future. Still, he will maintain his residency in Armenia for the rest of his life. He visits Armenia every summer and loves spending time in his summer house just outside Yerevan.
The Composer's Dreams
Unlike many composers or musicians these days, Edward Manukyan is not thinking about advertising himself in the world of music. He doesn't seem concerned about promoting himself and he is a lot more animated speaking about global issues. He hopes the world gets serious about climate change. He thinks it is a scandal of monumental proportions that humans still have and make new nuclear weapons.
He was impressed by the concentrated efforts of the Chinese to fight the pandemic in February, the building of new hospitals in record speed, and the military-style readiness of the people to fight for their well-being. He would like to see the same kind of effort put into ending global warming and moving past wars and conquest. "We're all like frogs in a slow cooker soup, comfortably swimming in lukewarm water without a clue of what's to come," he says.
If you like this article and would like to be updated when we publish a new one,
please follow us on Aypoupen Instagram

,
and like our Aypoupen Facebook page


and subscribe to our Aypoupen Youtube channel

.