The mountain is one of the main tourist attractions of Armenia, especially for its unique flora and fauna. The mountain is home to many rare and endangered species of animals and plants.
Azhdahak is also a popular destination for hikers and climbers. The mountain has many hiking trails of different levels of difficulty.
The most popular trail is the one leading to the top of the mountain. The trail is quite challenging, and it takes about 7-8 hours to reach the summit.
The best time to hike Azhdahak is from late May to early October. The weather is usually stable during this period, and the trails are not too slippery.
Interesting Video Footage of Our Hiking Trip to Mount Azhdahak
Azhdahak Mountain: Elevation and Location
Azhdahak is an extinct volcano and the highest peak of the Geghama Mountains – 3597m above sea level.
It is the third highest mountain in Armenia after Aragats and Kaputjugh, separating Lake Sevan from Ararat Valley.
"Azhdahak" means "giant" and "dragon."They say in the old times, giants and dragons were living in the Geghama Mountains.
A week ago, I was lucky to experience the beauty of the Geghama Range, particularly Azhdahak mountain. The destination wasn't that far from Yerevan.
It is a 37 km or 35-40 minutes ride on a tourist bus. During the bus ride through the village of Geghard, we admired the beauty of one of our heavenly sites.
Our trip "officially" started when we saw our ride approaching a truck which most Eastern Armenians call "Zil"(Soviet Union car brand).
We were invited to jump into the hopper and enjoy the open scenes of Kotayk Province's nature while we would get to the slopes of the Geghama Mountains.
Our adventure took about 1.30 hours in the truck, the vehicle was shaking us, and we were feeling some extra "earthquakes," Sometimes, we had to sit down and stand up for a particular time due to the upcoming tree branches.
Obstacles That you may Consider Before Visiting Ajdahak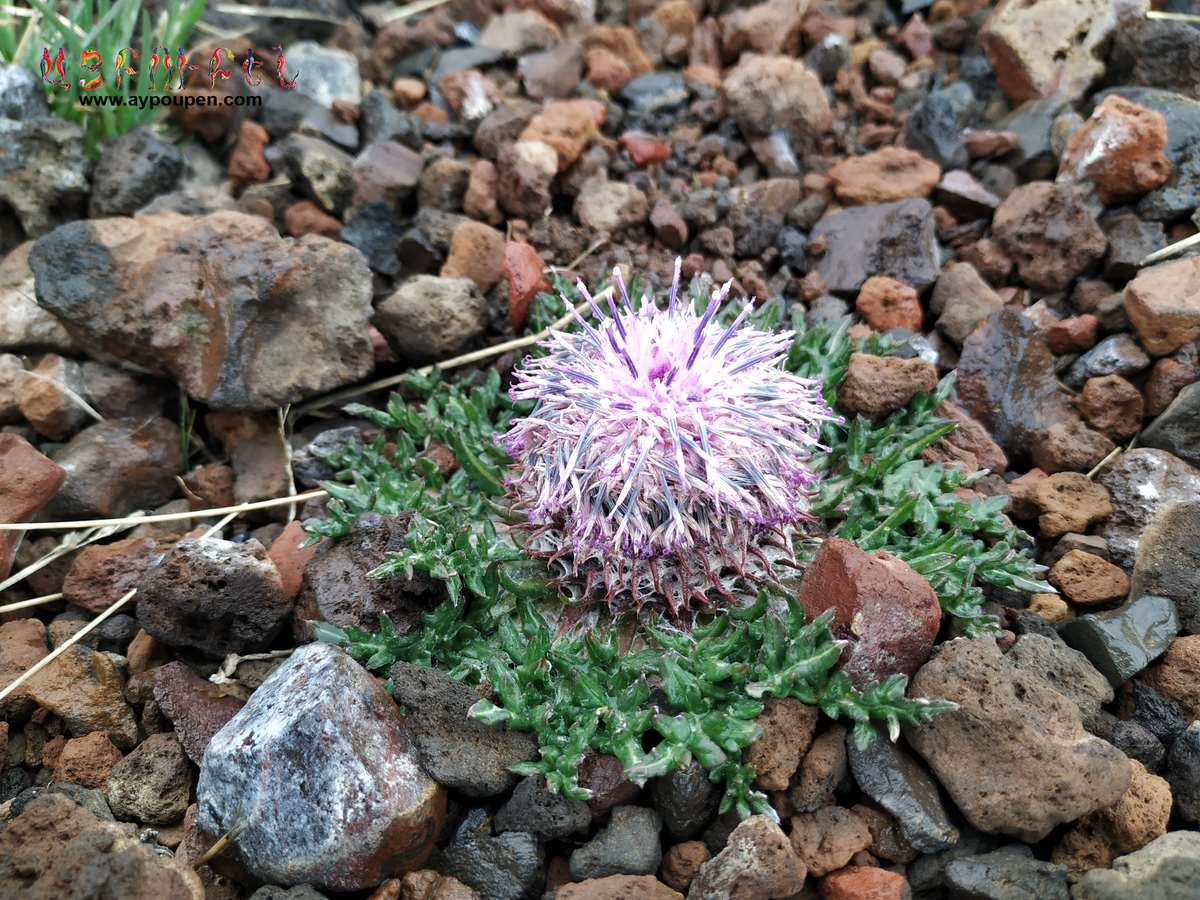 Finally, we arrived and started to walk, simultaneously marveling at the beauty of the surroundings. I could feel the soft dance of wind all around me. At the same time, I was collecting some meadow flowers – small and blue.
Unfortunately, several people had to leave us at that point, even before our adventure started, due to their high blood pressure.
They had to stay back in the village, where they were hosted by villagers.
However, we had to continue our adventure. This was the end of the first part of the trip.
Then our tour leader encouraged us to stay strong because after overcoming the first hour of hiking, you get power, and your lungs start to work intensively. You get kind of "new lungs."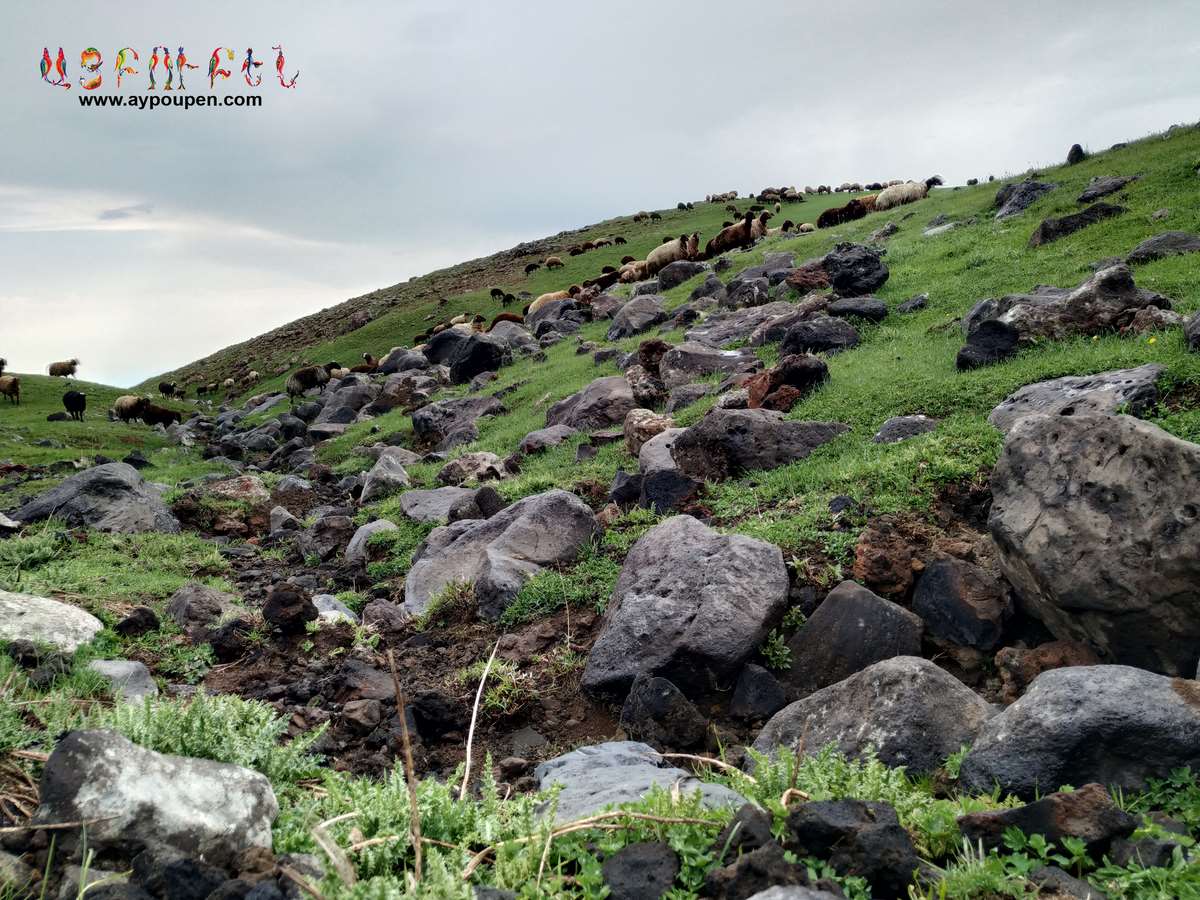 Azhdahak Trails Difficulty Levels
The second part of hiking was the most difficult for me. We had to jump from rock to rock because you have to follow a straight route in the mountains without deviating right or left. Otherwise, you could get lost.
At some moments, I hesitated in my jumps because sometimes smaller stones lingered and kept us from moving forward.
My sneakers were not Suitable for mount climbing. I should have chosen them more wisely because we depend on our legs as our power to move forward, especially when we are in nature.
Another reason I should have chosen my shoes wisely was snow! We didn't need to reach the top of the range to see it. As we were moving further forward, we were able to play with snowballs.
After enjoying the snow fights, I discovered another type of flora at this altitude. I was amazed, and my eyes were filled with wonder when observing the new plants and flowers.
Next, by chance, we saw some green plants that we actually didn't recognize immediately. To our astonishment, they turned out to be mountain green onions when one of the travelers announced that the plant had an onion smell.
Indeed, someone from our group tasted one of them and told us that it was worth trying the onions.
Guess what? Several minutes later we couldn't feel any bad smell because we were all either gathering onions or eating them.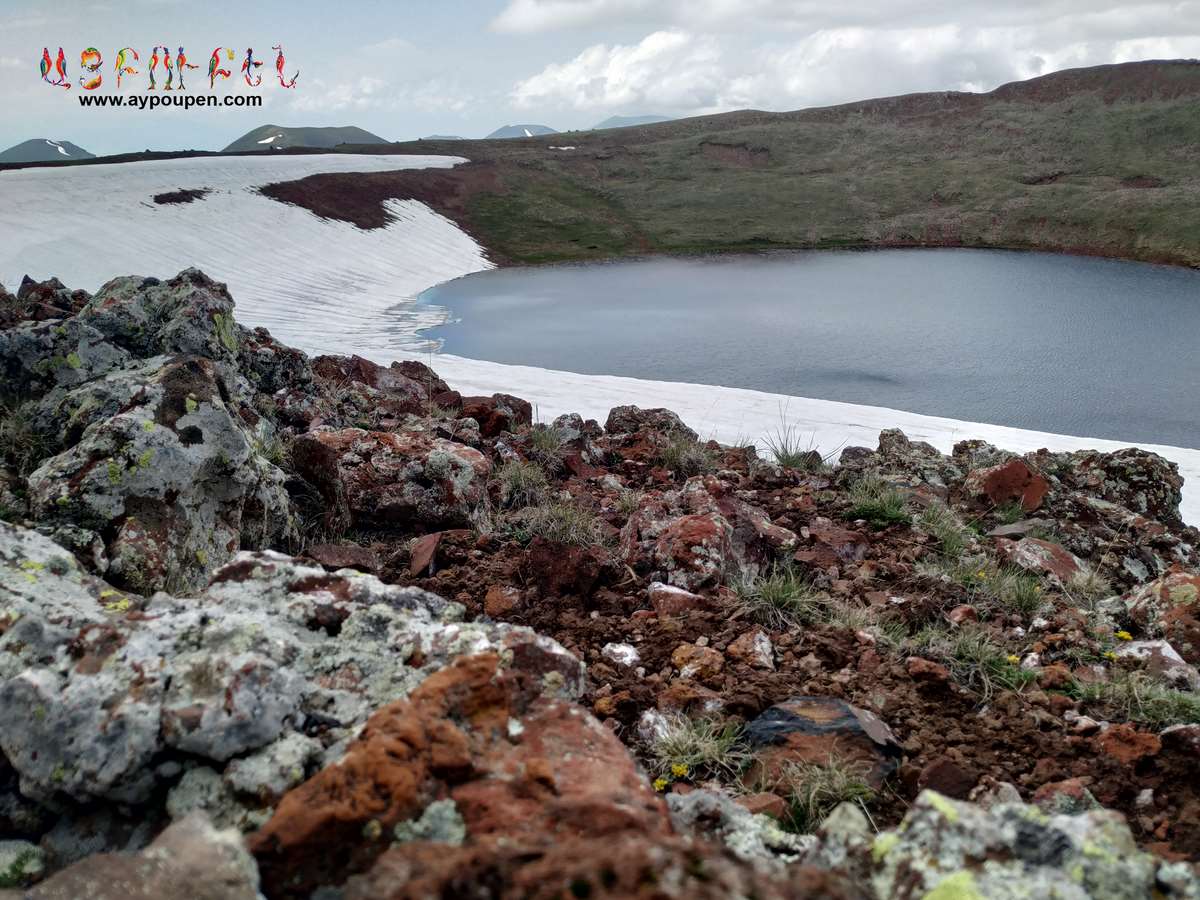 Snowy Volcano Lake Mount of Azhdahak (Armenia)
After the "onion field" it was time for new rocks and stones. We could already feel some cold and spring weather mood. When we reached one of the snowy volcano lakes, I exclaimed, "Are we finished?"
Instead, it turned out that we passed only half the way and must keep moving.
I was not that tired, but I was hungry, and fortunately, it turned out that several stops were dedicated to taking a rest and having a bite while hiking.
When climbing up and up, I would look at the hills before me, small lakes, and spacious fields. I could feel myself in the palms of our fatherland. In my heart, I could hear Armenian folk music and see God's blessing upon our land.
Then the mountains around me would tell me to continue my way as I had already chosen not to give up.
Yes, many small accidents told me that hiking Azhdahak is out of my power, but physical trials, like when my leg went into a deep snow hole or how I had to ski on the snowy incline…
All these couldn't compete with my spiritual hunger. I was there to see the mountain of the giants with my own eyes.
Eventually, we got to the volcano lake of mount Azhdahak. After resting and eating in front of the frozen lake, there was only one more thing left to do.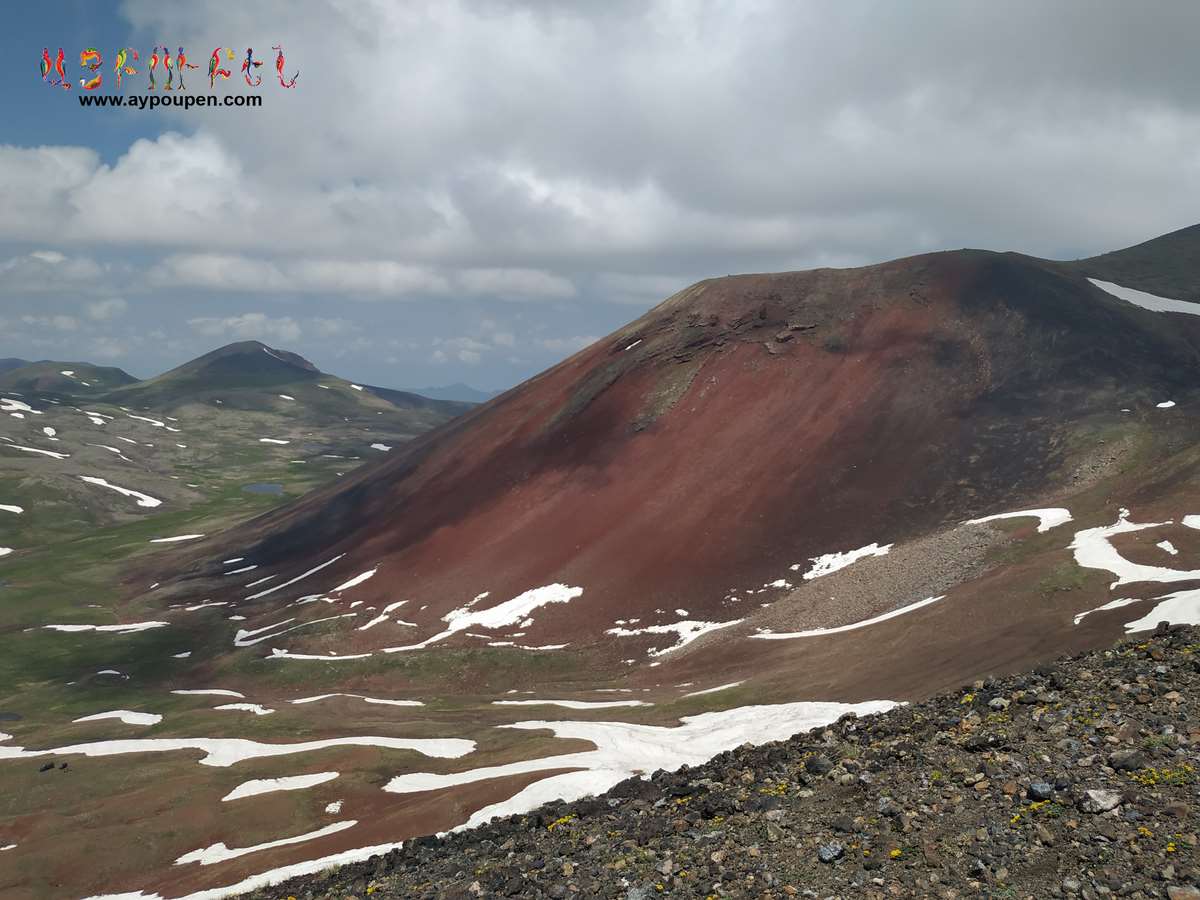 What can you see from the peak of Mount Azhdahak?
Our group leader told me, "You can stay near the lake or join us to see the whole beauty of Armenia, but remember, you have already reached the destination".
A friend of mine looked at me, I immediately caught her look, and we came into a silent agreement.
I stood up from the cranny stone with fingers frozen and body shivering and went ahead.
There were all 500 meters to reach the peak of Azhdahak. Stones going down, the wind blowing on our faces but ambitious, smiley young people who couldn't lose the desire to step onto the red top of Azhdahak.
A deep breath, relief, is this a dream?
All I could see was the smiles on the wildered faces of a group of fools. Yes, now I think that hikers are fools, in a good sense.
All the other mountains and hills of the Geghama Range are easily seen from Azhdahak, except for these small ones.
From the red mountain, you can also greet Mount Ararat, Hatis, Ara, and Aragats. And this powerful brotherhood seems to always get stronger.
Hundreds of people visit these "skyscrapers" like mountains every year, watching them with longing faces. Yet, we couldn't see their powerful guard because of the foggy weather.
A satisfying and not regrettable experience participating in such a hiking tour that I suggest you take to climb these mountains, at least one of them. It will give you an unforgettable experience and a good memory.
Where to Stay When Hiking Azhdahak
There are no accommodation options on Azhdahak Mountain. The closest village is Sisian, which is about 30 kilometers away.
There are several guesthouses and hotels in Sisian where you can stay. There are several designated camping areas if you want to camp on Azhdahak.
However, getting a permit from the Sisian municipality is important before setting up your tent.
Petroglyphs of Vishaps (Dragons)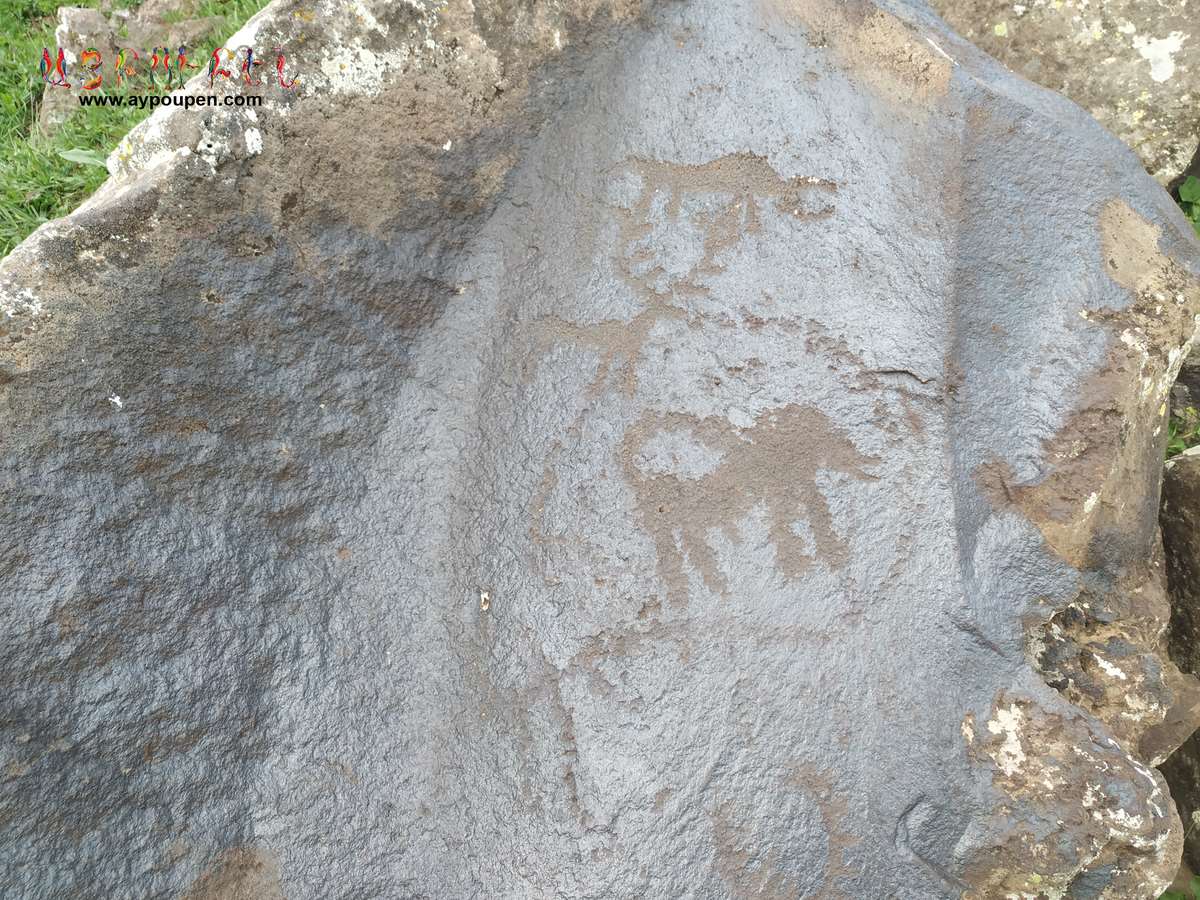 After spending some time in the mountains and seeing Azhdahak, we had to walk down because other cultural monuments were waiting for us.
I admit that going down the mountains was harder. I gathered my strength and attention and continued the way.
When climbing down the Geghama Mountains, we needed to stick our feet deep into the ground because there are some drastic sideways and ground flows down.
It was already evening when we got to the truck and headed to see petroglyphs and "vishap

"s.
To explain more about these cultural heritages, Petroglyphs are images created by removing part of a rock's surface by incising, pecking, carving, and abrading.
Almost all aspects of our human life are reflected in those petroglyphs. Most depict men in the act of hunting, fighting, dancing, and even cultivating the land.
Vishaps (dragons) or "vishapakar"s (dragon stones) are steles carved with animal imagery found in the high-altitude summer pastures of modern Armenia and the Armenian Highland.
They are located between 2000 and 3000 m above sea level. Vishaps are highly symbolic artifacts dating to the second millennium BC.
They were carved from massive stones (the biggest being 5.06m high), in a fish form, with a snake, bull, ram, stork, etc, as well as bird sculptures, usually placed in fountains, canals, reservoirs, and artificial lakes nearby.
It can be assumed that these slabs supported agriculture and irrigation by worshipping personal water deities.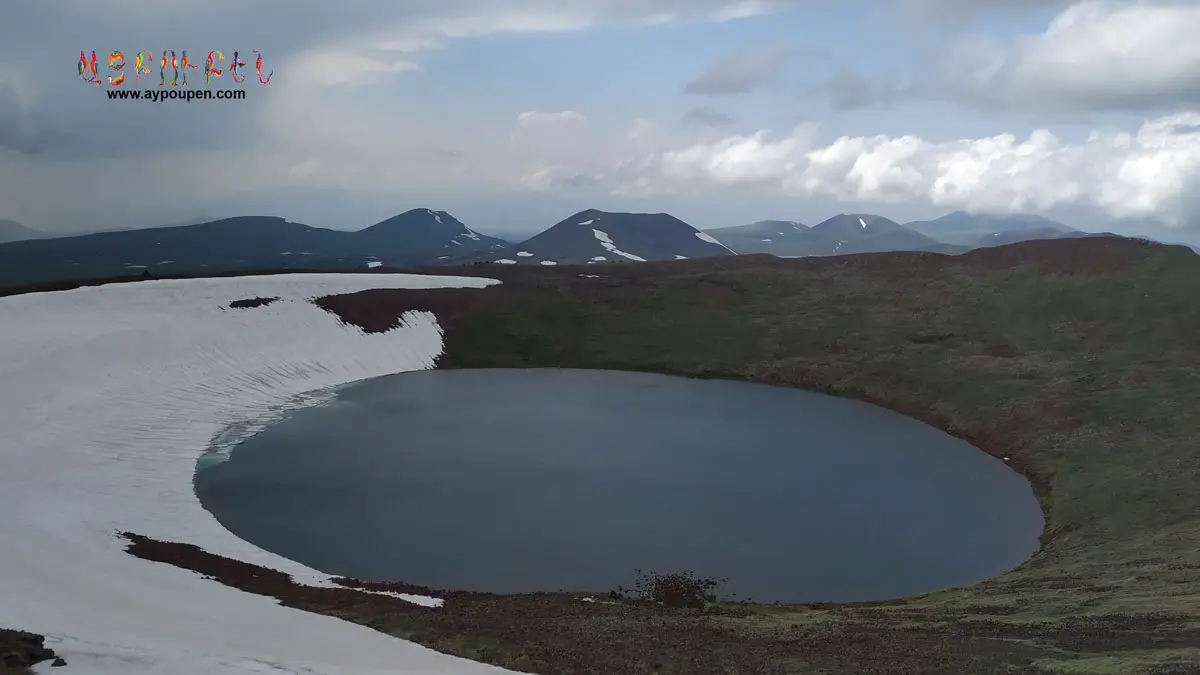 Returning Back from Mount Azhdahak to the City Life
It was 7 pm when we finished the hiking and returned to urban life. On the one hand, I wanted to go to bed. On the other hand, I couldn't get separated from the history which had turned into a reality for one day.
When I was finally home, I didn't have enough energy to share the joy bursting from my soul.
After one day of recovery, I keep telling everyone I meet about my adventures in the Geghama Mountains.
In this article, I briefly introduced you to my Sunday in Azhdahak, and I would say that my heart is still in the mountains.
What to Bring When Hiking Azhdahak (Checklist)
When planning a hike to Azhdahak, it is important to consider the mountain's altitude and the fact that the trails can be quite challenging.
Here are some essential items that you should bring with you:
Hiking boots – Azhdahak is a high mountain, and the trails can be quite slippery. It is essential to wear proper hiking boots that will provide good traction and support.
Hiking poles – Hiking poles are very useful on Azhdahak's trails. They can help you maintain balance and prevent falls.
Water and snacks – Azhdahak is a high mountain with thin air. It is important to stay hydrated and to eat small snacks regularly to avoid fatigue.
Sunscreen and sunglasses – The sun is very strong at high altitudes. It is important to wear sunscreen and sunglasses to protect your skin and eyes.
First-aid kit – Azhdahak is a remote mountain with no cell phone reception. It is always a good idea to bring a small first-aid kit in case of an emergency.
Warm clothes – The weather in Armenia changes very quickly. It can be cold in summer when you go up to higher altitudes. Bring warm clothes, even if you are going to hike Mount Azhdahak in summer.