No it's not a scene from a famous TV show, yes it is an Armenian church, and yes it is H.E. Archbishop Moushegh Mardirossian, but they seem to be praying… Attached are Pictures taken from Blessing of Hye Riders in St. Mary's Armenian Apostolic Church – Glendale,  for their World Tour on Bike to commemorate The Centennial of Armenian Genocide.
At first glimpse you'd think it is a scene from the TV show, but when you look deeply you will see the Armenian Tricolor along with the US Flag on the badges, few moments later, you will realize these are Armenian American Hye Riders Motor Club.
" For raising awareness about the Armenian genocide Hye Riders will ride from France to Italy, Greece, Bulgaria and Georgia and will be in Armenia for the Centennial of the Armenian Genocide, follow us on FaceBook for daily news and pictures from the WORLD TOUR.
Less than 2 weeks left to World Tour."
Who Are The HYE Riders?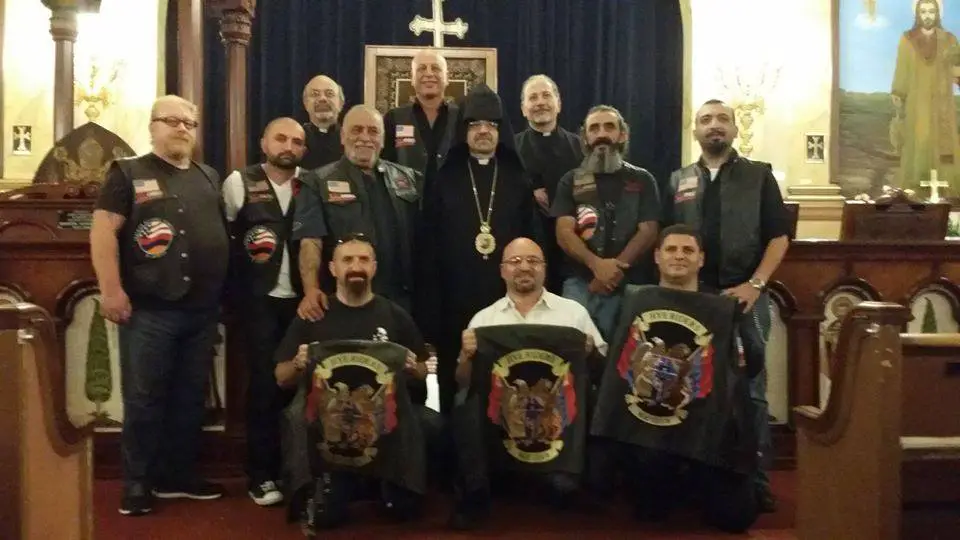 The "Hye Riders" are a group of Armenian men who love to ride their motorcycles. They organize events, ride their bikes, and live proudly as Armenians.
The Hye Riders are not an outlaw club.
In 1998 The Hye Riders motorcycle club had the honor and blessing by another significant motorcycle club to be known as the only Armenian motorcycle club formed in the United States. This recognition was done by a well-known and respected club called "Vagos" (the "Vagos" were established in the early '60s). The Hye Riders are grateful for their support and understanding.
The Hye Riders proudly represent their name and clean images wherever they ride. Each day, the Hye Riders carry their good reputation within the motorcycle and Armenian communities.
The Hye Riders ride twice a week. Most of the time, their rides are for charity and fundraising events. They also participate in Harley Davidson organized events to raise money, to donate gifts and toys to orphans in Los Angles.