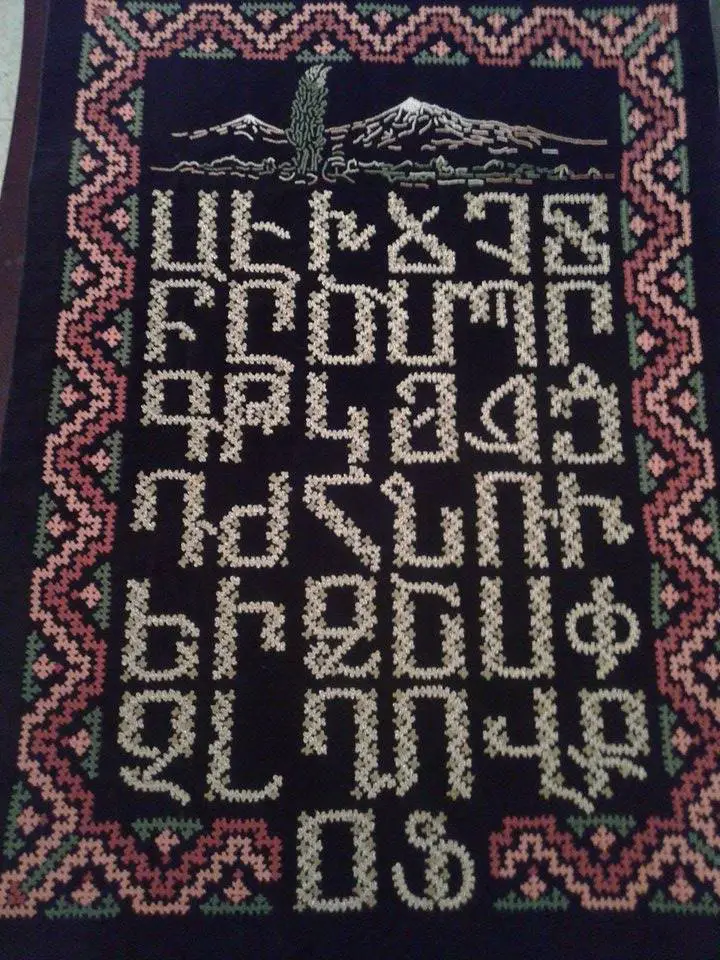 The best memories in life come from childhood experiences. When Armenian families get together, it is around two things, food and embroidery. And I promise you it's not only the women because every man has had the courage to try to learn the trade at least by trying to knit one knot for their moms.
In my family, I saw my mom, my grandmother, and my aunts gather in the kitchen, to prepare the amazing "Mante", "Jidabour" or "Keufte". But during coffee breaks, the same importance was given to Crochet, Embroidery, knitting, and sewing. It was so natural to fall in love with the art and try to learn a thing or two.
Everybody worked together during family gatherings. If women were preparing the food, men were handling the fire. As for the kids, we were the ones setting the table, and I hated that I was only handed the transportation and not the food.
After lunch and sweets, the women cleared out and cleaned everything, then coffee was prepared. On cold days, the pastime was embroideries, and as the older generation shared motifs and expertise, we sat near their knees and tried to steal the secrets of the trade.
To date, there are several names for Armenian embroidery: "Intertwined", "Marash" and "Maltese embroidery" . Among the most common embroideries in the world is "Maltese". This type of needlework got its name in the Middle Ages, thanks to the island of Malta.
A Woman Supporting Women with Embroidery lessons and sale
Yevnige Yacoubian is a Lebanese Armenian woman, mother, and teacher, who has dedicated her life to helping other women. Like most of us, she was introduced to Embroidery by her grandmother, an Armenian Genocide survivor, who had brought with her some of her old traditional pieces to Beirut.
Being an active member of her local Church Ladies Guild, she frequently organizes charity events and helps out those in need. She actively organizes Marash Embroidery-making lessons for ladies in the community.
Furthermore, she uses her social media to promote other women's work to help them overcome hardship. After the Beirut blast, being a survivor herself, she continued to offer her precious Armenian Marash Embroidery lessons and creations to vintage Embroidery lovers and collectors.
Armenian Marash Embroidery Designs
Some of these designs have centuries-old names, they are called:
New Mountain Flower " Yeni Dagh Chichegi"
With Cup "Bardakli"
Twin needles "Chit Inne"
Coffe cup "Finjanli"
Letter M- Men Men
Shoushan- Lily- Zambakli
Payamli
Muska
Cross stone
Alphabet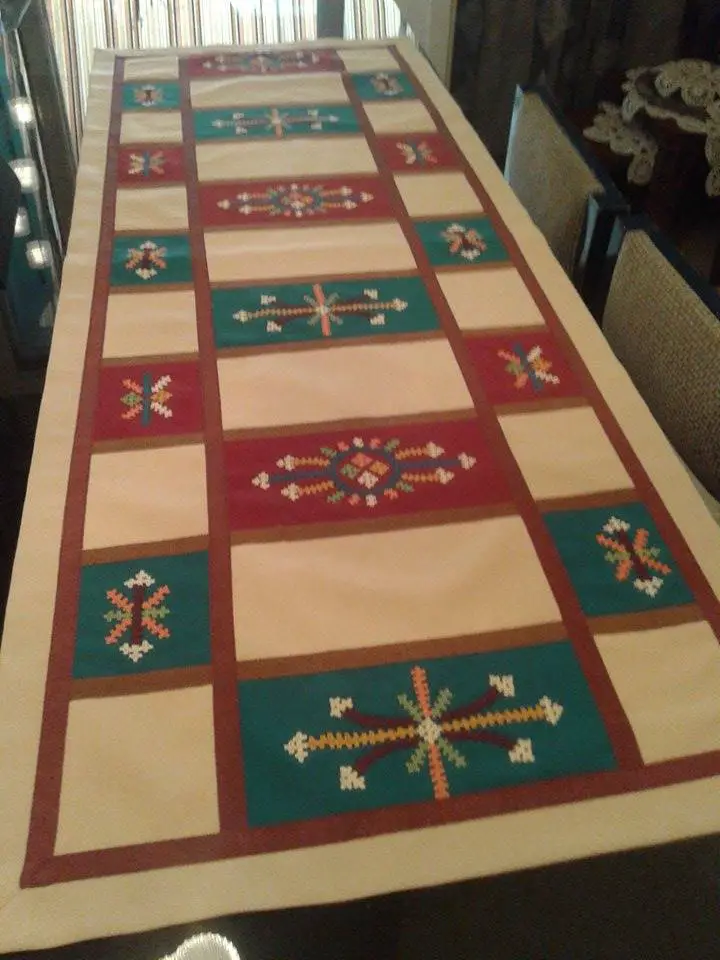 Traditional and modern designs of Armenian Marash Embroidery
Interested in the best vintage handmade gifts to impress your friends and relatives? Armenian Handmade Vintage Embroidery, in particular? let us introduce you to Yevnige Yacoubian's designs, who will put you under the spell of her wonderful artwork AKA Marash Embroidery.
And while there, you might be able to participate in a workshop on how to make these sacred pieces of Armenian History by Yevnige herself. You will be greeted by a heartwarming smile and escorted through the history of Armenian culture, enriching your knowledge of our own hidden treasures, at risk of extinction.
Unique and beautiful handmade Armenian Embroidery, Marash Embroidery by Yevnige. You will find Armenian Alphabet designs, Armenian Cross-stone Khachkar, tablecloths, runners, cushions, pillows, coffee trays, kitchen aprons, bed covers, eyeglass bags, wall hangers, and much more.
You can also order any piece you would like to have with your own design and your choice of velvet color which will match your furniture. We suggest you visit her website.
Send a message or call 0096170058728, or email at [email protected].
Place your order today! Follow her page on Facebook @YevnikeEmbroidery.
 Satenik Bezikyan has saved Urfa and Marash Embroidery samples from local schools. Fleeing from the genocide, she was able to take out more than 73 original embroideries and 230 sketches. Now, these samples are in the National Gallery of Armenia.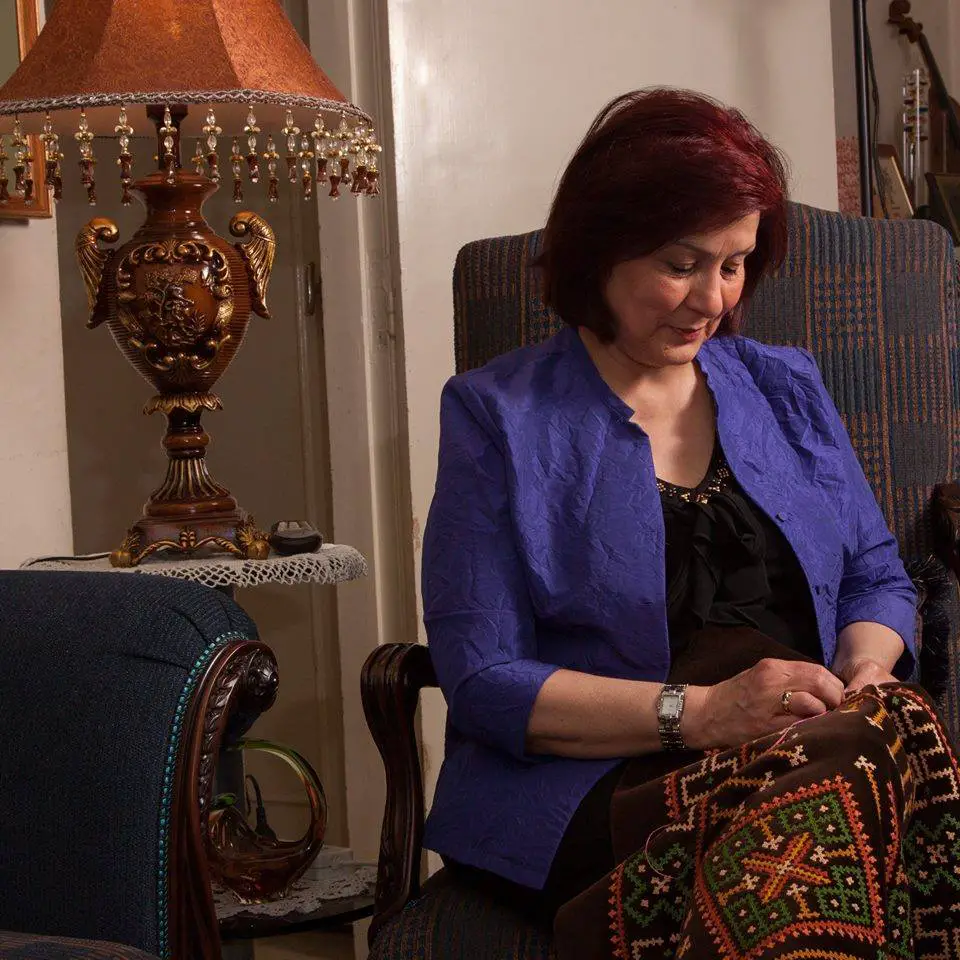 Biography
Yevnige Dokouzlian Yacoubian, is a very active member of the Armenian community in Lebanon. The Armenian Evangelical Central High School graduate has taught in different Armenian schools.
Yevnige married the well-known and respected Jirayr Yacoubian 1978, the founder and choreographer of LORI International Dance Ensemble and together they raised 2 sons Hagop and Hrag. She acted as the public relations manager of LORI from the late 1970s to the early 1990s.
In 1998, Yevnige graduated from the History Department of the Hamazkayine Institute for Armenian Studies, and later she became the director of the Birds' Nest Armenian School till 2001; while also teaching Armenian language and history. At present, Yevnige works in the library of the Near East School of Theology.
Yevnige has written and translated works in "Badanegan Artsakank" and "Chanaser" Armenian periodicals, as well as in the Armenian daily "Aztag". She has several works including "Jirayr Yacoubian and LORI Dance and Choir Ensemble".
She has translated the 1915-1918 Missionary Herald's eyewitness records of the Armenian Genocide to Armenian, which were published in Dr. Y. Kassouny's " A Critique of the Armenian people and their survival as attested by the testimonies published in the missionary Herald" in 2012 in Beirut.
Yevnige has also translated Armenian Hagop Der Garabedian's "From Prison to Prison" autobiography of an Armenian Genocide survivor, published in 2015 in Beirut.