For Armenians looking for a tropical paradise, Phuket Island in Thailand offers the perfect escape. Known for its crystal clear waters, stunning beaches, vibrant culture, and delicious cuisine, Phuket is a popular destination for travelers from all over the world.
From snorkeling and diving in the clear waters to trekking through lush jungles and experiencing the unique Thai culture, Phuket has something for everyone. Whether you're looking for adventure or relaxation, Phuket's beaches offer a truly unique experience, making it one of the world's premier destinations for marine life and ocean exploration.
And with its wide range of culinary experiences and natural beauty, it's easy to see why Phuket is the perfect destination for an unforgettable vacation.
Where is Phuket Located?
Phuket is an island province located in the Andaman Sea off Thailand's west coast. It is known for its stunning beaches, crystal clear waters, and vibrant culture. The province covers an area of approximately 543 square kilometers and has a population of around 500,000 people.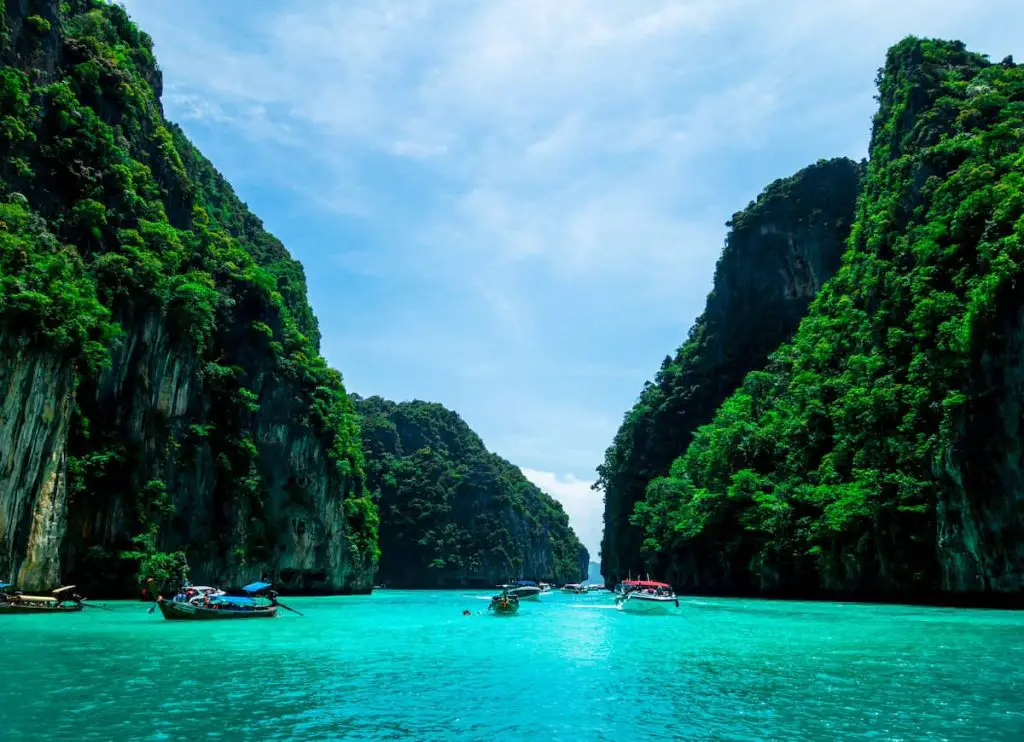 The beauty of Phuket is unmatched. From the sweeping white sand beaches to the lush jungles, this island paradise is a sight to behold. The crystal clear waters offer an abundance of activities such as swimming, snorkeling, diving, and even fishing. 
Beyond the shores, you can explore the jungle, the culture, and the magnificent Thai cuisine. 
For those looking for a more relaxed experience, you can take in the view from a private beach or explore the many small islands nearby. 
The Wonders of Phuket's Beaches
Phuket's beaches are truly a sight to behold. From Karon Beach, one of the longest and most popular on the island, to Patong Beach, bustling with energy day and night; Phuket's beaches have something for everyone. 
The waters of Phuket's beaches are crystal clear and teeming with sea life, making them ideal for snorkeling, scuba diving, and other water sports. You can spend your days exploring the depths beneath or simply sunbathing on the white sand shores. 
When you're done, there are plenty of beach-side restaurants and bars to sample local Thai cuisine and enjoy the evening.
The sunsets in Phuket are breathtaking, with a perfect blend of pink, purple, and orange hues splashing across the sky. There's no better way to end your day than watching these colors slowly fade as you relax on the beach.
Phuket's beaches offer a unique experience compared to any other destination in Thailand. Whether you're looking for relaxation or adventure, Phuket's beaches will provide everything you need for an unforgettable vacation. 
Amazing Marine Life
The waters of Phuket are also home to an impressive array of marine life. Some of the more common sea creatures you can find in the area include giant clams, manta rays, eels, lionfish, lobsters, and turtles. 
Even more exciting is the fact that Phuket's waters contain a wide variety of rare species, such as whale sharks, blue-spotted stingrays, seahorses, and the occasional dugong.
Phuket also offers an abundance of opportunities for diving and snorkeling. The warm waters provide ideal conditions for these activities, making it possible to take in the beauty of the island's underwater world. You can also take part in a variety of boat tours, which will show you the best spots for spotting some of Phuket's more exotic marine life.
In addition to its rich ocean ecosystem, Phuket is also home to numerous seabirds, including frigate birds, terns and pelicans. There are also many species of shorebirds and waterfowl, such as the white-bellied sea eagle and black-winged stilts. The waters around Phuket provide a safe haven for these birds to nest and feed in.
All of this makes it easy to understand why Phuket is one of the world's premier destinations for marine life and ocean exploration. With its stunning landscape, vibrant culture, and unique variety of wildlife, it's no wonder why Phuket is a popular destination for travelers from around the world. 
Whether you're looking to observe some rare species or just take in the sights of one of Thailand's most beautiful islands, the waters of Phuket are sure to offer something special. 
Delicious Thai Cuisine Experiences of Phuket
Phuket is Thailand's most popular and beautiful island, offering a host of culinary experiences to locals and tourists alike. From the world-famous Tom Yum soup, pad Thai noodles, green curry with jasmine rice, to a variety of street food snacks like grilled fish cakes and mango sticky rice – Phuket has it all to satisfy your taste buds. 
And the best thing is that you can try all of these whiles on the beach – in one of the many fantastic restaurants.
No visit to Phuket is complete without trying some of the local dishes. A popular choice among locals and tourists alike is the classic Pad Thai noodles, made with pan-fried rice noodles, egg, onion, garlic, and a combination of spices. 
Another dish that you must try on your trip is the classic Tom Yum soup, which is known for its hot and sour flavor. You can also try dishes like spicy green curry with jasmine rice, chicken satay served with peanut sauce, or panaeng beef curry – all of which are sure to tantalize your taste buds.
If you're looking for a snack, try the grilled fish cakes – a popular street food snack served with sweet and sour sauce. Other popular snacks include fresh fruit shakes, mango sticky rice, fried banana pancakes, and coconut ice cream.
No matter what your tastes may be, you're sure to find something delicious in Phuket's wide variety of Thai cuisine experiences. 
Exploring Beyond the Beach – Nature and Culture of Phuket
Phuket has much more to offer than its stunning beaches. The natural beauty of the island is second-to-none, with lush jungles, dramatic mountains, and crystal clear waters. 
The best way to experience all this is by taking a trek through the dense jungle or exploring the many waterfalls around the island. There are also plenty of opportunities for wildlife spotting, from monkeys to exotic birds.
Phuket has a rich cultural heritage that is well worth exploring. Ancient temples, traditional villages, and colorful markets are all part of the unique charm of the island. 
The island also offers plenty of adrenaline-filled activities, from zip lining and bungee jumping to white water rafting and sea kayaking. There are several adventure companies operating on the island that can provide you with all the necessary gear and guidance for these exciting activities.
Final Words
Whatever you're looking for in a holiday destination, Phuket has something for everyone. Whether you want to relax on the beach or explore beyond it, this beautiful island has something to offer. 
With its stunning natural beauty and rich cultural heritage, there is no limit to what you can discover on your trip to Phuket.
The best part is, once you're there you can expect warm hospitality and friendly locals to make your stay even more enjoyable. Discover the beauty and culture that Phuket has to offer and make your visit to Phuket count.