Outside Yerevan
Yerevan, the capital of Armenia, is both a magnificent place to visit and the nation's liveliest spot. But it would be a shame to visit this country—in the South Caucasus sandwiched between Turkey, Iran, Georgia, and Azerbaijan—without heading into the countryside outside Yerevan.
Outside Yerevan, Armenia is much more sparsely populated and relatively untouched by tourism. Expect authenticity, friendly smiles, and many opportunities for picking up a roadside bottle of moonshine after a long day on the trails. From bucolic hillside meanderings to snowy summit pursuits, these hikes offer a range of options for human-powered adventures.
The best time for hiking is when the weather is warm and dry, so plan a visit between July and September.
Lastiver Caves
Hop a marshrutka, or taxi bus, from Yerevan to Dilijan, a very small town 60 miles from Yerevan and just north of Lake Sevan. It's sometimes called "little Switzerland" because the region is lush and the air is fresh. If you overnight, the Hotel Dilijan has reasonably priced rooms and the Nina B&B has comfortable beds and homemade meals.
From there, take a roughly 30-mile cab ride northeast to the Yenokavan resort, which sits on a hill above a canyon. The hotel there, Agapa Homer Yenokavan, has cottages as well (from $41). The resort offers horseback riding and mountain bike rentals. The Lastiver Caves are only a few miles from the resort and situated in the Khachakhpyur Canyon.
Start your hike from Agapa for two miles on an out-and-back trail to reach the caves. The path winds through a dense forest of oak and hornbeam. The caves are two stories high and some are 100 feet deep. A series of ladders (that resemble a dam) was built in order to access the caves, which is how they got their name. Lastiver means "up the river." Just below the caves, a set of waterfalls cascades into the river, where you can take a swim.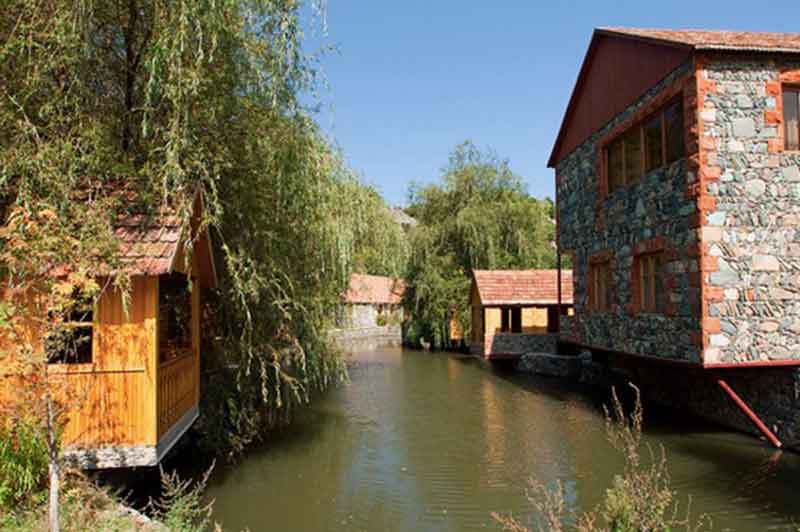 Parz Lake
Still Touring outside Yerevan, Use Dilijan as a jump-off point for the hike to Parz Lake, which is located just north of town in the Dilijan National Park. DNP, established in 2002, has more than 1,000 species of plants and some 45 species of mammals from brown bears to bobcats and wolves. This alpine lake, at more than 4,000 feet above sea level, is filled by mountain springs so the water of Parz Lake is clean and cool. There are opportunities at the lake to take a boat out, go fishing, or camp for the night on the shores.
From the lake, hike through the dense forest via narrow paths to the Goshavank Monastery, which features medieval Armenian architecture dating back to the late 12th century. The hike from the lake to the monastery is roughly five miles. It's not a heavily trafficked route so it would be wise to use a guide in order to take advantage of both historical and navigational knowledge.
About an hour northwest of Yerevan, Mount Aragats is the country's highest point at 13,418 feet. A taxi from the city will cost around 15,000 AMD ($32). Aragats has four different summits with the south summit, 12,727 feet, the closest and the easiest to reach.
Hikes begin from Kari Lake, or Stone Lake, which sits at around 9,500 feet. While there are no set trails, the summit is visible from your starting point, which makes navigation to the south summit fairly simple. Scramble over scree and see ruins of the medieval fortress of Anberd along your way. According to Arara Tours, it will take about two hours to get to the south summit and another two hours or so to get to the north summit. Expect snow and colder temperatures higher up and enjoy hundreds of cool springs and alpine meadows as you go.
From the top of Aragats views of the Caucasus Range are possible in clear weather, and on some days you can even see as far as Europe's highest mountain, Mount Elbrus, at 18,513 feet. Camping is allowed if you want to spend the night in the mountains, and many choose to do so at the mountain's base around Kari Lake.
Read More About Tours in Armenia.