Remembering Adiss Harmandian

Adis Harmandian was born (January 14, 1945) and raised in Bourj Hammoud․
His debut album was "Dans La Nuit", in French. He Didn't succeed like Eddy Kev and Manuel Menengitchian, who were famous at that time with their European Repertoire. His star started to shine in 1968 after he got the chance to sing Armenian songs. His First songs were mostly created by Hasmig Manaserian, whose songs were long ignored and refused in Armenia.
Soon Adiss became the Pioneer of "Estradayin" genre of Armenian music. Hasmig Manaserian's songs became the most popular for the Lebanese Armenian audience. His fame spread all over the Middle East, and eventually all over the diaspora,  the USA and Europe.
He first recorded "Dzaghigner" arranged by Reddy Bobbio, that sold out in record time. He attracted those Armenians who used to listen to Turkish music but his music won them over. Next, he recorded another disc called "Manoushag", then "Mtenshagh", then "Dzaghigneres oum Nevirem?"  The look of the 20-year-old newborn star was a great factor in his success.
He collaborated with Jack Kojian, a famous Lebanese Armenian Pianist, who later became the director of his band. He was invited to Aleppo, then Egypt, then Iran where he stayed for a long time. Then he toured Europe and USA, South America, Canada, Africa, and Australia.
His Mark on Armenian Music
Adiss inspired diasporan Armenian Artists to sing Armenian. Some had even been using non-Armenian aliases, but with Adiss'es success they proudly started using their Armenian names. Among those were Paul Baghdadlian, Maxime Panossian and Haro Pourian. Arab Audiences became interested in Armenian songs, while artists, like Lebanese Legend Fairuz's sister Houda, were inspired to sing Armenian and even translate Armenian songs like "Karoun Karoun" and "Yares Daran".
During the Lebanese Civil War, Adiss moved to the United States of America but continued recording, performing and touring, and leaving behind 30 albums and around 400 songs.
His family posted on his Facebook page: "After a 15 year courageous battle to cancer, Adiss Harmandian passed away peacefully, surrounded by his children and loved ones on Sunday, September 1st 2019 at UCLA Santa Monica hospital, in the USA." May he Rest in Peace and always remembered through his fine work continuing to inspire generations to come, to love Armenian songs, and be proud of our Armenian identity.
Honours during his lifetime: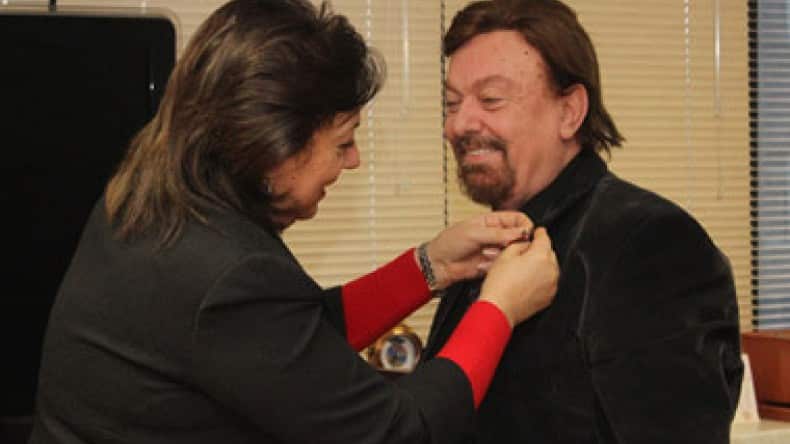 -The Komitas medal by His Holiness Vazgen I, Catholicos of All Armenians of the Mother See of Holy Etchmiadzin of the Armenian Apostolic Church
-Great House of Cilicia high honour by Karekin II, when he was Catholicos of the Holy See of Cilicia
-Mesrob Mashdots Medallion (with the degree of Prince) title in 2005 for his 40 years of work by Aram I, Catholicos of the Great House of Cilicia
-"Lifetime achievement award" at the 7th Armenian Music Awards with a certificate from the Los Angeles Council members for lifetime achievement in 2005.
-At the suggestion of France's Armenian community, mayor of Paris Jacques Chirac honoured the singer with a medal in recognition of his contributions.
https://aypoupen.com/3610/viken-dishgekenian-a-passionate-artist-a-role-model-a-great-armenian/